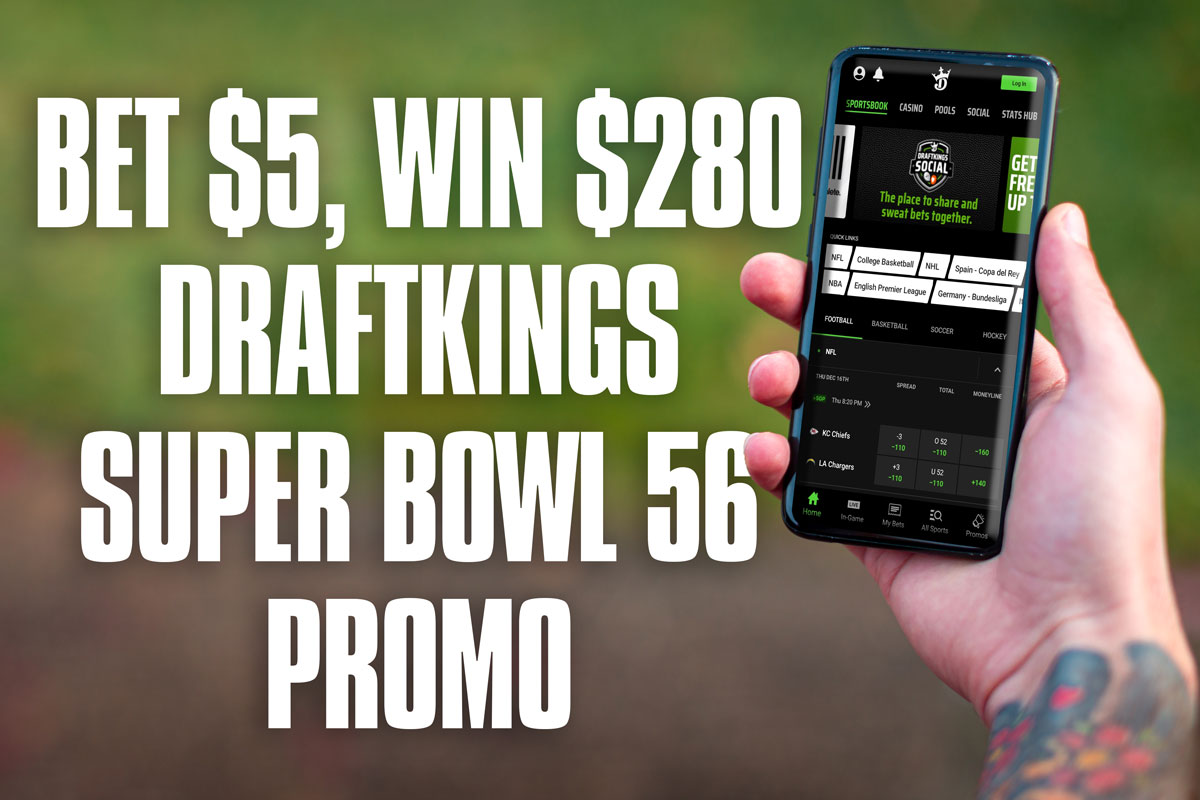 DraftKings Sportsbook is gearing up for Super Bowl 56 with the opportunity to lock in 56-1 odds on a bet $5 to win $280 special by backing the Cincinnati Bengals or Los Angeles Rams.
In the days leading up to kickoff of Super Bowl 56, the latest DraftKings promo provides its best football odds to date, backing up the bet $5 to get $280 offer with a steady stream of boosts, bonuses, and other specials.

DraftKings Promo
States: NY, LA, AZ, CO, PA, NJ, IN, IL, IA, MI, MI, VA, WY, TN, and WV
GET THE APP
DraftKings and rival apps run new player bonuses all throughout the year, and there's no doubt many of these offers provide tremendous value. That said, the best offers of the year always come during the run up to the Super Bowl, making now the absolute best time to take advantage of such specials.
Click here to get the DraftKings Super Bowl 56 promo and bet $5 for a $280 payout on the Rams or Bengals.
DraftKings Super Bowl 56 Promo for Bet $5, Win $280 Bonus
There's a great contrast between the Rams and Bengals ahead of this game. The pressure is on the Rams, a team that went all-in this season with a number of high profile acquisitions. Matthew Stafford, Odell Beckham Jr., and Von Miller are just some of the additions, and each are a big part of the Rams' status as the favorite ahead of this game.
While almost nobody, at least nobody outside of Cincinnati, expected to see the Bengals in this matchup, quarterback Joe Burrow and company have already proven capable of springing postseason upsets. That sets the stage for an intriguing championship battle.
Currently, bettors at DraftKings Sportsbook would have to risk around $560 to win $280 on the Rams, while they would have to risk around $170 to win the same about the Bengals.
But with this DraftKings Super Bowl promo that flips the prices upside down with 56-1 odds, almost all the risk has been removed from the mix.
DraftKings Super Bowl Promo Goes Beyond 56-1 Odds
Leading up to kickoff between the Rams and Bengals are Feb. 13, both new and current DraftKings players will be able to catch excellent daily deals. Whether holding down exclusive mystery profit boosts on select games, grabbing NBA same game parlay bonuses, parlay specials, and other offers, there's a variety of ways to enhance potential wins over the first two weeks of the month.
That said, with the DraftKings Super Bowl promo offering 56-1 odds, the opportunity for terrific value cannot be overstated. Earlier this season, the app provides bettors with the chance to bet $1, win $100 or bet $1, win $150 on select games, but this particular offer presents almost twice the total upside.
How to Get Started
This DraftKings Super Bowl Promo is available in the NY sports betting market as well as in Colorado, Arizona, Wyoming, Iowa, Indiana, Illinois, Michigan, Tennessee, Louisiana, New Jersey, Virginia, and Pennsylvania.
Click here to lock in 56-1 Super Bowl odds.
Complete the sign up process.
Opt-in to get a 20% deposit bonus, up to $1,000.
Make a first deposit of at least $5.
Lock into this special to bet $5 and win $280 by opting-in.
Place a $5 bet on Rams or Bengals to win.
Winning bets will be paid out in bonus cash within the hours following the game.
Click here to get the DraftKings Super Bowl 56 promo and bet $5 for a $280 payout on the Rams or Bengals.

DraftKings Promo
States: NY, LA, AZ, CO, PA, NJ, IN, IL, IA, MI, MI, VA, WY, TN, and WV
GET THE APP