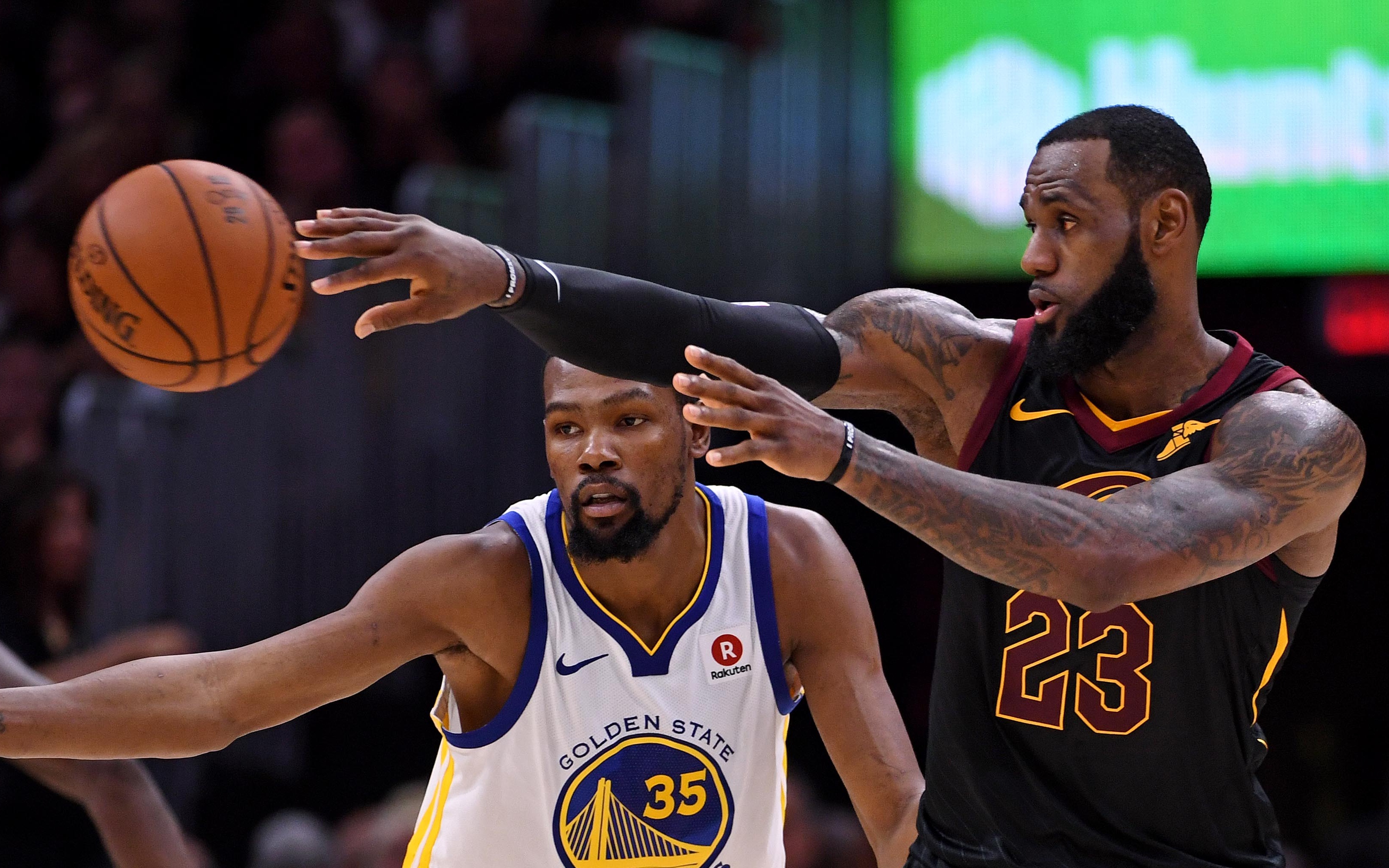 Game 4 of the NBA Finals was barely even over when Philadelphia 76ers big man Joel Embiid took to Twitter in an effort to openly (and humorously) recruit LeBron James, the undisputed greatest player on the planet. 
Embiid isn't the only one though. Plenty of teams and individuals have subtly, or not so subtly, tossed their hat in the ring for the LeBron James sweepstakes. The Sixers are regularly mentioned, as are the Rockets (although that may be strictly rumor, as the fit in Houston might not be right), as are the Lakers (why joining the 35-47, Luke Walton-coached Lakers is a good idea, however, is a mystery). And most recently, even San Antonio's Gregg Popovich has reportedly expressed interest in pitching "The King." 
Most believe that James' days in Cleveland are finished. The King came. He left. He came back (and won). And now it seems that it might be time for him to (once again) take his talents elsewhere. 
Ahem, Denver Nuggets, you interested in joining this party? 
You should be. 
You could be.
Why not? 
Sure, the Sixers can showcase a young and talented roster that could mature around James. The Rockets, with James, could build "Golden State South" by putting three megastars on the same roster. The Spurs can offer Kawhi Leonard and a coach who might actually create a game plan that's slightly more sophisticated than "Here's the ball; there's the basket; now go win a championship." 
But Denver can offer a lot, too. 
Here's what I'd pitch LeBron James if I were the Nuggets: Everything. Anything. Whatever he wants. 
I'd pay him whatever he asks (that's just a given). I'd go into the luxury tax, knowing the money would come back in spades. I'd offer up a piece of the L.A. Rams (down the road, of course, perhaps a gentlemen's agreement). If it were required, I'd unload Paul Millsap and his hefty salary. I'd roll the dice with Nikola Jokic and his agent, letting the Joker play out the final year of his still-inexpensive contract rather than signing him to a max deal now (unless, of course, LeBron suggests otherwise). 
And speaking of that, I'd also let The King play GM for a moment. With all due respect to Tim Connelly, the look of the 2018-19 Denver Nuggets should be up to James. Does LeBron like the idea of the young and talented core that's already in place? I can't imagine an objection to playing with a backcourt that's made up of Jamal Murray and Gary Harris. Hell, Juancho Hernangomez would be starter on the 2017-18 Cavs.
Does he like the idea of catching easy dimes from a playmaking center like Jokic? Yes? Great, then build around the 23-year-old Serbian superstar as planned. Maybe not? Perhaps a King prefers the ball running through him first, second and always? No problem. Trade Jokic for something big – another superstar, a boatload of draft inventory, anyone who LeBron would like to see accompany him to Denver. 
What. Ever. It. Takes. 
But here's the thing: Denver isn't exactly the Little Sisters of the Poor, here. Aside from an appealing existing core, there are other real, tangible reasons for LeBron James to come to Denver. Go ahead, start laughing, but hear me out. 
First, Denver is a place where James could win – a title, that is. And I don't want to hear the argument that it's easier in the East, either. With Philly and Boston emerging, the East hasn't gotten any easier. Besides, James was right there, knocking on the door for another ring, with an aging (and underperforming) Kevin Love and a "bunch of guys." Face it, Cleveland has nothing. But also look at Houston; the Rockets had their shot to beat Golden State with James Harden and "some guys" (had Chris Paul been healthy, they might have gotten it done). Denver is currently much more than just a bunch of guys. 
The Nuggets young core is often praised around the NBA; it was raved about heading into the season – ESPN even claimed the Nuggets were replicating the Warriors' blueprint for winning a championship. The Nuggets are made up of emerging stars – Harris, Murray and Jokic are widely viewed that way. They're all extremely young – 23, 21 and 23, respectively. Much like the Sixers, Denver's roster is one of those "a matter of when" not "a matter if" situations, meaning, the talent is there, it's mostly a matter of time. 
Then there's the coach. Michael Malone has his flaws, but relationships with players is not one of them. Not only does the Nuggets coach have a great reputation amongst plenty of NBA players, but LeBron James might be one them. As an assistant in Cleveland for five years, Malone coached James, and it seems as if there's a solid mutual respect there. Those around the Nuggets will generally point toward Malone's influence when it came to the recruitment of Millsap. Why not dangle that bait for an even bigger fish? 
Perhaps bigger than all of that, however, is that James has some kind of relationship with the Kroenke Family. I say "some kind" because it would be irresponsible for me to accurately classify that relationship, but still, it does exist. It was just under two years ago that The King enjoyed some time on the family yacht off the coast of Italy with, among others, Josh Kroenke. Now, I don't know much about yachts (I'm more of a Carnival Cruise Line guy), but I'd presume that guests, or even guests of guests, exchange cell phone numbers (and not of the burner phone variety either, Mr. Colangelo). 
Call this all "fake news" if you'd like – it's actually more of a suggestion for Nuggets brass to dream big – but make no mistake, there's a legitimate pitch to be made to The King. 
I say get on the horn, fire up the yacht, and get the greatest player on the planet sized up with those sweet new threads. 
Hey Nuggets, why not dream big? King big.