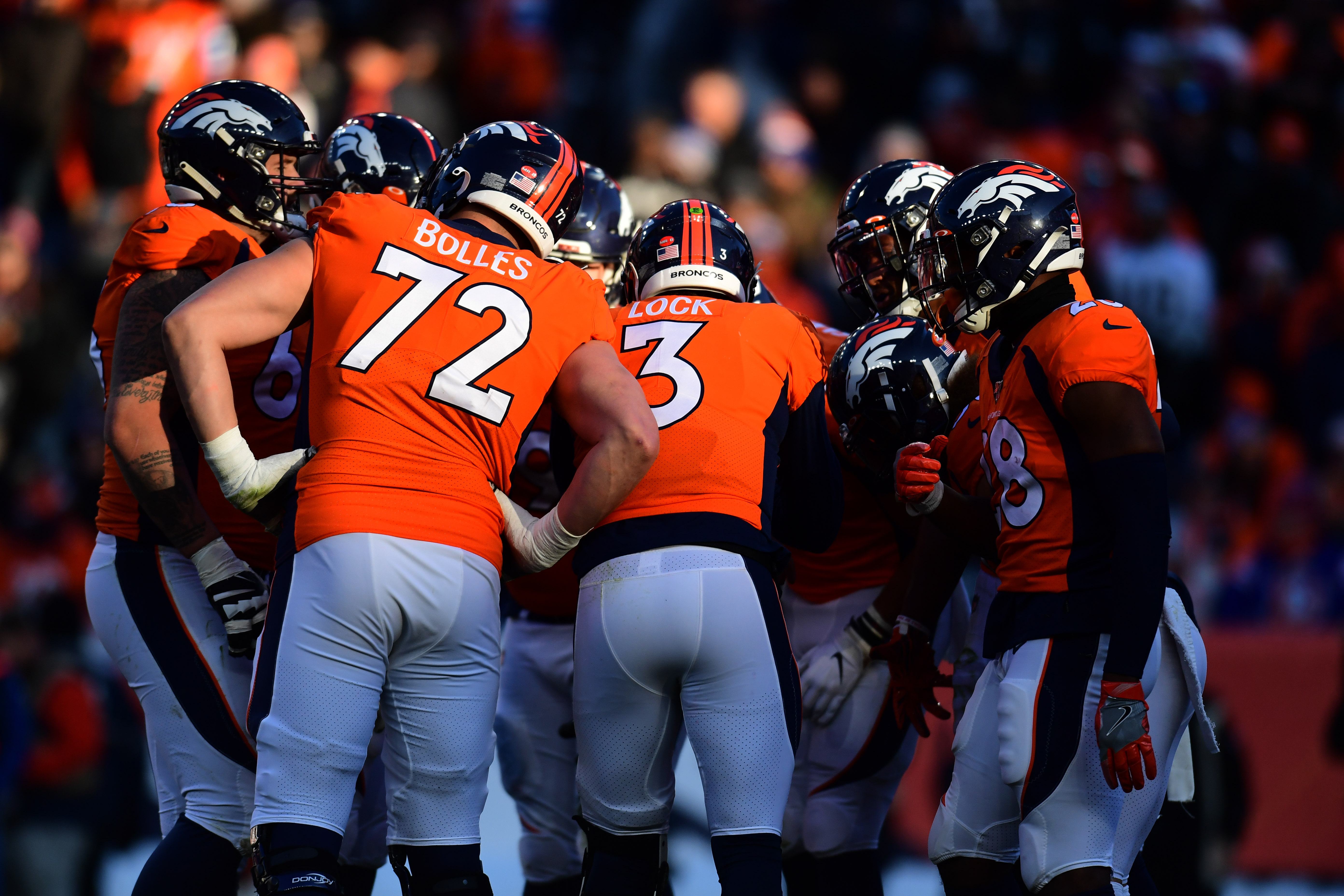 The name Drew Lock alone brings tension amongst fans throughout Broncos Country.
Denver Broncos fans have seen had a front seat to "great" quarterback play with Hall of Famers John Elway and Peyton Manning.
Even players like Brian Griese and Jake Plummer played to Pro-Bowl levels, leading the team to playoff appearances annually.
That feels like so long ago.
Broncos Country has been starved for a good quarterback play since the end of the 2014 season.
That anguish is visible when you enter any social media space. Broncos fans are at each other's virtual throats about how the team must address the issue.
How we got here
Over the last 6 years, the Broncos quarterbacks have been a revolving door. Often the joke of television broadcasts, graphics depict the "Broncos Quarterback Carasel" open wounds caused by years of losing.
For a proud fanbase, it is embarrassing to be mentioned with franchises like Jacksonville and Cleveland. Organizations that have no history of winning are now lumped in with the Broncos, and their 5 consecutive losing seasons.
Following the retirement of Manning following the 2015 season, the Broncos have tried retreads like Joe Flacco and Case Keenum to help the team compete. Neither player lasted more than 1 season.
Each quarterback the team has trotted out has failed to live up to Broncos fans' mile-high expectations. From competition between Trevor Simien and Paxton Lynch to the failed Flacco in his "prime" experiment, fans in Denver have seen one failed attempt after another.
Frankly, none have even played to the level of "average NFL QB".
In 2019, the Broncos took a chance and drafted Drew Lock. Lock, a talented but unrefined quarterback out of Missouri.
Lock (24), checks in with ideal size at 6-foot-3 and 228-pounds. Drew Lock possesses an above average throwing arm while also checking in with a RAS score of 9.39 following the NFL combine. RAS or Relative Athletic Score is a ranking from 1-10 comparing players with others within the same positional group.
For the first time in a long time, the Broncos drafted a young and talented player to develop.
The plan for Lock was to sit behind Joe Flacco for 1 to 2 seasons. Lock progressed in his first camp before suffering a thumb injury and being placed on the injured reserve (IR).
Flacco's ineffective play and season-ending injury pushed Lock to return from the IR and play in the team's final five seasons.
Lock entered the 2020 season as the unquestioned starter. He again was injured and placed on IR before returning to the team. His play was either hit or miss and perfectly represented the team's overall inconsistent play.
Though Lock flashed (4TDs against the Carolina Panthers for example), he just was not good enough. He turned over the ball too frequently in 2020, something he had not done very often in 2019.
Drew Lock, and the quarterback situation 2021
With a talented team, fans across Broncos Country are fed up poor play and want their team to win.
To do so, the team needs much better play from their quarterback position, whoever that may be.
Drew Lock sits atop the quarterback depth chart as we currently sit but has not earned the fan base's faith.
The team made several unsuccessful attempts to upgrade the position. George Paton and Vic Fangio seem confident in their current situation heading into a critical season. The Broncos made a cost-effective move for veteran Teddy Bridgewater to improve the room.
The Broncos passed on Justin Fields and Mac Jones with the 9th overall selection in the 2021 draft and appear ready to roll with a 50/50 competition between Lock and Bridgwater.
Rumors swirl about an attempt to get Aaron Rodgers, while fans bicker about whether Lock can be a long-term answer.
The quarterback position is a lightning rod for confrontation, and hopefully, it ends this season.
The strife about Drew Lock
Bronco fans are savvy and attuned. They no longer fawn over a young player who has potential just based on hope. Their expectations are high, and rightfully so. Broncos fans follow what players are available each draft and follow NFL insiders moment by moment, and know if a quarterback may become available (Rodgers), and demand the organization's effort to strike a deal.
The savviness coupled with 6 years of below-average quarterback play lead fans to grow frustrated.
Fans either want the Broncos to finally commit to a young player who seemed to improve. To fans of his, he's easy to root for. He says and does the right things and seems to genuinely want to excel.
Or, believe that the organization should stop wasting their time with a player who has not excelled as of year-2. PFF scored Lock with a 63.5, which sits at the bottom of the league.
Both positions hold some truth.
The conflict between both camps circles around the same premise, they want the team to win. Each camp believes the fan base deserves a winner, and both believe they know how the team should or shouldnot get there.
There seem to be more similarities between the two beliefs than many may realize.
The best way to bring Broncos Country back together will take a bit of work, but here is how.
Making a choice to resolve the conflict.
Several steps can be taken by fans in Broncos Country to bring the fan base back together.
The Conflict Resolution Process
The resolution of conflicts in the workplace typically involves some or all of the following processes.
First, fans must recognize the strife has become too much. The conflict has grown beyond subject (Lock or other QB) and has grown into interpersonal conflict. Personal jabs or abusive behavior takes over, and we must realign behind recognizing the problem exists.
Next, fans have to want to fix it. Making an effort to hear other's thoughts and validate their position can go a long way. Supporters of Lock are tired of the aforementioned revolving door graphics and believe he has shown promise at times. This seems rational and grounded in truth.
Others believe that it is unlikely Lock makes the turnaround, which is also true. Him making a Josh Allen jump into the elite is minimal at best. This position seems rational and grounded in truth.
Let us recognize both camps have a leg to stand on and choose to believe all fans just want what is best for the organization.
Paton and Fangio will choose the player they believe gives this team their best chance to win in 2021. Fangio's job and head coaching aspirations rely on winning this year. No one has more to lose if Lock plays poorly, assuming he's the starter.
The team may not lost some of our trust recently, but to begin to grow together we may have to give it to them anyway. No one wants the Broncos to win than those who run it.
Let us try and shake off the past year and get ready to enjoy some football and support whoever lines up behind the center.