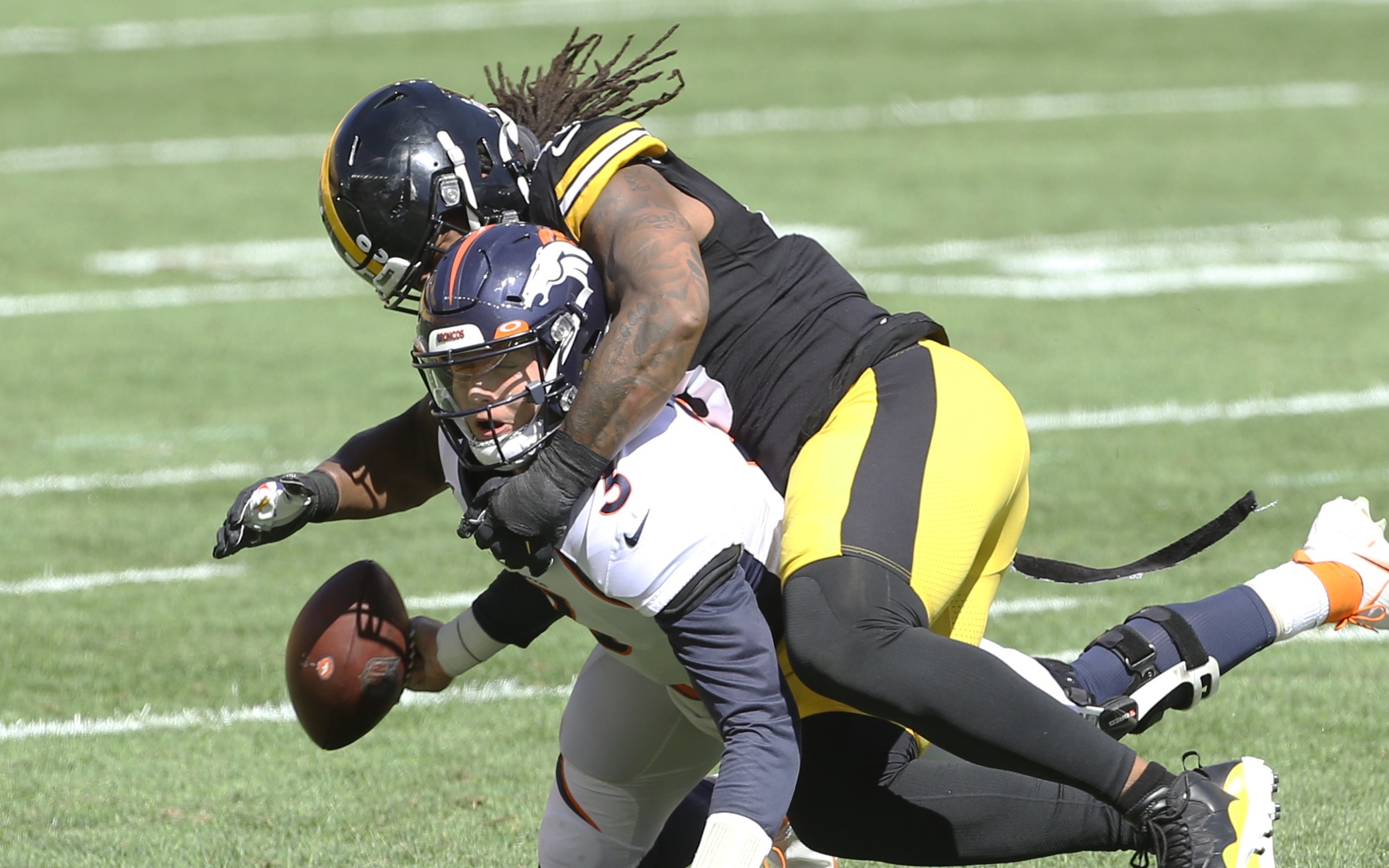 It may be only the beginning of Drew Lock's second season, but a second injury to his throwing arm has sidelined him again.
Lock, the Denver Broncos' young and promising quarterback, was injured on the team's second offensive drive of the day when he was blitzed, tripped up and then sacked hard. As he was tripped, Lock tried to stabilize himself and stand back up, but he was hit hard in the back by Bud Dupree and landed on his throwing arm, then writhed in pain on the ground.
Lock appeared to hurt throwing shoulder/arm. #Denver7 #Broncos pic.twitter.com/NSxICHJdSq

— Troy Renck (@TroyRenck) September 20, 2020
Lock obviously needs to use that shoulder to throw the ball and he's been deemed "questionable" to return as Jeff Driskel took over the game with 4:18 left in the first quarter.
The Steelers got to Lock on a blitz, and they blitzed nearly two-thirds of the time in Week 1. Notably, Lock's passer rating has been much higher when he has not been blitzed during his short, seven-game career.
And, keep in mind Lock injured his throwing hand last year in the preseason, ironically in almost the same way. He was rushed, tripped up and fell on his hand while fumbling. That meant going on the Injured Reserve and then not being activated until Week 8. Lock didn't see any game action until Week 13, going 4-1 as a starter down the stretch.
That led to this season, where the expectations on Lock were a mile high, especially considering all the transformations the team made on the offensive side of the ball.
Lock has been ruled out of the game and the exact injury to his shoulder — and the severity — have not been specified as of yet. It could be relatively minor, or, it could be a lingering injury which lands him back on the IR. Stay tuned for updates.
At the time of this publication (beginning of the second quarter), Pittsburgh leads 7-0 and Driskel has connected with Jerry Jeudy multiple times which is a positive sign for the offense.
Driskel is a five-year veteran who started eight games over the last two seasons with Cincinnati and Detroit.