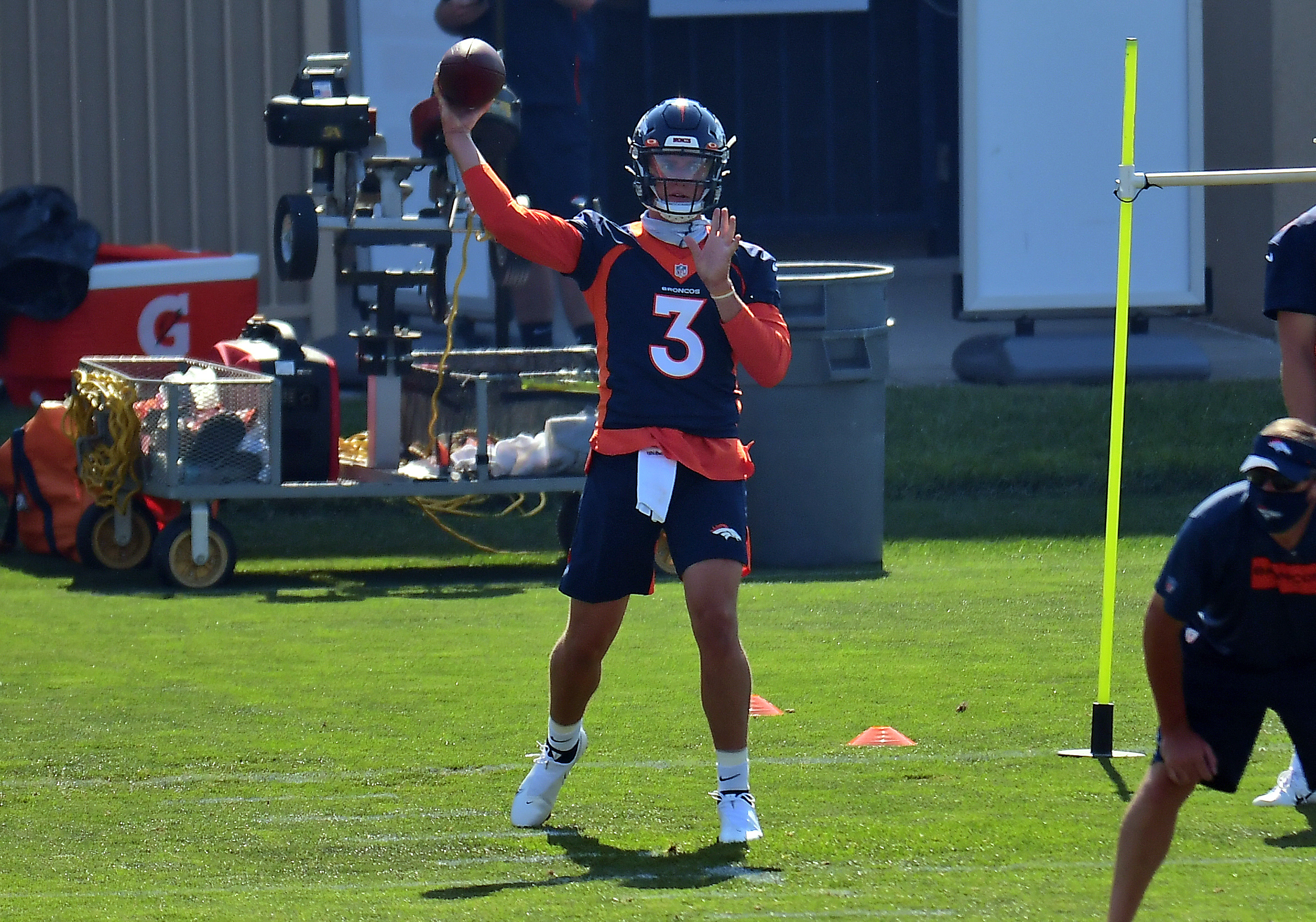 Drew Lock has been the subject of speculation throughout the offseason as Broncos fans have pined for his replacement.
Obvious names like Aaron Rodgers or Deshaun Watson have been speculated to land in the Mile High City. Less obvious names like Ryan Fitzpatrick and Mitch Tribusky were on the list of some to head up the Broncos quarterback room as well.
It was all but expected Lock would be replaced by someone, anyone, as the Broncos transitioned to the draft. From Trey Lance to Mac Jones, the Broncos had to draft someone new right?
Drew Lock's inconsistency left the door open for doubt. To be frank, it should be. He did not perform up to the standard of a starting NFL quarterback. PFF ranked him last among the NFL's 32 starting quarterbacks.
Drew Lock has been doubted in a multitude of ways by fans and media alike. Some have even questioned his intelligence and his work ethic.
While Broncos Country watched elsewhere, Lock worked behind the scenes to get better.
During his most recent press conference Lock showed a renewed focus and intensity he did not have last season.
#BroncosCountry LIVE: @DrewLock23 meets the media after Day 1 of #BroncosOTAs. https://t.co/F89PnciheZ

— Denver Broncos (@Broncos) May 24, 2021
Drew Lock worked to block out the noise
With rumors swirling, Lock was committed to being a successful player in the league. Knowing the team would add competition, or that he could be traded, Lock prepared the same.
"I decided that I was going to develop a plan this offseason," Lock said. "It was going to be really long days, but it was going to be worth every single second of it because regardless of what happened, if I stayed here, I left or they brought someone in, my mindset was not going to change wherever I went. If I went somewhere or if I stayed here, I was going to be the guy. I put every single ounce in that this offseason. Being able to do that gave me zero time to listen to all of this stuff. Maybe I'll go back one day, read and laugh about things that were being said by people who ended up being completely wrong."
Lock begins the grind
"Work in silence, let your success be your noise" (Frank Ocean).
Lock took that sentiment to heart and went to work.
Lock's presence on social media was almost nonexistent. He did minimal interviews throughout the offseason. You did not see him in commercials promoting the next great product.
He simply went to work.
Drew Lock revamped his workout regiment, resulting in a focus on all aspects of his game. He thought he knew how to work before, but recognized he needed more.
That humility led him to revamp his entire program beginning with his body. When asked what he worked on this offseason Lock stated, "It kind of all intertwined together. One, working on my body first. Working with [Strength & Conditioning Coach Loren] Landow, working with [Nutrition Manager] Brett Eisen, being able to start there, and then it became football really quickly after."
Embracing familiarity while not being complacent
From there, Lock addressed his game with the benefit of familiarity.
Lock identified playing in a familiar offense allows him to address his own errors. "As far as me possibly finally being in the offense that I ran the year before, it was really fun to be able to do stuff towards that this offseason… How do I make that better? What was I doing wrong? Instead of having to start over new [as] I did in years before, I feel way more comfortable in this stuff that is going on, especially just being out there today. I can feel how much more comfortable I am. It also evolved into not just the mental side of it, but the footwork stuff."
He has used that familiarity to build confidence. Not bravado, but confidence from understanding concepts and executing them.
When the NFLPA encouraged players not to be Lock was constantly at the facility anyway. Drew Lock worked with the staff, then at home. Lock's intentional focus on how to attack this craft was necessary to hold on to his job. NFL quarterback positions are not offered to many, and he is very aware of the opportunity in front of him.
Putting the work in to be great matters to him. After being an NFL quarterback Lock stated, "there is zero doubt in my mind that I would like to do this for the rest of my life. That is a lot of the reason why I went into this."
Drew Lock is showing humility and accepting help
Lock recognizes he could not make a leap with the same plan he had entering last season. He showed humility in identifying external supports to help him get over the hump.
"There [were] a lot of people that came into this… A lot of people helped me that I'll forever be grateful to. Early mornings, making sure that I was getting into the habit of waking up at the same time and starting my day at the same time, working on a routine. [The] early film before Zoom meetings, Zoom meetings, coming to lift, working in the afternoon, coming home, taking a script, [taking] plays that I didn't like from last year, drawing them in the basement, coming out, throwing with the guys in the afternoon and coming back and finishing more film. Just Groundhog Day over and over again. There was a lot [of] work that went into it."
Lock then took advantage of a great opportunity. He hooked up with Peyton Manning to review his film study habits and footwork. Some players may believe they know themselves well enough to do it on their own. Lock understood that help does not equal weakness, but a chance to see things he himself has missed.
"As far as working with Peyton, I think him being able to give me his time was worth a lot to my game. It was worth more than I think I'll ever realize. I'm forever grateful to be able to do that for me and [for] taking the time out of his day to do that. Subtle things—you just like having more eyes on film and technique. Hearing from a guy that did it the best for a really long time was nice to be able to have in my corner."
Drew Lock did not leave any stone unturned. With the help of others, he may have uncovered the quarterback many thought he could be.
Drew Lock is embracing the competition
From the beginning of the offseason, general manager George Paton knew he was going to make the quarterback room better for the Broncos. It could have been upgrading the position with a future Hall of Famer, or bringing in competition for Lock.
Paton traded for former Panthers starting quarterback Teddy Bridgewater. Furthermore, many believe that Bridgewater will win the job because he is safer with the football, and offers a higher floor.
Drew Lock turned that doubt into motivation and seems to be embracing the challenge.
"I think being in a quarterback competition—if you were to say last year not being in one—the mindset doesn't change at all. I'm here to compete and do everything [I] can to be the best quarterback for this team. That is the mindset that I have right now. It's going to be fun. I'm excited to be able to go out there and have this competition, push myself to [a] whole different level that maybe I wouldn't have gotten to without this."
As Mile High Sports' Rich Kurtzman wrote, Lock's competition with Bridgewater will not end until one plays well on the field.
Drew Lock has to prove it through camp and into the season. The job is not his. However, objectively one can appreciate his focus.
His focus has a bit of edge to it
A media member asked how Lock felt about the rumors surrounding his position. He had a strong reply. He stated, "We had a great practice today. We dove into the script that we had for the last couple of days getting ready for this… My number one concern was how I was going to play in the 7-on-7 stuff that we had today. I know that was it. We didn't have any full team, but we did 7-on-7 and that was my biggest thing and my focus these last couple of weeks. I kept things the same over these last couple of weeks even as staff started popping up."
This implies his focus is on the field and anything else is a waste of his energy.
He did ensure to pass along a note for his doubters, "Maybe I'll go back one day, read and laugh about things that were being said by people who ended up being completely wrong."
The great players have a chip on their shoulder, and it seems Drew Lock found his.
If you are a fan of the Broncos you have to love Lock's edge, even if you still doubt him as a player. His edge can help him capitalize on the success he had at the end of 2020, and become a more consistent player moving forward.