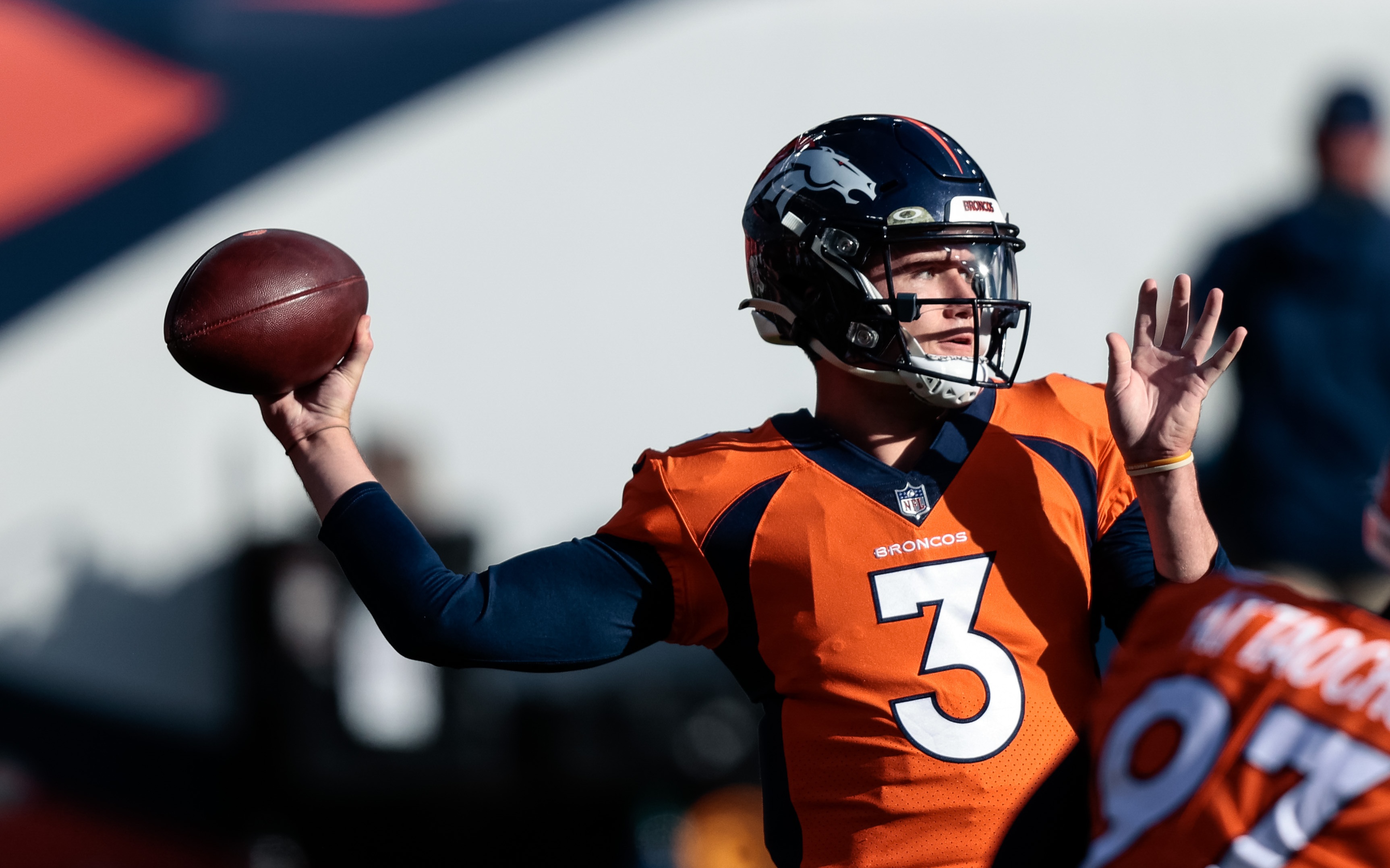 Adversity introduces a man to himself.
For all intents and purposes, Drew Lock has always been the man. In high school he was the Kansas City-Star's All-Metro Player of the year as a senior. And then at the college level, Lock was the man at Missouri, too. The four-star recruit took over as the team's starter as a freshman and never relinquished the reins of the position.
Depending on how one looks at the numbers, Lock either peaked as a junior (44 TDs, 13 INTs) or as a more precise and controlled senior (62.9%, 28 TDs, 8 INTs), but either way, he finished his college career with back-to-back strong campaigns.
Therefore, it's somewhat easy to argue Drew Lock has never really faced adversity on the football field, specifically at his position, until he made it to the NFL.
Now, it's time to sink or swim for Lock. And, he's doing everything in his power to keep his head above water while simultaneously save a drowning Denver Broncos team.
Adversity has been the name of the game for Lock since he was drafted by Denver in 2019 thanks to a trade, taken at No. 42 overall. It's the simple truth that no player is guaranteed a starting spot, even quarterbacks when they're taken in the second round or later.
As a rookie, the Broncos brought in old-timer Joe Flacco even before Lock was drafted. So, when he was taken just after Dalton Risner in the second round, there was little hope he would start in his first year.
Those small hopes were dashed when Lock tripped and fell on his throwing arm, injuring his thumb in preseason. Flacco played, and then gave way to Brandon Allen, and eventually, Lock for five games to end the 2019 season. The rookie showed flashes, including a brilliant game against Houston, and the Broncos went 4-1 during his starts thanks to a hot defense leading the way.
That fueled the fire going into 2020, where Lock again injured his throwing arm, this time in the second game of the season. Last year likely would have been a tough one either way for the youngster, even without the injury.
He had a new offensive coordinator in Pat Shurmur, no in-person workouts due to COVID-19, the Broncos' best receiver Courtland Sutton was placed on the IR early in the year and the list goes on.
And once he returned from injury, Lock struggled mightily, leading the NFL in total turnovers (19), with the worst completion percentage (57.3) in the league and the 32nd passer rating (75.4). According to nearly every passing metric, the Broncos' quarterback was arguably the worst in the league last year.
That's a tough pill to swallow for Broncos fans, who are accustomed to winning.
Since the NFL went to a 16-game format in 1978, the Broncos' .580 winning percentage is third-best in the league. Not only that, Denver's been blessed to have two of the greatest quarterbacks in the history of the league play for their team in John Elway and Peyton Manning.
At the same time, when Elway threw bone-headed interceptions he was booed, as was Manning in his final season as he struggled to play through injuries.
Simply, Denver fans have the highest standards possible when it comes to quarterbacks, so it's no surprise they've been so hard on Lock, too.
Lock knows this third season is make-or-break for him, the writing's on the wall.
New general manager George Paton poked around the Lions when Matthew Stafford was available, eventually deciding to keep Lock when Detroit asked to include the youngster in a package. And the Broncos also reached out about the price for Carson Wentz as well as Sam Darnold, though they reportedly never made offers. Oh, and they were all-in on Deshaun Watson earlier this offseason, too, before that got more complicated due to Watson's sexual assault allegations.
Add on top of that the possibility of Denver moving up in the draft, from their current No. 9 spot to No. 4 as Atlanta reportedly is looking to move back. The Broncos would be targeting likely Trey Lance or possibly Justin Fields at 4, putting more pressure on Lock to outperform an incoming star rookie.
So, faced with all this adversity, Lock is choosing to push harder, to work harder and to lean on the aforementioned Manning.
That's right, Peyton Manning is currently working with Drew Lock, and as Benjamin Allbright explained, the current QB wanted to keep it quiet and not be "showy about it." That shows maturity.
And, not that past performance is any guarantee for future success, but Manning reportedly met with Josh Allen last offseason and Allen said it was helpful. It should be noted, too, that while Manning met with multiple teams' quarterbacks last year via Zoom, he's working more extensively with Lock this year.
While Lock has all the physical abilities, where he comes up short is the mental game of the complicated quarterback position. Lock throws into double-coverage too often, and forces passes instead of taking a sack or even simply throwing the ball away.
If there were ever a perfect person to work with and develop that mental side of the game, it's Manning.
Lock knows nothing is guaranteed, and he understands this is an uphill battle for him. But, it seems like he's meeting the adversity head-on, which is a huge positive for the Broncos in 2021 and possibly beyond.