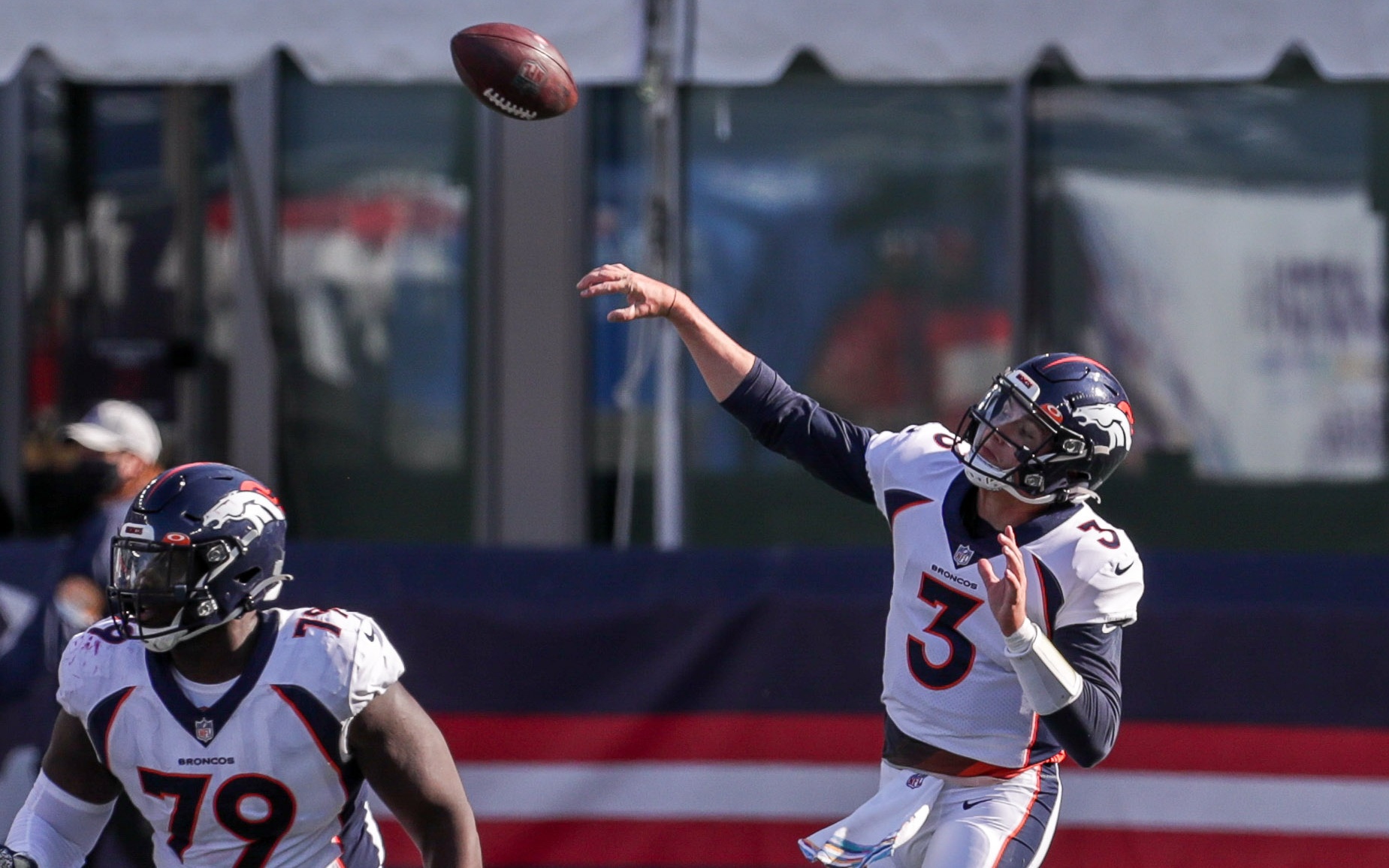 Lock's back, baby, and so is the Broncos' offense.
OK, they only scored 18 points on Sunday, unable to get the ball over the goal line a single time. They even earned awesome field possession after a turnover forced by the defense, and had to settle for a field goal. That wasn't great.
But, Denver's offense was able to score on their first six straight possessions, even if they were all field goals. That's the bright side.
Growth is slow, growth is incremental. But at least the Broncos offense is learning to make plays and against a good defensive team in the New England Patriots.
And, everything has context, right?
Very early, Lock uncorked a deep pass down the sideline to rookie Jerry Jeudy, but the youngster missed the ball as it went through his arms. That should've been a touchdown.
A little later in the first half, Lock's college tight end Albert Okwuegbunam had another should-be touchdown go through his hands in the end zone. And then, in the third quarter with the Broncos looking to extend their lead, Lock tossed a beautiful back-corner fade to Albert O. again, but it was again dropped by the rookie tight end.
Would Noah Fant have caught either one of those passes? It's impossible to say for sure, but it's definitely possible.
The biggest drop may not have even come on a throw to the end zone, either.
On the first play of the fourth quarter, leading 15-3, Lock let loose of another deep pass down the sideline, this time to DaeSean Hamilton. Hamilton, who's been overshadowed by every other Broncos receiver, somehow got behind star corner Stephon Gilmore. But Hamilton had Lock's beautiful pass bounce off his forearm and incomplete.
All of those drops meant the Broncos led 18-3 in the fourth quarter, which was quickly shortened to 18-12 and Denver barely held onto win.
Again, context matters.
Lock was mostly great for much of the game. "Mostly" being the key word here.
In the first half, he wasn't perfect — he took a huge, 13-yard sack on a third down which pushed a field goal to 52 yards — but his mistakes weren't catastrophic.
Instead, he left those for the fourth quarter.
He got in his own head after pulling away too quickly from the center and fumbling the snap because on the next play, Lock threw a pass down the sideline which resulted in an interception. Tim Patrick, the intended receiver, never turned around, and Lock seemed to expect a comeback route.
Luckily, Denver's defense was able to sack Cam Newton and force a field goal after that costly pick.
That set up the Broncos needing to kill 3:14 for the win, leading by six points. Quarterbacks have to be composed late in games and execute. Denver needed a mere 2-3 first downs to milk the clock and take their second win of the season.
Instead, on the first play of the drive, Lock dropped back and threw the ball deep yet again, which was picked off in spectacular form.
Was that play partly an issue with coaching and Pat Shurmur telling his "rookie" quarterback to throw the ball deep? Yes. Without a doubt.
But, Lock is on the field and he threw it into double-coverage. Anything would have been better than an interception there, even a sack, because the clock could've run or burned New England's last timeout.
And, those are the type of possible game-changing mistakes a young quarterback makes, in only his eighth game in the NFL. While many fans love his athleticism and his big arm, Lock is going to make mistakes in every single game this early in his career. Sometimes, they can even cost the Broncos a win.
On this Sunday, he was bailed out time and time again by his defense, which was the best it had been all season long.
All told, Lock went a mere 10-24 (41.7 percent) for 189 yards, 0 touchdowns and two interceptions. But, those numbers could've been vastly different if even one of the three massive drops were caught.
Lock's numbers from today's game would've been better if starters Noah Fant and Courtland Sutton were in the lineup. That much is true.
But, Lock has to work on his craft, as well. He can't take that 13-yard sack on third down, making the field goal much more difficult. He can't fumble a snap because he's excited to get a play underway. And then he can't throw those picks late, even if he owned up to the first saying, "The first one was 100 percent on me."
Winners of back-to-back games, the Broncos are now 2-3 and still kicking. If they want to keep growing this year, they'll have to work through Lock's growing pains as well.