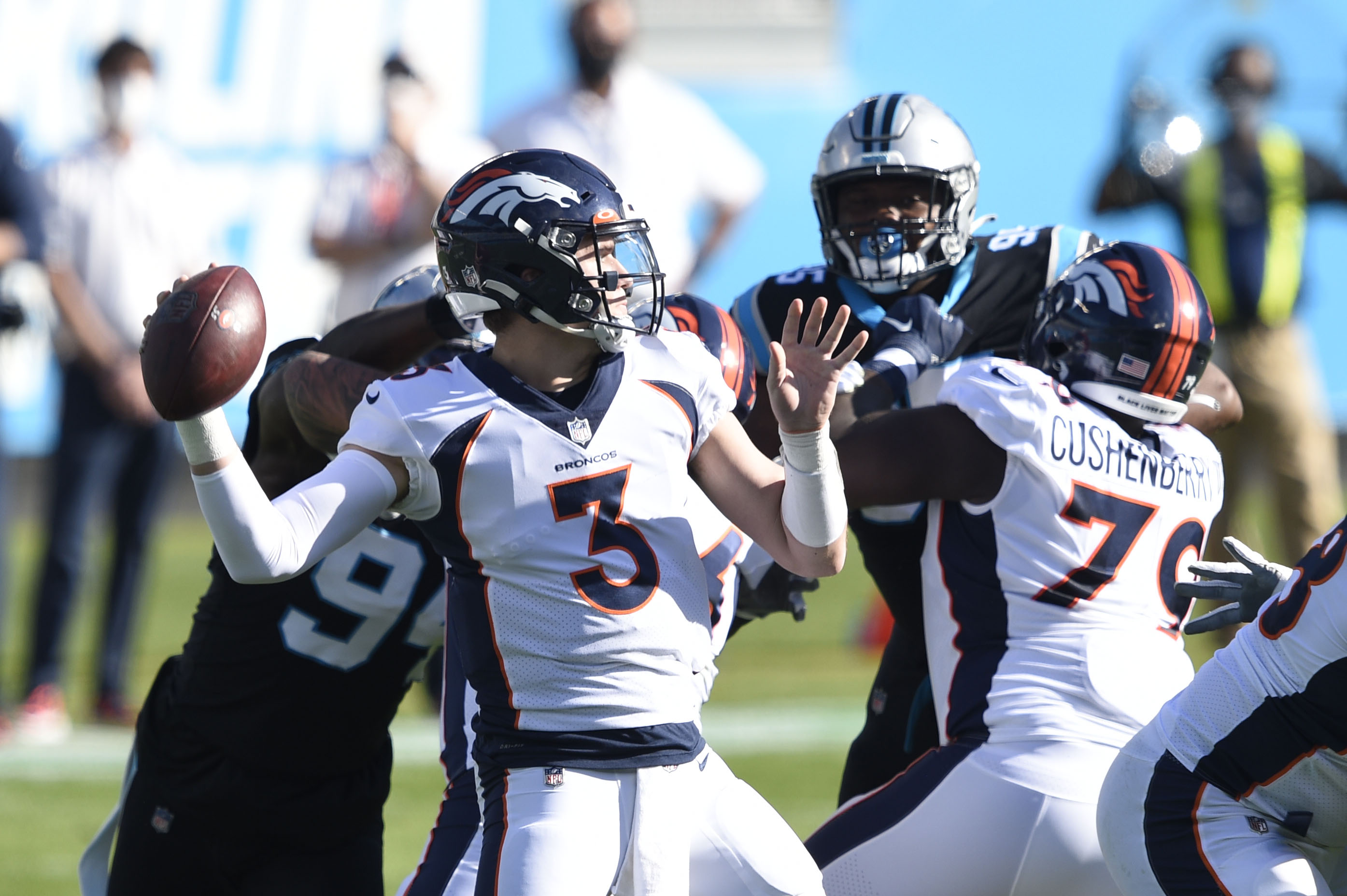 What we know this offseason is Drew Lock and Teddy Bridgewater are in a battle for the starting quarterback position. Despite the smoke surrounding Aaron Rodgers and his beef with the Green Bay Packers, Lock has the opportunity to be the "guy" for the Denver Broncos in 2021.
Now both quarterbacks have strengths and areas of weakness, making this competition clouded before training camp.
For each guy to separate himself from the other, there are aspects to their game they must improve when training camp ends and the regular season begins.
Here is what the incumbent starter — Lock — must do to win the job. If he can, and plays well, he is set up to entrench himself as a long-time fixture in Denver.
Drew Lock must be on time with the football
It is hard to question the third-year quarterback's physical talent. No. 3 for the Broncos has the measurables to excel in today's NFL game. However, one aspect that must improve is Lock's ability to anticipate throws.
To win the job, Lock must reduce turnovers and make big plays. To do so he has to be on time with the football. Lock relies too much on his arm strength which causes habits of being late on throws.
To be successful in training camp, Lock has to know where his receivers will be and throw to a spot more frequently. If he can continue to trust what his eyes see the 24-year-old can solidify himself as the quarterback this season, and in the future.
Lock's footwork has been an area he has improved so far this offseason. A quarterback's footwork is tied to route concepts and pass blocking schemes. Therefore, quarterbacks who use clean footwork hit their drop step and know the ball needs to leave their hand. That consistency helps support receivers as they anticipate when the ball will arrive.
Drew Lock talked about changing his footwork this offseason. So I asked him what exactly he's changed.

"Ever since I started throwing this offseason, I tried to keep it a little bit more square." #Broncos pic.twitter.com/1yc627HlPy

— George Stoia III (@GeorgeStoia) June 15, 2021
If Lock can continue to use improved footwork and anticipation, his natural arm talent will be amplified. Thus, showing a clear advantage over Bridgewater.
Lock needs to cut turnovers while remaining aggressive with the football
A rookie quarterback from Missouri burst on the scene late in 2019. That rookie showed smart play, sporting a touchdown-interception ratio of 7-to-3.
Lock showed he is capable of minimizing turnovers while leading his team to a 4-1 record.
Last season, Lock threw 16 touchdown passes with 15 interceptions. Adding the three rushing touchdowns with the three lost fumbles attributed, Lock's turnover to touchdown ratio sat at 19-to-18.
That simply was not good enough, and led to Denver's desire to bring in Bridgewater as competition.
Careless throws hindered the team in several contests last season. Compounding bad plays created holes the team could simply not overcome.
Furthermore, the 2020 Broncos were last in the league with 32 turnovers. Lock's contributions to this statistic are significant. To win the job, his mention for late throws in traffic must be curbed.
As six games were determined by one score or less, it is easy to connect the dots to turnovers and the team's lost post-season opportunity.
Lock seemed to struggle early this offseason by trying too hard to be safe with the football. In all actuality, he needs to be aggressive to separate himself from Bridgewater.
Lock's ability to produce touchdowns in the red zone separates him from Bridgewater now.
#Broncos–#Texans — Drew Lock vs. 2-Man.

• TE Noah Fant runs the seam route

• Defender with his back to the QB in coverage = throw it

• This is laser from Lock (ball placement wins, too)

• Gotta get out of 2-Man in the red zone…@NFLMatchup pic.twitter.com/5COnmA7M3E

— Matt Bowen (@MattBowen41) February 16, 2020
The ability to throw with authority will be important to winning the job. Bridgewater simply does not have the velocity to press the issue in the red zone or threaten defenses vertically.
Bridgewater would have already been tabbed as "the guy" if the Broncos brass was comfortable with dink-and-dunking their way down the field.
Lock cannot out Teddy, Teddy. He must hunt with the football (as quarterback guru Tim Jenkins would say) to take control of this offense.
Lock must hit on shot plays
One way for Lock to separate himself is by letting the ball fly and connecting with his talented pass catchers.
Lock's arm strength is phenomenal, ranking among the best quarterbacks in the league. Yet, Lock struggled to connect with his receivers deep last season.
On several occasions last season Lock would put the ball out of reach, giving his receivers little chance to make a play. For example, per ESPN Next Gen Stats, Lock posted a subpar passer rating of only 60.5 throwing the ball beyond 20 yards downfield. The NFL average is 79.8 on throws beyond 20 yards.
Lock's inability to give his receivers a chance deep limited big play opportunities and pass interference calls. Either could have contributed significantly to the offensive scoring woes.
With the return of the "King of the 70/30 ball" himself, Courtland Sutton, along with the maturation of Jerry Jeudy and K.J. Hamler, Lock has no excuses.
Drew has shown he can hit on these plays, now he has to do it consistently.
Drew Lock throws a DART to KJ Hamler 😳

His 4th TD pass of the day

(via @NFL)pic.twitter.com/D4WrfK50ax

— Bleacher Report (@BleacherReport) December 13, 2020
If Lock hits the big plays that are there to be made, he will clearly separate himself from Bridgewater in this quarterback competition.
Conclusion
Lock is an enigma. His volatility can be maddening. His highs are high and his lows are low. He can solidify himself as a long-time starting quarterback by finding consistency, throwing with anticipation, making the right play and connecting on big plays.
Lock has shown he can be a good quarterback in the league. For instance, he finished the last season with a touchdown-to-interception ratio of 9-to-5 and a passer rating of 87.35 over the final six games.
Now that he has an entire offseason and a second season with the same offensive coordinator in Pat Shurmur, it's time for him to elevate his game.
If Lock continues to build on last season's success in training camp, he will put himself in a good position to win the quarterback job, and that will come down to mastering these three areas of the game where he has previously struggled.