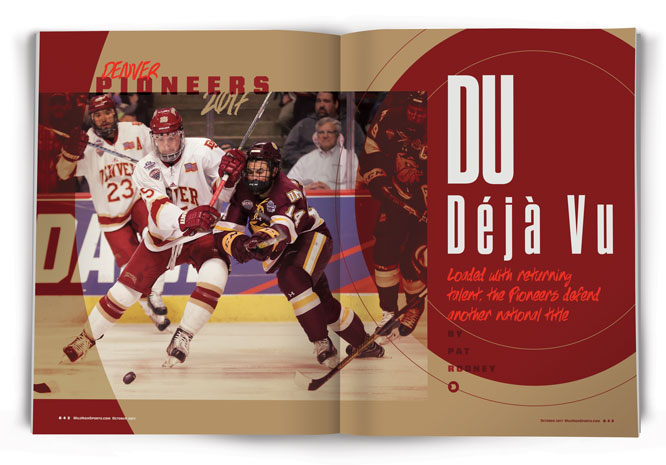 This story originally appeared in Mile High Sports Magazine. Read the full digital edition.
Tariq Hammond figured the best move was to not move at all.
With 16 minutes, 50 seconds remaining in an NCAA title game his team led by two goals, a dogged battle for the puck ended with Hammond looking down to see his foot pointed the wrong way.
Talk about a reality check.
In a sense, Hammond's hockey life flashed before his eyes back on April 8 while sprawled at the end of the ice in Chicago's United Center.
Like any young player bred in the icy winters of Canada, Hammond had sacrificed home and heart in pursuit of his hockey dreams. As a teenager he toiled in the Alberta Junior Hockey League with the Okotoks Oilers, just on the southern outskirts of his hometown of Calgary. He followed a path forged by so many Denver Pioneers legends before him, moving south to pursue his NHL dreams through one of the most storied programs in NCAA hockey.
Though he put up big numbers in the AJHL, Hammond also was forced to look inward when adversity greeted him at DU, as he appeared in just 10 games during his freshman season in 2014-15 before returning the following season to win the program's Murray Armstrong Award, given to the Pioneers' most improved player. He appeared in all 43 contests in 2016-17 leading up to the national title game, but it was clear he would not skate through the conclusion of game number 44.
"It didn't really hurt that bad when it happened. It just kind of shocked me," Hammond said. "I looked down and I could see my ankle was going the wrong way. It didn't look good. I just didn't want to move that much because I didn't want to hurt it any more. It was more of the shock of the thing."
Hammond and the Pioneers weren't short on shock value last season, as coach Jim Montgomery's club restored elusive national championship glory to the DU program for the first time since 2005 and the eighth time overall. While the carousel of college athletics has robbed the DU roster of several significant contributors (most prominently Hobey Baker Award winner Will Butcher, now with the New Jersey Devils), the Pioneers return more than enough firepower to mount a return run to the Frozen Four in 2017-18 – and perhaps even win a repeat championship, just as they did in 2004 and 2005.
Obviously, that is a daunting challenge. Yet Montgomery exudes confidence that when the Pioneers hit the ice on Oct. 13 to begin their title defense at Notre Dame – a team that undoubtedly will be aiming for revenge after DU's 6-1 trouncing of the Fighting Irish in the Frozen Four semifinals – they will be more than ready to defend the enormous target on their collective back.
As for Montgomery, he has been busy picking the brains of some of the best minds the coaching profession has to offer as to how to keep a championship team hungry for more. Absorbing the advice of Scotty Bowman (an NHL record nine Stanley Cup titles as a coach) and DU men's lacrosse coach Bill Tierney (an NCAA record seven titles as a coach) always is a good place to start.
"I talked to Scotty Bowman, and he had some great insight because he's had so many back-to-back championships," Montgomery said. "We had a great hour-long conversation, and he spoke to how you keep them hungry. He said in college you get new blood coming in that is going to be hungry, and that makes it easier. But, he said the details of being hard to play against and making sure you're doing things right in practice from Day 1 is something he thought was really important. And I've talked to Bill Tierney and he said the thing you have to worry about is the people around – parents, fans, whatever – telling them how great they are and softening them up.
"You have to realize that you're not actually repeating a championship. You are just like the other, in college hockey, 59 programs who are trying to win the championship that year. The other year is done with."
One thing Montgomery and the Pioneers can bank on as they begin their title defense is leadership. Hammond proved during that otherwise jubilant night in Chicago that he owns grit enough for just about every competitive pro and college team in Colorado.
Hammond suffered a dislocated ankle and, after a lengthy delay, he was wheeled off the ice on a stretcher. Once X-rays were taken and his lower leg was sufficiently numbed, doctors set the wound and fitted Hammond with a walking boot. Presumably, Hammond was headed to the hospital. Naturally, he had other plans.
When he went down, DU held a 3-1 lead against Minnesota-Duluth. By the time Hammond limped back onto the ice, the Pioneers had claimed a 3-2 victory and the program's eighth national championship. Instead of watching the festivities from some Windy City emergency room (where he likely would have had to plead his case to turn the tube from that night's Cubs-Brewers game), Hammond was able to participate in the championship celebration, hoisting the trophy and taking his place in every one of the immortalizing team photos.
Not surprisingly, Hammond was voted the team's captain for 2017-18. His return to the ice might be somewhat delayed – he endured a second surgery over the summer to repair five small fractures in his talus bone, which helps connect the foot to the leg – yet if his gumption in Chicago is any indication, don't be surprised if Hammond assumes his position along the blue line in South Bend, Ind. for the season opener.
"There's definitely a reason he's our captain this year," junior Troy Terry said. "He's such a great person. He battles for us on the ice. He's a warrior. There's really no other word for him. He'll lead us on the ice just with the energy that he brings and how hard he works. I think what really made it an easy decision for him to be our captain is how he is off the ice. He's always looking to be a mentor to the younger guys and he's just a great person in general. I think he's going to do a great job."
For Terry, there was a personal touch to DU's 2017 national championship. A Denver-area native, Terry fondly recalls the days when he was a fixture in the Magness Arena stands when the Pioneers won their previous two national championships in 2004 and 2005. The leading goal-scorer on those two title teams was Gabe Gauthier, who famously scored the lone goal in DU's thrilling 1-0 win in the '04 championship game. The former DU standout was one of Terry's first hockey idols, and when Terry and his teammates passed around the championship trophy this past spring, Gauthier was there to offer his congratulations.
"Ever since I was a kid, this is where I wanted to go. My first offer was from here and I didn't even need to wait and see if I'd get any more offers," said Terry, who paced DU with 22 goals and 45 points last season. "To be able to win it here, like I watched Gabe Gauthier and all those guys do in '04 and '05, it was pretty special. It had so much value, just growing up and almost feeling part of the program growing up and watching it. I know how much it meant to me as a kid watching them win it. To be part of a team that brought it back here again is pretty incredible."
While Hammond provides the grit, Terry leads a cast of versatile and dynamic scorers returning to DU in 2017-18. Overall, the Pioneers bring back three of their top four scorers, including Terry, Henrik Borgstrom (22 goals, 21 assists) and Jarid Lukosevicius, whose three goals in the title game made him the first player to record a hat trick in the national championship since his own coach, Montgomery, achieved that feat with Maine in 1993. While the loss of Butcher (a team-leading 30 assists) certainly is blow, it is perhaps more significant that DU returns goalie Tanner Jaillet, who won the Mike Richter Award as college hockey's top goalie last season.
The talent is there, with checkmarks in every one of any hockey team's primary needs – scoring (Terry), goaltending (Jaillet), and leadership (Hammond). The challenge for Montgomery is not whether he has the right pieces in place to defend a national championship. It's whether those pieces will return in 2017-18 with the same passion and hunger they displayed throughout last year's dominant 33-7-4 campaign.
"There are two things I think are going to be our biggest challenges," Montgomery said. "To me, it all comes from within. One, how hard are we going to be to play against? Because the one thing about last year's team and why we had such a good overall record is we really were hard to play against from day one. You had to earn everything you got. If I look at the games we played last year, to me there was only one game where we were outworked. Maybe there was several other games where it was even. That's hard to duplicate, and we're going to be a younger team.
"The second thing is going to be our attention to detail. I think when guys have success they come back and they don't realize the time and effort they put in to becoming great as a team. Our attention to detail – especially with the loss of those seniors, because their detail was so great – that's going to be our two biggest challenges."
Six of DU's seven national championships prior to last spring were won in back-to-back fashion, with the Pioneers winning titles in 1960 and '61, 1968 and '69, and again in 2004 and '05. If Hammond can inspire a somewhat younger batch of Pioneers to perform the daily equivalent of strutting back onto the ice with one's ankle in tatters, chances are history will repeat itself once again.