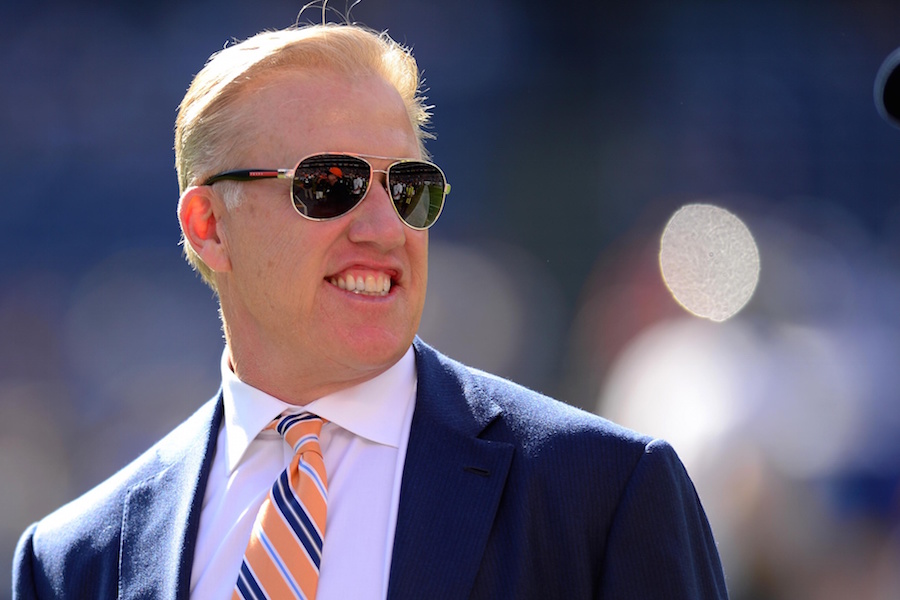 Cannonball!
Broncos general manager John Elway just made a giant splash.
His biggest in the last 38 months as the man in charge of the show over at the UC Health Training Center.
It was in March of 2014 when Elway signed Aqib Talib, T.J. Ward and DeMarcus Ware in a span of 48 hours, his last massive splash. Those three guys were key components on arguably the greatest defense in NFL history fewer than two years ago when the Broncos won Super Bowl 50.
And while Talib, Ward and Ware were 'sure things,' what Elway did the last three days might even be more exciting.
For now – and now on.
It all started Saturday when Elway had his fingers crossed Jake Butt would drop to the team at No. 145 in the fifth round of the NFL Draft, and sure enough the stud tight end from Michigan stayed on the board.
Butt tore his ACL in January's Orange Bowl, and the first-round talent was suddenly not projected to go until day three. Why that is, especially with some reports having him healthy by August, is a debate for a different day – but leave it to Elway to swoop him up and possibly snag the steal of the entire 2017 NFL Draft.
Butt had 97 catches for exactly 1,200 yards and seven touchdowns in his last two years at Michigan. He might solve the Broncos' pesky tight end void they've had since Julius Thomas left town, and he could do it for the next decade.
A few hours later, Elway pulled another Elway – he made "Mr. Irrelevant" at pick No. 253 anything but irrelevant. He scooped up a first-round level talent QB with the last pick of the entire draft.
Ole Miss' Chad Kelly is the nephew of Jim Kelly, and if it weren't for a handful of off-field incidents and some unfortunate injuries, he would have heard his name called on Thursday night. Throwing for 50 touchdowns the last two seasons as an SEC QB while beating Alabama twice will usually do that.
Instead, Elway made sure Kelly didn't hit the free agency market – and possibly secured his QB of the future. It was the ultimate low-risk-high-reward pick, an ultra-savvy move from the Broncos' leader.
Call me a dreamer, but if everything works out just right, Kelly to Butt could be the new Brady to Gronk in the NFL for the next eight to 10 years.
After all, both guys were first-round possibilities who slipped for a few different reasons.
After many Broncos fans (myself included) weren't real thrilled with Denver's first-round pick – even if it was a need – Friday and particularly Saturday made all those emotions fade away. The Duke of Denver may have just had the best draft of his entire career.
And if all that weren't enough, Elway decided to rock the NFL world again on Tuesday afternoon when the Broncos agreed to a deal with their longtime AFC West rival Jamaal Charles.
Sure, Charles hasn't been healthy the last two seasons, but any Broncos fan who's paid a shred of attention the previous eight years knows just how dangerous Charles can be.
His 5.5 yards per carry is the best in NFL history, and his more than 110 touchdowns and nearly 11,000 all-purpose yards are eye-popping numbers – the type a future Hall of Famer amasses throughout an illustrious career.
If there's anything left in the tank, that's great, but at a minimum of $900K it's absolutely worth the risk.
Much like Butt and Kelly, the upside is through the roof for a relatively low price. And while those two project to throw parades in the future, Charles could very well help Denver put on its second in the last three years this coming February.
It's not Talib, Ward and Ware, but Butt, Charles and Kelly could wind up being just as special when Broncos fans look back years from now on what Elway accomplished since Saturday.
It has been awhile since No. 7 splashed all the patrons laying around the pool, but his latest cannonball showed the most beloved person in Denver sports history isn't afraid to still take a leap.