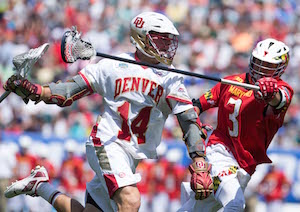 No one would blame Wes Berg if he didn't know what to call himself by the end of the week.
On Monday May 25, he woke up in Philadelphia a NCAA men's lacrosse national championship contender for the University of Denver. By day's end, he was a national champion and the tournament's Most Outstanding Player.
On Tuesday, he was back in Colorado to celebrate with his teammates and classmates at a rally to honor the Pioneers and their historic national championship win.
On Wednesday, he was proving to be a road warrior, traveling again, this time to Washington D.C. as one of five finalists for the Tewaaraton Award, lacrosse's equivalent to the Heisman Trophy Award.
Albany's Lyle Thompson took home the award on Thursday night – the first player to ever win the award twice. Still, Berg's week had more highlights in store.
On Friday, back in Denver, Berg scored his first professional lacrosse goal as a member of the Denver Outlaws. Denver ultimately fell 18-12, but Berg's enthusiasm was not deterred.
"I'm exhausted," he told the Denver Post. "I didn't play that well. I didn't even have my stick. I gave my stick away after the (championship) game and I wasn't expecting to play this week. But the experience was great."
This week, Berg has one more title in his sights: Graduate.
Berg hopes to wrap up his final exams and earn his degree in construction management. "Project Manager" may be next on the growing list of titles Berg wants to add to his name. Given his recent timeline, he may have it sooner than he thinks.