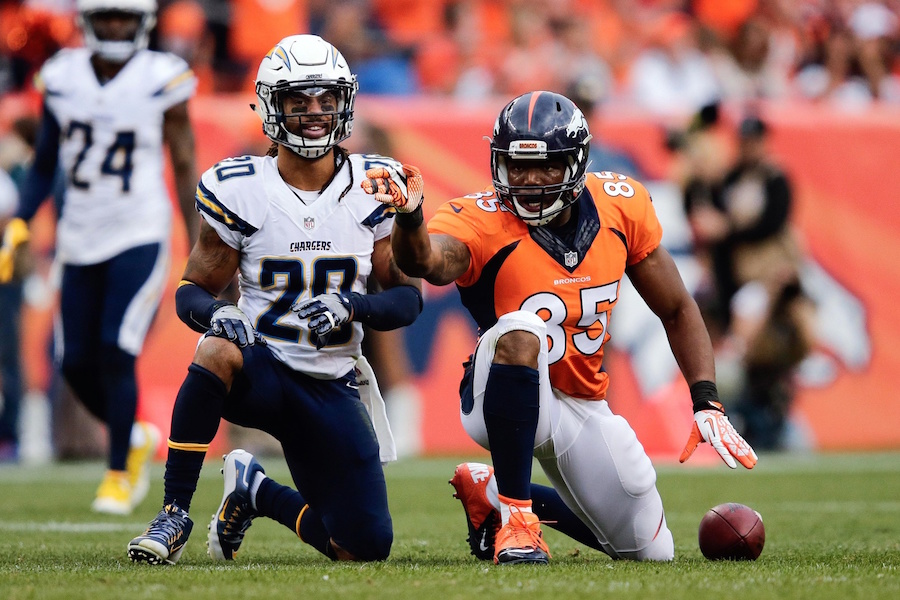 The 2017 NFL schedule was released on Thursday night, revealing to the Denver Broncos exactly how they'll navigate what they already knew would be the toughest schedule in the league based on their opponents' performances in 2016. Now, we also know what the oddsmakers think of Denver's season-opener at home against the Los Angeles Chargers.
Several oddsmakers, including the highly regarded Westgate Casino in Las Vegas, have set their initial lines for the final game of Week 1, to be played in Denver between the Broncos and the newly relocated Chargers. Oddsshark.com has a running table of those odds, along with all of the opening week games.
Odds Shark and the Westgate set an opening line of -3.5 for Denver, making the Broncos essentially a half-point favorite given the standard three-point valuation of home-field advantage. That's only slightly better odds over a Chargers team that won just five games last year than the Broncos received when they hosted the Carolina Panthers in a Super Bowl 50 rematch to open the 2016 season. In that game, Denver was favored at -3.0.
A pair of online betting sites give the Broncos slightly better odds against the Chargers in this year's opener. Sports Betting and Bet Online each have the Broncos at -4.0.
The Westgate set the over/under for the game at 44.5, while Sports Betting and Bet Online have it at 44.0.
As of April 19, one day prior to the schedule release, Odds Shark listed the Broncos as the No. 9 team in the NFL in terms of Super Bowl LII odds. Denver (+1,800) ranked just behind Houston (+1,600) and just ahead of the New York Giants (+2,000). The reigning Super Bowl champion New England Patriots are heavy favorites to repeat at +400, well ahead of Dallas, Green Bay and Seattle who are all at +1,000.