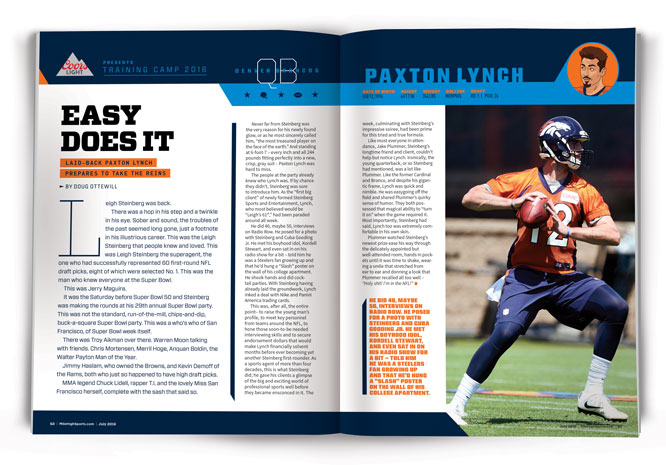 This story originally appeared in Mile High Sports Magazine. Click here to read the full digital issue.
Leigh Steinberg was back.
There was a hop in his step and a twinkle in his eye. Sober and sound, the troubles of the past seemed long gone, just a footnote in his illustrious career. This was the Leigh Steinberg that people knew and loved. This was Leigh Steinberg the superagent, the one who had successfully represented 60 first-round NFL draft picks, eight of which were selected No. 1. This was the man who knew everyone at the Super Bowl.
This was Jerry Maguire.
It was the Saturday before Super Bowl 50 and Steinberg was making the rounds at his 29th annual Super Bowl party. This was not the standard, run-of-the-mill, chips-and-dip, buck-a-square Super Bowl party. This was a who's who of San Francisco, of Super Bowl week itself.
There was Troy Aikman over there. Warren Moon talking with friends. Chris Mortensen, Merril Hoge, Anquan Boldin, the Walter Payton Man of the Year.
Jimmy Haslam, who owned the Browns, and Kevin Demoff of the Rams, both who just so happened to have high draft picks.
MMA legend Chuck Lidell, rapper T.I. and the lovely Miss San Francisco herself, complete with the sash that said so.
Never far from Steinberg was the very reason for his newly found glow, or as he most sincerely called him, "the most treasured player on the face of the earth." And standing at 6-foot-7 – every inch and all 244 pounds fitting perfectly into a new, crisp, gray suit – Paxton Lynch was hard to miss.
The people at the party already knew who Lynch was. If by chance they didn't, Steinberg was sure to introduce him. As the "first big client" of newly formed Steinberg Sports and Entertainment, Lynch, who most believed would be "Leigh's 61st," had been paraded around all week.
He did 40, maybe 50, interviews on Radio Row. He posed for a photo with Steinberg and Cuba Gooding Jr. He met his boyhood idol, Kordell Stewart, and even sat in on his radio show for a bit – told him he was a Steelers fan growing up and that he'd hung a "Slash" poster on the wall of his college apartment. He shook hands and did cocktail parties. With Steinberg having already laid the groundwork, Lynch inked a deal with Nike and Panini America trading cards.
This was, after all, the entire point– to raise the young man's profile, to meet key personnel from teams around the NFL, to hone those soon-to-be needed interviewing skills and to secure endorsement dollars that would make Lynch financially solvent months before ever becoming yet another Steinberg first-rounder. As a sports agent of more than four decades, this is what Steinberg did; he gave his clients a glimpse of the big and exciting world of professional sports well before they became ensconced in it. The week, culminating with Steinberg's impressive soiree, had been prime for this tried and true formula.
Like most everyone in attendance, Jake Plummer, Steinberg's longtime friend and client, couldn't help but notice Lynch. Ironically, the young quarterback, or so Steinberg had mentioned, was a lot like Plummer. Like the former Cardinal and Bronco, and despite his gigantic frame, Lynch was quick and nimble. He was easygoing off the field and shared Plummer's quirky sense of humor. They both possessed that magical ability to "turn it on" when the game required it. Most importantly, Steinberg had said, Lynch too was extremely comfortable in his own skin.
Plummer watched Steinberg's newest prize ease his way through the delicately appointed but well-attended room, hands in pockets until it was time to shake, wearing a smile that stretched from ear to ear and donning a look that Plummer recalled all too well – "Holy shit! I'm in the NFL!"
***
In January of 2012, the Super Bowl was something the Lynch family of Deltona, Fla. watched only on television. To them, Leigh Steinberg was known mostly as a character played by Tom Cruise. The NFL was something that Paxton, a high school senior at tiny Trinity Christian Academy and the youngest son of David and Stacie, hadn't thought much about.
It wasn't that he didn't love football or dream of playing in the NFL. He did. And he was good at it. But at that time, he didn't even have a scholarship to play in college. This seemed odd since a recent article in the New Smyrna Beach local newspaper had touted Lynch as one of Florida's best players. At least that's how he looked in the 2011 Central Florida All-Star Game.
Bill Lofton, as he explained it, "stumbled upon" that article. The paper was lying around the waiting room of the doctor's office where his friend was wrapping up a dialysis treatment. Lofton had arrived early and the treatment had started late, so to kill the time he began reading the paper.
Lofton wasn't from New Smyrna Beach. He was actually in town for the Central Florida-Memphis basketball game that night. As the associate athletic director for internal operations at the University of Memphis, Lofton was in charge of the many details that accompanied road trips for the Tigers' football and basketball teams. Still waiting, he began reading about this kid who'd outshined them all in the area high school all-star game. The boy's stats were impressive, but the words that jumped off the page were the ones that indicated Lynch was, for some reason, without a college football program.
Not a month before, the University of Memphis was without a football coach. As such, Justin Fuente, the new coach of the Tigers who'd only been on the job for a couple of weeks, didn't have much of a recruiting class. Under normal circumstances, Lofton would not meddle in the recruiting process – this was not in his job description and he certainly didn't study film or take trips to watch high school football players – but on this particular Wednesday, he picked up the phone and his very Southern drawl posed a very simple question: "Have ya'll ever heard of Paxton Lynch?"
The answer was even simpler: No.
But after a quick internet search and a few calls, Fuente was intrigued enough to send one of his assistants to Deltona in order to get a closer look at Trinity Christian's Paxton Lynch. A week later, Lynch was on campus in Memphis, signed and ready to become a Tiger.
"We'd never seen him throw live," said Fuente. "Usually in recruiting that's a huge no-no."
Lofton, who for the first time ever had recommended a player to the coaching staff, had his own concerns. When the freshman class was introduced at a donor function the following August, the associate A.D. noted that his prize recruit was "not very heavy; he was really tall and had big 'ol hands and feet."
"I hope he's as good as the paper said he was," Lofton thought quietly, "because he looks like Ichabod Crane."
Around that same time, Fuente and his staff finally got the chance to watch Lynch throw the football "live." What followed can only be described as a huge sigh of relief – Lynch possessed a canon for an arm.
"He was what we thought he was," Fuente said.
Still, he was far from physically mature. Furthermore, he was raw. Not all that long before arriving at Memphis, Lynch was playing running back. And once he did become Trinity's full-time quarterback as a sophomore, coach BJ Johnson's single-wing offense hadn't necessarily prepared him for the position at the Division I level.
As such, Fuente opted to redshirt his serendipitous freshman.
***
Sometime around the sixth or seventh week of the 2012 season, Justin Fuente found himself in a meeting with his coaching staff. His Tigers, who had won just two games the season before, were on pace to do no better. Their only win came in Week 5, a 14-10 squeaker against lowly Rice. Fuentes' staff, or at least the majority of it, had an idea – they wanted to pull Lynch's redshirt.
Jacob Karam, a junior transfer who had already graduated magna cum laude from Texas Tech, was the starter. But Lynch was better, or at least had the potential to be. The staff knew it. Fuente knew it.
But the head coach didn't want to waste Lynch's eligibility, especially when the talent at Memphis wasn't there and the midseason standings already showed six losses. Plus, having another half of a season to figure out the position of quarterback and mature physically couldn't hurt Lynch either. As such, he remained a redshirt. The silver and blue Tigers, behind Karam, finished with a slightly better record of 4-8.
They also won three straight to finish the campaign and after just one season at Memphis, Karam had quickly become a campus favorite. And why not? He had the Tigers trending upward and was a most-treasured asset in the community. He'd frequently visit sick boys and girls at St. Jude Children's Research Hospital in Memphis; he'd tell them stories and play the piano.
"He's the kind of kid that you want your daughter to marry, that you want your sister to marry," said Dave Woloshin, the play-by-play voice of the Tigers.
That's what made the decision Fuente was about to make that much harder.
"It wasn't very popular," said the coach.
He went with his guy anyway. Karam was out. Lynch was in. And Fuente never had any regrets – "It was the right thing to do," he said – but the decision did not go over well in Memphis. It didn't help that the Tigers began the season 0-2, then 1-6.
A state senator was outspoken about who should be quarterbacking the Tigers – and it wasn't Lynch. Fans took to Twitter and weren't shy about ripping their redshirt freshman quarterback. Whenever Lynch would throw an interception – at Middle Tennessee State he threw a pair; against Central Florida he had three – the calls for Karam, and the boos, grew louder.
Receivers like sophomore Mose Frazier knew that Lynch was the right choice. "The first time he threw a deep ball," Frazier said, "you knew we had a good one." Several upperclassmen didn't see it that way. A group of them held a private meeting with Fuente to express their displeasure. They asked the coach to bench the young kid and reinsert their senior.
That hurt Lynch. These were teammates, guys who'd spent the summer sweating it out in the same weight room. That they were older or he was younger shouldn't have mattered in Lynch's mind, who had always thrived on competition.
But this was different. Different than being handed the reins, as a high school sophomore, to a senior-heavy Trinity Christian team that Coach Johnson had guided to the state semifinal the season before. Different from those heated Wiffle ball games played in the front yard back home in Deltona. In those battles, when Paxton would get the best of his older brother Evin, who would one day go on to become a Division I pitcher at Stetson University, he could playfully suggest that Evin "should go back to playing tennis." But in taking Karam's spot, he did so quietly and gracefully.
"It was the hardest situation I'd ever gone through," Lynch said later.
Fuente did his best to protect the psyche of his young signal caller. He kept him away from the media as a true freshman and coached him well once it was time to meet the press.
"Coach Fuente told him when you're talking you keep your head up, [make] eye contact," Stacie Lynch, Paxton's mother, said. "He really trained him well."
Never once did Fuente regret handing Lynch the ball. Lynch reciprocated as best he could. On Tuesday and Wednesday mornings, when Fuente would arrive at the football offices – sometimes 6 a.m., sometimes earlier – Lynch was already there. He'd be watching film or meeting with a coordinator.
"Paxton is not a morning person; I'll tell you that right now," said David Lynch, Paxton's father.
But David's son had a drive to succeed and thirst to learn the position as quickly as he could. He was already on the fast track to graduating with a business degree a year and a half ahead of schedule; that was always the goal, according to David. He regularly attended Bible study throughout college. So, he studied football when he could, which, plenty of times, was at 5 a.m.
That first season as the starter will not be remembered as anything special. Behind Lynch, the Tigers went 3-9. He completed just 56 percent of his passes, threw eight touchdowns and 10 interceptions.
But he did survive.
"He took his lumps," said Fuente. "I think it thickened his skin a little bit and made him more durable."
Lynch's inner circle, his father believed, "got a little tighter." He surrounded himself with people he could trust and who wouldn't be hounding him about the Karam situation. He leaned on his faith as a Christian, his family and his close friends. Everyone in the city had an opinion on Tiger Football – a somewhat refreshing change considering that basketball was king at Memphis – but heeding the advice of his parents, Lynch learned not to take the highs too high or the lows too low. Of equal importance, added Fuente, "there was never a time he backed down from the workload."
The following season, Lynch connected on 63 percent of his passes. He racked up over 3,000 yards in the air and 321 on the ground. He tossed 22 touchdowns and bowled his way to 13 more on the ground. Best yet, the Tigers were winning. They finished the season at 10-3, including a win over BYU in the Miami Beach Bowl. Memphis hadn't been to a bowl game since 2008.
Sometime that fall, Leigh Steinberg, sitting in his office in California, answered an incoming phone call.
It was David Lynch.
***
The long-distance phone conversations continued, and when Chris Cabott, Steinberg's partner in the agency, found himself in Tampa for the East-West Shrine Game, he asked if he could drive down for a visit. He did and liked what he found. Steinberg was soon to follow.
As Steinberg and Cabott continued to build a friendship with the family, and David and Stacie developed a trust in what looked like their son's future sports agency, Paxton and Fuente were working on an undefeated season at Memphis. They sat at 8-0, a record that included a convincing beatdown of No. 13 Ole Miss in Week 6. No longer was the 6-foot-7, under-recruited, former quarterback of a single-wing offense flying beneath the radar.
Flash forward to April 28, 2016, the night of the NFL Draft – five months after Memphis' second-consecutive bowl game and three months after the family took in the sights and sounds of Super Bowl week in San Francisco – and Paxton Lynch was on everyone's radar.
But unlike his draft class peers, projected first-rounders who wore flashy new suits and strutted the red carpet in Chicago, Lynch was nowhere in sight. As a matter of fact, he was nowhere near Illinois; he was inside a bowling alley in Orange City, Fla, wearing jeans and a t-shirt.
So were Steinberg and Cabott, David, Stacie and Evin, BJ Johnson and the other three members of "The 102" – Jason Stewart, Drew Bishop and Daniel Montiel – all former teammates and roommates at Memphis and Paxton's closest friends. The list of attendees at Paxton's draft party that night was, give or take a few, 100 people who had made an impact in Paxton's life. Friends, family, coaches – anyone who had supported him through his football life.
"Paxton is pizza boxes and hanging out with his friends and family," Fuente, who was invited but couldn't attend, explained. "That's genuine. That's who he is."
Said Steinberg: "Paxton has the total support system."
It was a draft party, but not like most that Steinberg had attended over the years. He didn't want his client stuck sitting awkwardly around a table with his family through the first round. He wasn't entirely sure when Lynch would go. There was a slim chance that Chicago at 11 or New Orleans at 12 would take him. Next could be the Jets at 20. And after that was a cluster of teams at the bottom of the round – Denver, Kansas City, Dallas – all who might trade up in hopes of landing Lynch. Those teams, Steinberg felt, would be better situations for his young quarterback. Still, he didn't want Lynch sweating it out under the hot lights of draft night, especially if he were to slip later into the round.
So, back at the bowling alley, Steinberg had Lynch on standby during picks one through five – just in case. After pick No. 5, Lynch couldn't help but bowl a few frames. The alley beckoned and so did his friends; besides, they had the whole place to themselves. Steinberg and Cabott kept tabs on the draft, trying to assess when the phone might ring and who would be calling.
When that call finally came, right before Roger Goodell announced the 26th pick of the 2016 NFL Draft on national television, Lynch was nowhere to be found. Holding onto his cell phone, Steinberg looked down the lanes, but nowhere did he see the player who'd just helped put his career as an agent "back on track." He asked around. No luck. Finally, he opened a door that led to the parking lot, where Lynch was busily tossing go routes to his friends.
"Paxton! Denver took you!" he shouted.
The fact that his son was not nervously pacing inside came as no surprise to David Lynch.
"Football is his release," said David.
Two months earlier, when ESPN's "Sports Science" came out to film Paxton for one of its pre-draft shows, this was scientifically proven. The idea was to test various measurables – Lynch's arm speed, his grip on the ball, the trajectory at which a football is released from a quarterback whose arms alone were almost three feet long. They also wanted to assess Lynch's mental state as he scanned progressions and made decisions.
What David found most interesting is something one of the show producers told him once filming had concluded. Before the cameras were turned on, Paxton's head was fitted with an apparatus designed to show brainwaves on a monitor. When he first put it on, the monitors looked as if they were going berserk.
"His mind was going everywhere," David explained. But when the football was tossed his way, the monitor leveled out. No longer was it jumping at bizarre intervals. "With the ball in his hand, he just relaxed."
***
In the parking lot of the bowling alley, with a cell phone in his hand and John Elway on the other end, there was a sense of relief, too. Once the cameras found him, he couldn't hide his emotions – Denver was where he wanted to be. Stacie was sure that her son had fallen in love with Colorado and the Broncos organization on that very first visit. Steinberg felt that his client had hit the jackpot, landing in a perfect fit.
With any draft pick, though, there are detractors. Could Lynch, who played mostly out of shotgun and pistol formations in college, learn how to operate under center in Gary Kubiak's offense? Would he be able to master three-, five- and seven-step drops?
He'd been called "a little spacey" by an anonymous scout, "goofy" by everyone who knew him (even if they meant it endearingly) and he posted an 18 on his Wonderlic Test – a score that wasn't going to impress NFL brass. Early in OTAs, he told the Denver media that the Broncos playbook looked like "a dictionary" compared to the one from college.
Could he pick up the NFL version of the game?
Lauren Hillman, Lynch's academic advisor at Memphis, finds humor in the notion he couldn't. The Paxton Lynch she knows is sharp. He was pardoned from freshman study hall early and never had to go back; his grades were always good, even through a course schedule that was designed to have him graduating early with a business degree. She knows him as funny and clever.
In Hillman's department, there was a tutor coordinator who was especially attractive. She didn't work with Lynch at all – he didn't need a tutor – but on one occasion at a Memphis basketball game, the girl was sitting next to Hillman and across from Lynch. The business major shot Hillman a text: "I think I might need her number, to, you know, help me with my academics…"
Hillman could see Lynch laughing as she read the text.
"He was trying to be slick and funny about it," she said.
Smart. But goofy, too. Just like everyone always said.
"That story doesn't surprise me," Stacie said.
Sure, Lynch was always capable of lightening the mood, but he could also be serious – serious like the quarterback who beat his coach to the office on Tuesday mornings. Serious like the sophomore who "unloaded" on his offense during a sluggish morning game at Temple. "There were a couple of cuss words here and there," said Frazier. The Tigers won that game 16-13. Serious like the young man who rarely made the same mistake twice according to his coach. Serious like the player the coaches' wives trusted to go speak to area grade schoolers.
Per Steinberg, Lynch had persevered through what he called the "Four Fs" – Faith, Family, Friends and Football. It didn't matter that even Steinberg referred to Lynch and his friends as "The Looney Toons Bunch." Hell, there was nothing wrong with being funny.
Still, as Jake Plummer might have told him back in San Francisco, there's just no way one can prepare themselves for life in the NFL.
"The only thing you can do is go do it," said Plummer, who believes Lynch has more skill and physical tools than he ever did. "It's hard as hell. Hard as hell on Day 1, and hard as hell on Day 2,030.
"But be who you are. Play your ass off. Make sure [those guys up front] know you appreciate them; just be a genuine dude, and when you need them, they'll be there for you.
"That's the advice that Elway gave me when I got to Denver. He told me that if you did that, these fans and this city will love you."
If he doesn't, or perhaps more accurately doesn't win, then Denver won't. It's the harsh reality of a place like Denver, now home to three Lombardi Trophies.
Steinberg isn't worried – he's convinced the situation in Denver is tailor-made for his client. Plummer says that Kubiak will "do you right at quarterback." Even with Lynch most likely sitting third on the quarterback depth chart heading into training camp, Lofton believes that the "situation in Denver will not as be as bad as the one he was thrown into as a freshman."
So what if it is? Hillman believes the lanky young man who breezed through college can handle it.
"Normally, [difficult] situations magnify what is already there," she said. "And if we're right about that, then it should be nothing but positive things in Denver."
John Elway, Leigh Steinberg and legions of Broncos fans are hoping she's right.