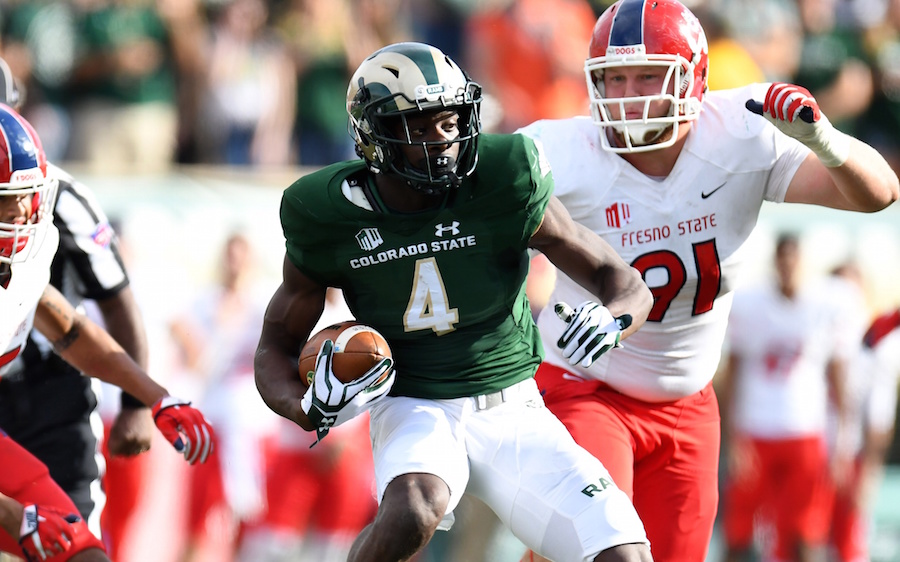 Read this story at CSURams.com
The Mountain West announced its all-conference football teams Tuesday afternoon, with eight Colorado State players being recognized, including three first-team selections.
Junior WR Michael Gallup, senior P Hayden Hunt and senior OL Fred Zerblis were named the best at their respective positions, earning first-time honors for the first time in their careers. In addition to the trio, OL Jake Bennett and LB Kevin Davis were named to the second team, while OL Nick Callender and Paul Thurston and QB Nick Stevens were named honorable mention.
In his first season at the Division I level, Gallup has filled the Rams' hole at wide receiver, catching 70 passes for 1,164 yards and 11 touchdowns. His touchdown receptions lead all MW receivers (15th in FBS) and ranks second in CSU's single-season record book, while his yards (16th in FBS) and receptions (30th in FBS) rank second in the MW and fifth all-time at CSU. His play has taken off over the final two-thirds of the season, posting five 100-yard receiving games – including 213 yards at Air Force (11/12) – and a touchdown in seven consecutive games. Over the past four contests, Gallup is averaging 148.5 yards and 1.5 touchdowns per game.
Hunt followed up his All-America junior campaign by becoming a Ray Guy Award semifinalist for the second consecutive season. He ranks 18th nationally with a 44.3 net punting average, with 24 punts (48.0 percent) being marked down inside opponents' 20-yard line, 15 going at least 50 yards (30.0 percent) and just three being touchbacks (6.0 percent). He was twice named the Ray Guy Award national punter of the week, including once after he successfully converted back-to-back on-side kicks at then-No. 15 Boise State (10/15), part of a 20-0 Rams' run in a span of 1:25. He is also 2-for-2 on fake punts and has been the Rams' primary holder for all field goals and extra-point attempts.
Zerblis has started all 12 games at right guard for the Rams and has been voted a team captain five times this season. He is the veteran leader of an offensive line that ranks 12th nationally, allowing just 1.08 sacks per game – including just one total sack in the past five contests. Additionally, CSU ranks 25th for tackles for loss allowed (4.92 per game) and sixth for red zone offense, scoring at a 94.0-percent rate. After beginning the season slow on offense, CSU now ranks in the upper third of the FBS, averaging 223.0 rushing yards per game (31st), 451.0 total yards (40th) and 34.1 points (39th). Those numbers have been magnified over the past five weeks, with CSU averaging 47.4 points, 520.6 total yards and 274.4 rushing yards per game – going 4-1 during that span.
Joining Zerblis, Bennett has been the anchor of the Rams' offensive line, starting all 12 games at center and transitioning the team through three starting quarterbacks through the first three weeks of the season. The offense has become the hottest team in the league over the second half of the season, scoring at least six touchdowns in four of the past five games and reaching 500 total yards in the last three. In a win over New Mexico (11/19), Bennett and the line blocked for three 100-yard rushers and 412 total rushing yards, CSU's best performance in 15 seasons. A week prior, at Air Force (11/12), he blocked for a 300-yard passer, 200-yard receiver and 100-yard rusher – the first time in CSU history all three have happened in one game. Most recently, going up against a San Diego State defense that ranked eighth nationally in scoring defense, limiting opponents to 16.9 points per game and 10.8 during league play, CSU's offense scored on five of its first six drives and totaled 63 points in the blowout victory (11/26).
Davis, a senior from Fountain-Fort Carson High School, is the Rams' top tackler for the second year in a row, posting 101 tackles and 9.5 tackles for loss. He has also been part of six turnovers, forcing four fumbles, recovering one and intercepting a pass vs. Utah State (10/8) to seal the victory. His 8.4 tackles-per-game average ranks eighth in the MW, while his 3.0 sacks are fifth among linebackers. He set the tone for the season with 19 tackles in the season opener vs. Colorado (9/2), which is still the highest total by a MW defender this season. Davis is one of two players in the entire country with 100-plus tackles, multiple sacks and at least one interception, forced fumble and fumble recovery. He and the defense have posted shutouts in six halves this season – including an entire-game shutout vs. Fresno State (11/5) – and last week at San Diego State (11/26) limited Heisman Trophy candidate Donnel Pumphrey to 53 rushing yards (116 below his season average and his lowest output since his freshman season).
In addition to Bennett and Zerblis, Callender and Thurston have also helped anchor down the offensive line for an offense that is averaging 47.4 points, 520.6 yards and 274.4 rushing yards over the past five games, going up against some of the top defenses in the MW and country. Callender has played in all 12 games, starting nine at left tackle, while Thurston has played in 10 and started six at left guard. After reclaiming the starting role during Week 7, Stevens has been the best quarterback in the league, completing 98-of-137 passes (71.5%) for 1,414 yards and 14 touchdown passes and two rushing scores, compared to just one interception. During that span, CSU's offense has put up 38.3 points per game, going 4-2. His entire season completion percentage of 65.5 would be a single-season school record.
In addition to this year's selections, Hunt, Stevens and Zerblis earned second-team all-conference honors in 2015, while Davis was named honorable mention. The awards are determined by vote of the league's coaches and media who cover MW teams.
CSU has won four of its last five games and will learn its bowl destination on Sunday. The Rams have guaranteed a winning record for the fourth year in a row, and are the only team in the state of Colorado to be bowl eligible in four consecutive seasons.