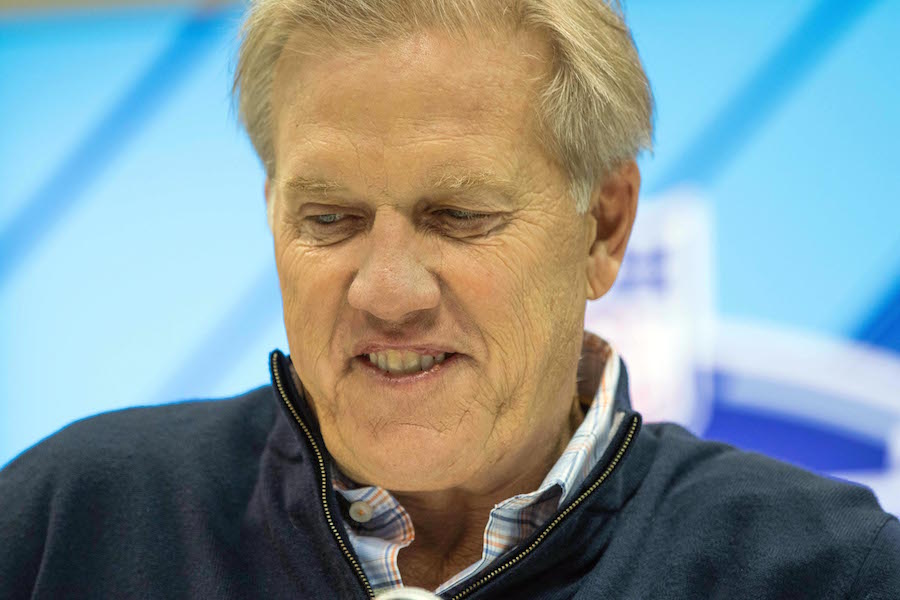 With one week remaining before the 2018 NFL Draft, the Denver Broncos are making their final plans in preparation for the day.
Quarterbacks were obviously a hot topic for General Manager John Elway as he addressed the media Thursday in his annual pre-draft press conference, saying that the team has four quarterbacks evaluated as first-round talents.
Elway also stated that he's "open to trading" the No. 5 overall pick.
"If we're going to move back," Elway said, "we've got to look at 'What do we think we're going to get if we move back?' So we've got to go through every scenario. If we move up, what's it going to cost us to move up and is it worth to move up."
Elway spoke about the rumors and reports about different players' attitudes and if any of those reports scare him in the draft evaluation process.
"When you have them in on a visit, you get to know them better. You still don't get to know them really well. You learn about the personality .Those type of things don't scare me, I don't jump to conclusions that they're true. I draw my own conclusions.
"Bottom line is I got to draw from my own and with the feel I get from them."
Elway also spoke about last year's draft selections and how the expectation is for them to make an impact on the team this year.
"We're hoping they can come and help us this year. With Carlos [Henderson] getting hurt in training camp, he was redshirted. We didn't know when Jake [Butt] was going to back. DeMarcus [Walker] lost some weight to move outside, and so had to go back up, to go back inside.
"Our expectation is that, that class participates a lot more this year then it did last year, at least that's the hope. Jake seems to be running around in good shape. He's been passed on his physical."
Elway touched on the recent incentive addition to Chris Harris Jr.'s contract, rewarding him because of his outstanding on field play and off field actions as well.
"He deserved it. He's done a great job for us. We thought it was the right thing for us to do."
Click here to listen to the full press conference with John Elway, including what he had to say about the prospects the Broncos brought in for personal meetings, how Vance Joseph and Gary Kubiak factor into the draft strategy and more, or watch the full press conference below.
Video Courtesy of Denver Broncos Facebook – AMP users click here to watch on Facebook