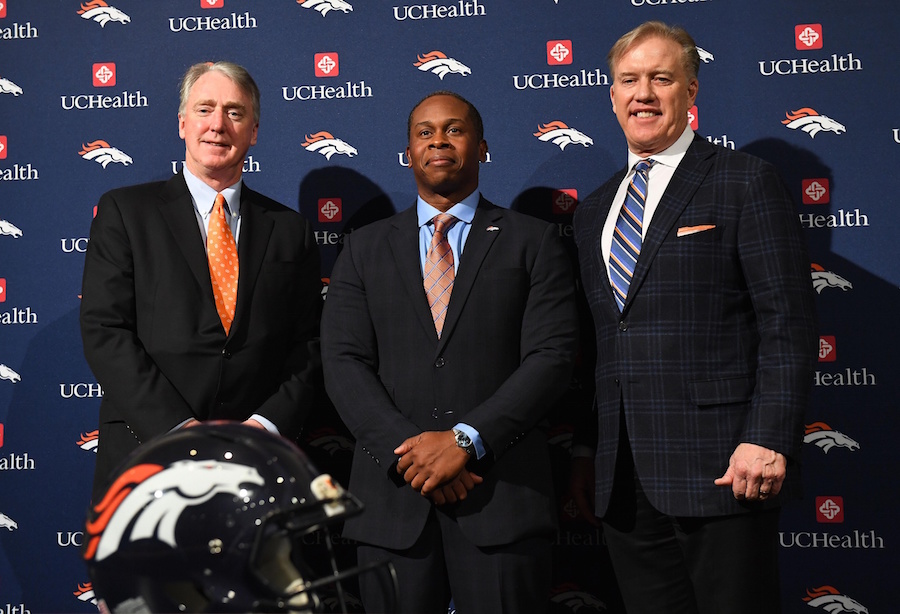 Three people spoke on Tuesday.
Two were awesome.
One embarrassed himself.
Again.
Denver Broncos President of Football Operations and General Manager John Elway was raw. He was emotional. He wanted to kick D-Mac's ass.
President and CEO Joe Ellis was beat up too. When I asked what his overwhelming emotion was, it was disappointed. I appreciated the honesty.
These guys take this stuff hard.
Elway and Ellis are a dream team. They're going to fix this mess. The Broncos will win another Super Bowl under their watch.
The problem: They're stuck with an incompetent and overwhelmed coach for the next four to five games. And we're talking 2018.
Vance Joseph will be back. No one can really explain why. The whole situation is weird as hell. On Sunday morning before a meaningless finale against the Chiefs, ESPN's Adam Schefter reported Joseph was as good as gone. Mile High Sports – this very outlet (!) —reported during the game he would indeed be fired Sunday or Monday.
I believe Schefter.
I believe Benjamin Allbright.
Vance Joseph was going to be fired. And rightfully so.
Then something changed.
Most likely, Elway had a candidate in mind who was going to be available, and then suddenly wasn't. Could it have been Bill O'Brien? Jay Gruden? Only people who sit in that building daily know, but you can bet one of those two names is the answer.
You don't care why, but, due to some circumstances (some that are sad), O'Brien and Gruden will return to the Texans and Redskins, respectively.
So here we are, stuck with Joseph until he gets fired once the Broncos start 1-4.
He is John Fox. He is Josh McDaniels. He has no idea what he's doing both on and off the field.
Get this: Joseph pulled the same awful line on Tuesday that he's pulled all year. I cringed when he did it. The media members around me were floored. Our jaws dropped. Why would he say that?!
"It's the NFL. Every team practices well. That's important. You guys think it's not important sometimes, but it's important to have great preparation each week. So that won't change for me as a coach believing in that," Joseph said with a straight face.
Stop it. Stop it right now. You're embarrassing yourself, VJ. Fans hate that "preparation" line. Loathe it, really. It's defining you.
No one cares how good the preparation was when a team goes 5-11. No one. I can't fathom that you got a second chance and still dropped that line. You will go 1-4 and then get fired – or something like that. I dare you to prove me wrong. Dare you.
Your clock / in-game management is a joke. It makes Foxy look competent. How did a 35-yard field goal in Indy turn into a 40-yard field goal by Brandon McManus, which he eventually missed, with a terrible delay of game penalty? How? That's on you, VJ. You can scapegoat Brock Olivo all you want (who did indeed have to go) but you're the head coach; it's still your fault.
How did you bungle the clock so badly against the Chiefs at the end of both halves? I mean, I'm not complaining, the Broncos are picking No. 5 due to that, but it was painful to watch. It's unclear if it's the pressure of the game, the cameras, or what – but it's something. The editor-in-chief of this publication's magazine called you an "idiot"; can you prove him wrong?
Because that's my goal here.
Truly, it is. I promise.
I want Vance Joseph to blow this column up in my face. I want to eat so much crow.
I recently had a good heart-to-heart with Rockies GM Jeff Bridich. I apologized for being an ass. If VJ calls me, and we chat and I hear him out, I'll apologize. If he's too busy, or doesn't want to talk to me, I totally get it. That's fine. I'm not exactly being kind right now.
But I'm only writing this because this is how Broncos fans feel. I'm trying to rep the fanbase. People can't stand him. Twitter has been exhausting (in a good way) the last 48 hours. People are steamed and I don't blame them. I'm steamed too.
John Elway and Joe Ellis were great on Tuesday.
Vance Joseph, just like he was this whole season, was awful because of a stupid cliché he can't drop.
Here's to a new leaf on Jan. 3, 2018.
I'm rooting for you Vance Joseph, but if you think I'm unpinning my tweet (@PetersenWill), you're crazy.
1-4 and another lost season – here come VJ's Broncos. But at least they will have had a great week of preparation.