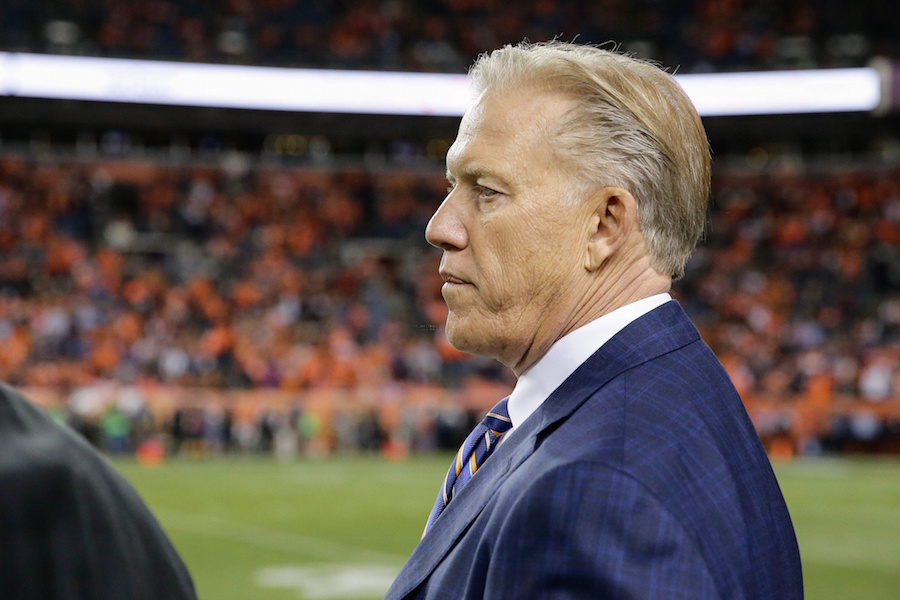 The Broncos' coaching search is heating up and there are plenty of opinions going around about to who's the best fit for the job. Former and current NFL players are getting behind Kyle Shanahan. Former CU teammates of Vance Joseph are flying his colors and one local radio host is wondering why Wade Phillips isn't being mentioned as a possible candidate. Everyone thinks they have the right answer.
While opinions differ on what it'll take to succeed as head coach of the Denver Broncos under John Elway, one thing is for sure: Elway will have success if he applies the same philosophy to his coaching search that he used to build a championship roster.
Elway deserves all the praise in the world for what he has been able to accomplish in Denver since taking charge of the Broncos. He is considered to be one of the best general managers in the NFL, and rightfully so. He has done a great job identifying defensive talent in the draft, attracting big name free agents to sign in Denver and installing a winning mentality. He now needs to apply those same ideas to picking his next head coach.
Elway's first crack at hiring a new head coach resulted in a retread. John Fox experienced a ton of success that most people would attribute to things outside of his control – Elway lured Peyton Manning to Denver, Fox had really good offensive coordinators, they drafted more defensive talent than he knew what to do with, etc. Fox has never been able to win a big game (main reason for the two sides "parting ways"), nor did he do anything in the form of bringing new ideas to Denver.
Gary Kubiak was next. It feels wrong calling Kubiak a retread (although that's what he was), but he certainly didn't bring a new philosophy to the Broncos. Over the last two years Kubiak tried to recreate the Broncos glory years, which he did to a degree. Kubiak's staff (namely Wade Phillips) did a great job coaching the Broncos to a Super Bowl victory. That said, the problems in his offensive scheme came back to haunt him in a major way. Kubiak's system looked to be stuck in the past. It's a basic system he was running as an offensive coordinator under Mike Shanahan in 1995.
Just as the offense was when Elway took over and the defense was when they were blown out in Super Bowl XLVIII, the coaching staff is ready for a reboot: A new voice, a new routine and a new way of going about the day-to-day grind of the NFL. They aren't going to get that with Kyle Shanahan or Phillips. Joseph is the guy that'll provide that spark.
Joseph isn't unfamiliar with the Broncos coaching tree. He worked under Kubiak and Phillips in Houston, but he's also worked for some different and unique personalities, Mike Nolan and Marvin Lewis specifically. The impressions that those well-respected coaches left on Joseph can't be understated. It's something that neither Kyle Shanahan nor Phillips would bring.
There's also something to be said about earning your own way. Joseph has had to scratch and claw for every opportunity he has been given. The younger Shanahan has always had advances others haven't, to a fault some might argue. When he was hired as offensive coordinator in Washington many questioned whether or not he had the credentials for the job. Dig deeper and it's easy to wonder if his first two shots as offensive coordinator were the result of nepotism (Kubiak was the first to promote him to offensive coordinator). To Kyle Shanahan's credit, he has finally found his own voice with the Falcons. Under his direction Matt Ryan has had his best season as a pro and is the front-runner for NFL MVP in many people's eyes.
Joseph may not have helped cultivate an MVP candidate as a defensive coordinator, but that shouldn't be viewed as a negative on his record. He'll bring a new attitude and philosophy to Denver; Kyle Shanahan simply won't. Joseph has the ability to reenergize a team that desperately needs that after an extremely disappointing season. Kyle Shanahan represents an old ideal packaged in a new generation; he may one day be a very good head coach, but he isn't what the Broncos need right now.
Elway has been a wizard when it comes to signing free agents and drafting defensive talent. He's taken chances on guys analysts thought had bad attitudes (Bradley Roby); he let productive players walk when they wanted too much money (Dominique Rodgers-Cromartie) in favor of more talented players (Aqib Talib); and he nabbed the biggest free agent signing of all-time (Manning). And he did all of that recognizing it was the best move for the team. It's time for Elway to apply that same logic when it comes to hiring a new head coach and Vance Joseph is just the guy.