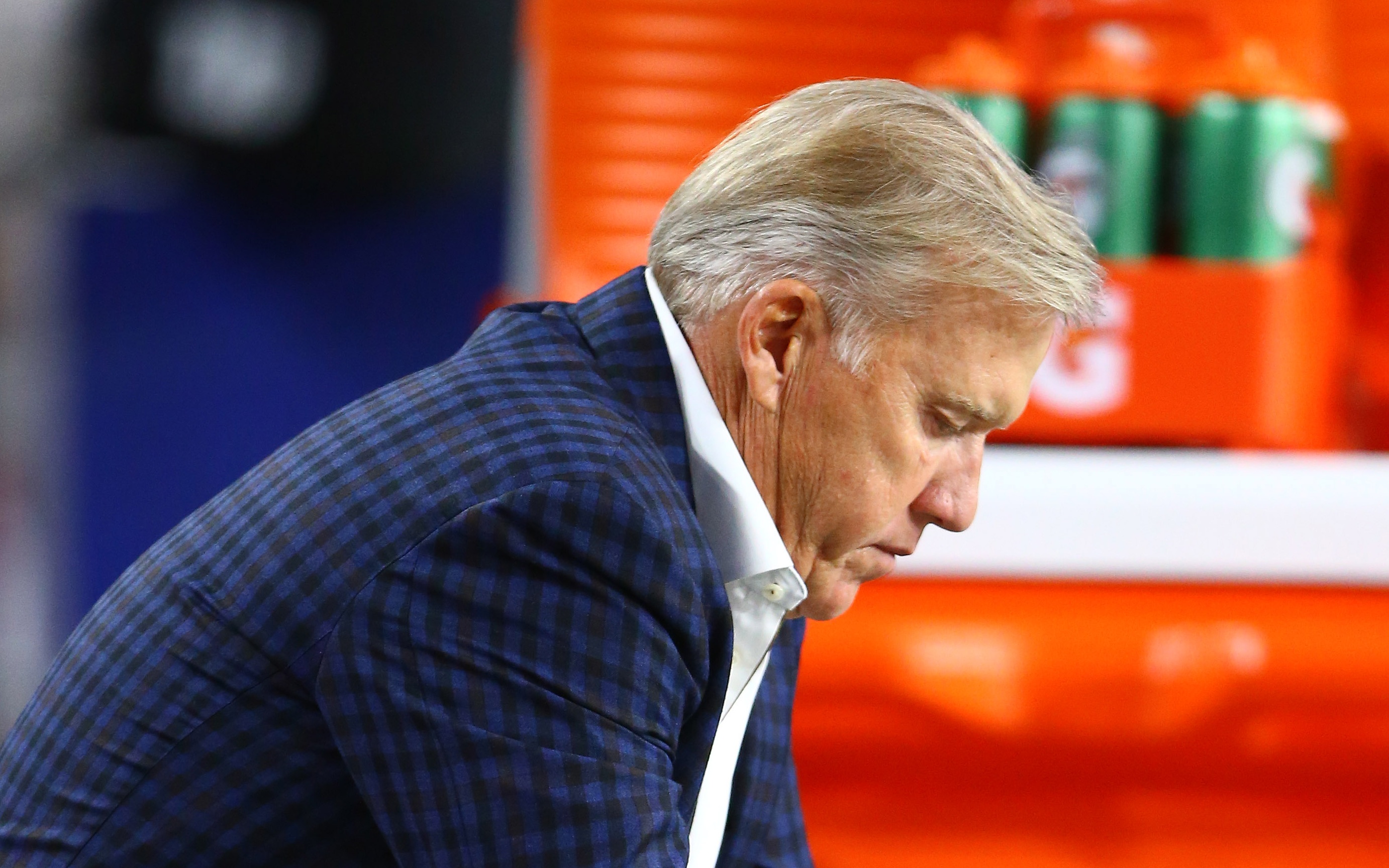 Why can't John Elway find an elite quarterback?
Everyone's asking that question, from diehard Denver Broncos fans to the national media. Even FiveThirtyEight — a math and science-based publication — is asking why Elway can't land a QB.
Well, as they explained on Monday, Elway may not be able to find a QB because he was himself an elite quarterback. It seems contrary to common thought; why can't Elway find someone just like him?
But, as explained in the piece from FiveThirtyEight, Sian Beilock, the president of Barnard College, wrote in Psychology today that it's difficult for elite athletes to remember what made them great, let alone be able to communicate that to teach (or find) others.
"When your performance flows largely outside of your conscious awareness, your memories of what you've done are just not that good," Beilock wrote. "This makes it hard to teach what you know to someone else. … As you get better and better at what you do, your ability to communicate your understanding or to help others learn that skill often gets worse and worse."
Elway knows he was one of the greatest quarterbacks of all-time, and so do Broncos fans, but the Duke of Denver is likely struggling to figure out just what exactly made him so great.
Last year, with the No. 5 pick, the Broncos were in position to land a top quarterback in the class but went with Bradley Chubb instead. Chubb was a home run, no doubt about it, but if either Baker Mayfield or Sam Darnold were there at No. 5, Elway likely would have taken them. Mayfield was coached by the Broncos' former staff at the Senior Bowl, but went No. 1 overall and Darnold went No. 3 overall to the New York Jets.
This year, the Broncos are looking at a less-than-spectacular field of incoming college quarterbacks, with Drew Lock and Heisman Trophy winner Kyler Murray seemingly being the best two young QBs out there.
However, neither of them may be elite, either. Of course, only time will tell if either are, and Elway would have to gamble to take them at No. 10 before finding out if they, indeed, are elite in 3-5 years from now.
Fans have started falling in love with both Lock and Murray, even if neither of them are a surefire NFL quarterback. That's because desperation abounds in Denver currently, watching the Broncos play with five different quarterbacks since Peyton Manning rode off into the sunset following the team's Super Bowl 50 victory. Flacco becomes the fifth when and if that trade is finalized on March 13, the start of the new league year.
From Brock Osweiler in the second round (over Russell Wilson) to Trevor Siemian in the seventh round and taking a huge gamble on Paxton Lynch, reaching for him in the first round; Elway can't pick 'em. Still, as FiveThirtyEight pointed out, even with five different starting QBs since 2016, the Broncos have won an abnormally high 62.6 percent of their games going back to 2011. They also point out Manning's Era was responsible for most of that winning.
Overall, Elway's drafting in Denver has left mixed results, not only in terms of quarterback, but all positions. In fact, Von Miller and Derek Wolfe could be the only players left on the roster whom Elway drafted between 2011-2014 if Bradley Roby and Matt Paradis depart in free agency, while another first-round bust in Shane Ray will likely leave, too. Without a doubt, he's proven to be far better at building a team through free agency than the annual selection process.
Manning, Wes Welker, Emmanuel Sanders, DeMarcus Ware, Aqib Talib, T.J. Ward, Louis Vasquez, and Case Keenum; Elway's made some huge, splash moves throughout his tenure as Broncos' personnel leader. This year, he's traded for Flacco, which is a massive move, even if Flacco may not be much of an improvement over Keenum.
In 2019, Flacco will be the starter, and there's little hope he will be for longer than that. Simply, the future of quarterbacking in Denver is reliant upon Elway finally finding a franchise quarterback through the draft.
Will it be Lock, Murray, Dwayne Haskins or Daniel Jones in the NFL Draft, only five weeks away? Or, will Elway use that No. 10 pick to fill another of the many positions of need (OL, ILB, CB, TE, DL) and go after a quarterback aggressively in 2020, when the class is much stronger?