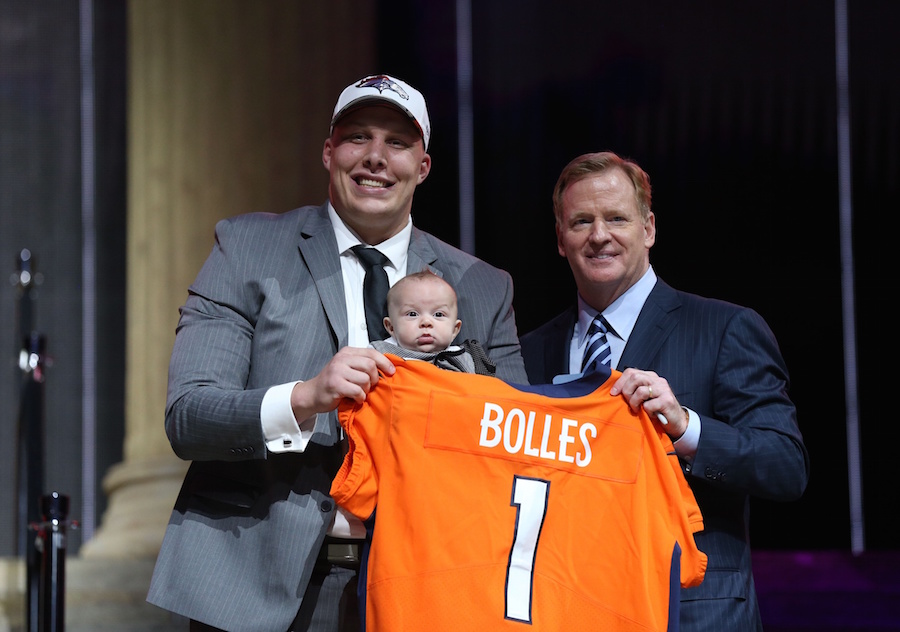 John Elway is nothing if not cool under pressure. He has been in too many big games, and he knows that calm in the face of chaos usually yields the best results.
The first round of the 2017 NFL Draft was full of chaos. It started early, when the Chicago Bears traded the farm to move up one spot to draft North Carolina quarterback Mitchell Trubisky. It continued when the Kansas City Chiefs made a move to get Texas Tech quarterback Patrick Mahomes. When the Houston Texans made a trade to get Clemson quarterback Deshaun Watson, there were players sliding down the draft board and no one was quite sure what to expect next.
With a number of players falling to the Broncos at the No. 20 slot, Elway never wavered from the player that was apparently his first choice all along. With inside linebacker Rueben Foster, defensive end Charles Harris, tight end David Njoku and running back Dalvin Cook still on the board, Elway stayed with Utah offensive tackle Garett Bolles.
There is no question that the Broncos need help on their offensive line. This unit struggled to keep opposing defensive players out of their backfield, and off of their quarterbacks, all year. Broncos quarterbacks were sacked 40 times in 2016, and their running game was one of the worst in the NFL. The Denver running game managed just 92.8 yards per game, ranking them 27th out of 32 teams. Despite bringing in two new offensive tackles in Donald Stephenson and Russell Okung, the Denver front took a huge step backward in 2016.
The Broncos allowed Okung to leave this offseason, signed free agent tackle Menelik Watson in free agency, and have now drafted the guy that they think can get their offense back on track.
There is no question that Bolles has talent. At 6-foot-5 and 297 pounds, he has elite athletic ability that should translate well to the NFL. Scouts love his foot quickness, and ability to stay in front of pass rushers. He also has the ability to get to the next level in his run-blocking assignments. Bolles has a reputation for playing with a nasty streak, and that disposition will undoubtedly endear him to Broncos fans. He seems to be a perfect fit for a power blocking scheme under new offensive coordinator Mike McCoy.
The primary concern about Bolles is the fact that he hasn't played at a high level for very long. Coming out of high school, he initially enrolled at little Snow College before eventually transferring to Utah. He dominated for the Utes, earning a place on the first-team All-Pac-12 team, but only played one season at the D-I level. There is no substitute for experience, and the Broncos will have to be patient while Bolles develops. But he has the skills to develop into a top-notch offensive lineman. He will definitely need to gain weight and strength to play at the NFL level, but he seems to have to the frame to do so.
The decision to draft Bolles with all of the other players available will no doubt be questioned by many Broncos fans. With so much talent falling, the Broncos had a chance to choose a much sexier position, rather than just taking a boring offensive lineman.
Yet, just as he did when he played, John Elway stayed cool. He surveyed the playing field, and made a calculated move. He took the player that he feels will eventually be a pillar of the Broncos offense for years to come. We should probably give him the benefit of the doubt. More times than not, John Elway's decisions under pressure have been the right ones.