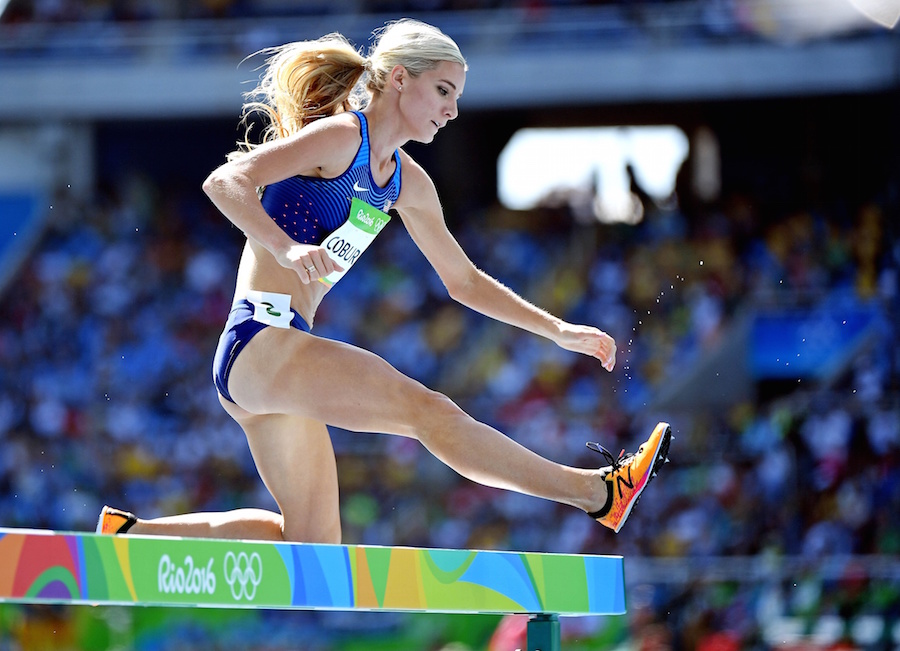 Former University of Colorado track and cross country standout Emma Coburn made U.S. Track and Field history on Monday, winning the bronze medal in the women's 3,000-meter steeplechase and setting an American record in the process. She becomes the first women's Olympic medalist in the event in U.S. history.
Coburn finished in a time of 9:07.63, just a half-second behind silver medalist Hyvin Jepkemoi of Kenya. Ruth Jebet of Bahrain took gold with a blistering 8:59.75
Snag a #BRONZE✅

Set a NEW American Record ✅@emmajcoburn just won the FIRST U.S. Olympic medal in women's steeple! pic.twitter.com/gVWHRUKNoN

— U.S. Olympic Team (@TeamUSA) August 15, 2016
The former Buff was in tears of joy following the race. She is the first U.S. medalist, male or female, in steeplechase since 1984. Steeplechase was added as a women's event in 2008.
At age 21, Coburn was the youngest runner on the American team at the 2012 Olympics. In her Olympic heat, she placed third with a time of 9:27.51, automatically qualifying for the Olympic final. She came in 9th in the final, with a time of 9:23.54 – a then personal best.
While attending the University of Colorado, Coburn won the Big 12 steeplechase title as a sophomore and finished second in the NCAA championships. In 2011, as a junior, she won both the Big 12 indoor 3,000-meter title, and the Big 12 and NCAA outdoor title in the 3,000-meter steeplechase. Coburn won the 2011 USA outdoor title in the steeplechase and made the U.S. team at the World Championships in 2011 finishing 12th in the final. During her senior year in cross country, Coburn finished in 20th place over the six kilometer distance at the NCAA national cross country championships. In her first steeplechase of the 2012 season she became the fourth-fastest American in history and the fastest American on U.S. soil with her time of 9:25.28.
Now, four years later, she is the fastest American ever and the first female U.S. medalist in the event.