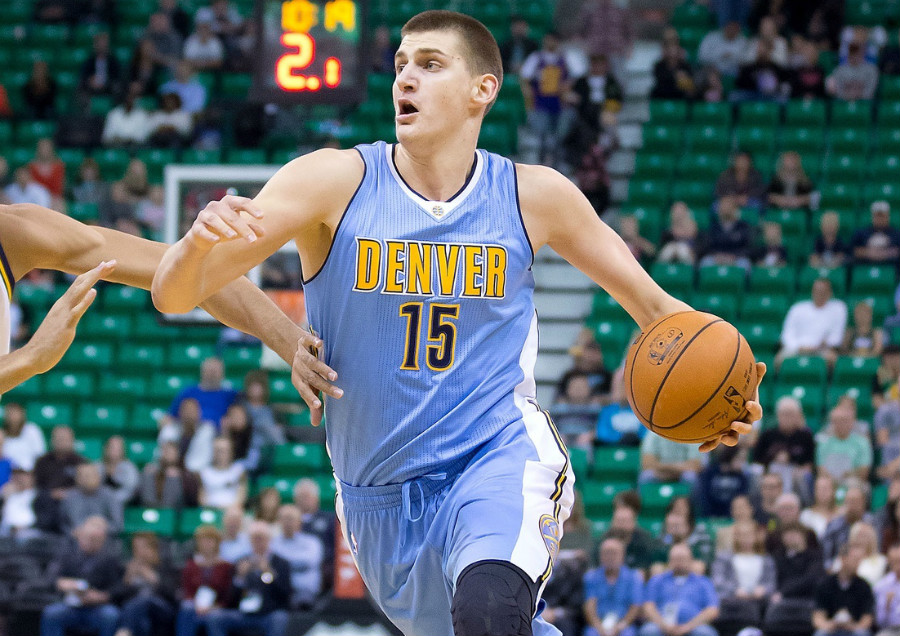 News came out Wednesday that both Emmanuel Mudiay and Nikola Jokic were named to the Rising Stars challenge, representing the Denver Nuggets.
For the second year in a row, the Nuggets will be back in the All-Star game festivities, and it's a bigger deal than you would think.
The Nuggets selected Mudiay with the seventh-overall pick in the 2015 NBA draft. Thus far, the rookie has struggled, but he's shown signs of greatness at times. Virtually midway through his freshman season, Mudiay is averaging 11 points and 5.7 assists per game, which ranks first among rookies.
Jokic was selected 41st overall in the 2014 draft and signed with Denver in July of 2015. Jokic has been a major asset for the Nuggets, and he seemingly continues to get better in every game he plays. Jokic is averaging 5.4 rebounds and 9 points per game, and he ranks first in player efficiency rating among rookies according to CBSLocal.com
Last year, Nuggets center Jusuf Nurkic was the lone Nugget to represent the team at the All-Star festivities; however, he did not participate.
Assuming Jokic and Mudiay play, they will be the first Nuggets to participate in an All-Star festivities since the 2010-2011 season, when Carmelo Anthony was voted an All-Star.
The rising stars challenge consists of two teams: Team U.S. and Team World.
Since Mudiay was born in the Democratic Republic of The Congo, and Jokic is from Serbia, they will both be representing team World.
Team World consist of:
C Bojan Bogdanovic
F/C Clint Capela
G/F Mario Hezonja
C Nikola Jokic
F Nikola Mirotic
G Emmanuel Mudiay
G Raul Neto
F/C Kristaps Porzingis
F/C Dwight Powell
G/F Andrew Wiggins
Team World will oppose Team U.S.
Team U.S. consist of:
G Jordan Clarkson
G Rodney Hood
G Zach LaVine
F/C Nerlens Noel
C Jahlil Okafor
F Jabari Parker
G Elfrid Payton
G D'Angelo Russell
G Marcus Smart
C Karl-Anthony Towns
Although both Mudiay and Jokic were not selected as All-Stars, they will be representing Denver, which is something that is good for both the fans and the organization.
The Nuggets are a young, exciting and energetic team. The reason they are hard to follow, and to market, is because they do not have a "star," but rather they have a bunch of solid players that play together as one unit.
The NBA today consists of flashy, big-name players, and the Nuggets do not have that kind of guy, yet. However, they are a team, and they have a load of potential.
Spotlight and fame have dominated the leauge today, and the idea of basketball being a "team" sport has taken the back seat.
Well, one trend that can be taken into account is that organizations that play team oriented basketball usually have ended up winning the big dance in recent years.
This has been the trend for some time now.
For instance, take a look at the past two NBA Champions: The Golden State Warriors and San Antonio Spurs.
While the Golden State Warriors are probably the flashiest team in the leauge, they play team oriented basketball, and the results have shown. Last year they went on to win a championship, and they did so while playing with swagger as a unit, not as individuals.
This year they picked up right where they left off.
The San Antonio Spurs have had sustained greatness for more than a decade now, and that is because they play as one unit, not as players.
San Antonio has been the marquee franchise in the NBA for sometime now, and that is because they play the game with heart and passion.
San Antonio should be the blueprint for the Nuggets to follow. They play hard on both ends of the court, and they do so without a "flashy" player.
While Tim Ducan is a "superstar," he does not make the highlight reel on a nightly basis; he, rather, plays hard and does the little things right to make his team better.
The Nuggets have a plethora of talent, a dedicated coach and a smart front office. Therefore, Mudiay and Jokic will set the tone for the future, and will give fans of the NBA an inside scoop as to what the Nuggets are all about.
The Rising Stars challenge will set the tone for what the Nuggets can, and will, do in the near future.