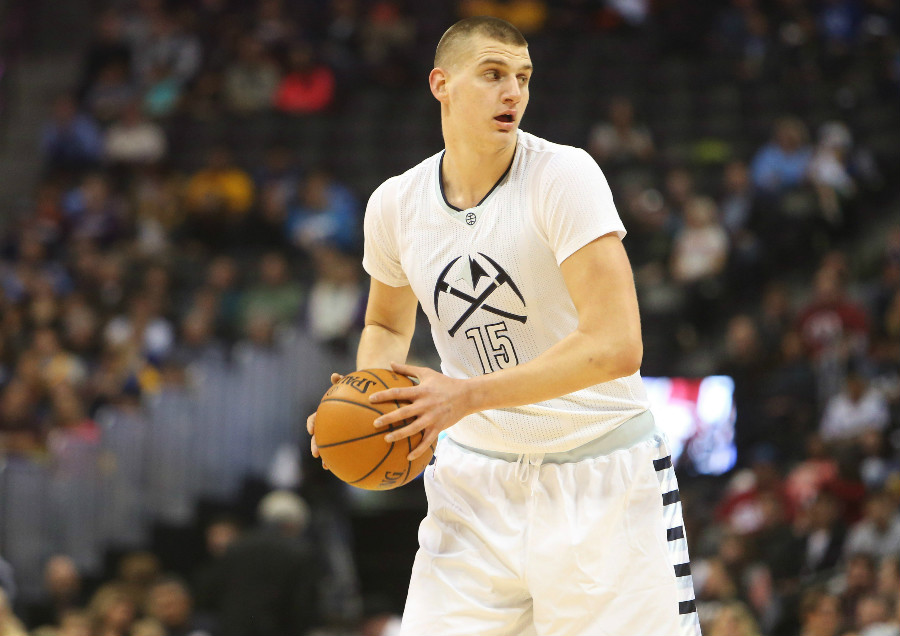 Nikola Jokic is one of the most promising young big men in the NBA, which has led fellow-rookie Emmanuel Mudiay to compare "The Joker" to one of the league's superstars.
"We play through him, him being the big that can make plays for others," Mudiay said last week. "He reminds me of Marc Gasol a little bit. I think that's who he's going to end up being, hopefully better."
Jokic was an unknown player by many coming into the year but has made a lasting impression during his rookie season.
While Jokic's minutes have gone up in March, he's still only averaging roughly 20 minutes a game, far less than what Gasol was averaging when he was healthy. So if you're just looking at the basic stats, the Serbian big man's numbers may not jump off the page. But if you level the playing field by looking at the Per-36 numbers, it's clear that on a per-minute basis, Jokic is about as effective as any big man in the league.
Nikola Jokic (Per 36 minutes): 17.3 points, 3.7 assists, 11.3 total rebounds
Marc Gasol (Per 36 minutes): 17.3 points, 3.9 assists, 7.3 total rebounds.
I'd say Mudiay was pretty spot on. Points and rebounds aside, it's the assists that really stand out. There aren't many centers averaging nearly four assists per game, even on a Per-36 level, let a lone a 20-year-old rookie like Jokic.
And if you really want to get into the numbers, Jokic's player efficiency rating (PER), is actually higher than Gasol's.
Marc Gasol has a PER of 17.7, which is right around the level of Dwight Howard and Al Horford, both of which are perennial All Stars.
Jokic's PER currently stands at 21.9, which is almost seven points higher than the leauge average. Jokic's PER ranks higher than Gasol, Howard, Horford, DeAndre Jordan, Chris Bosh, Andre Drummond and Kristaps Porzingis, just to name a few.
Jokic has been the Nuggets biggest surprise this year, and if he can keep it up he will become a cornerstone player for the franchise, something they have needed since Carmelo Anthony left town.
If Jokic is already playing at the level of some of the premier big men in the league at the age of 21, the future is not just bright for himself but for the fans of the game, too.
Keep an eye out for this guy, because he has all the tools to be the next big thing in the NBA.