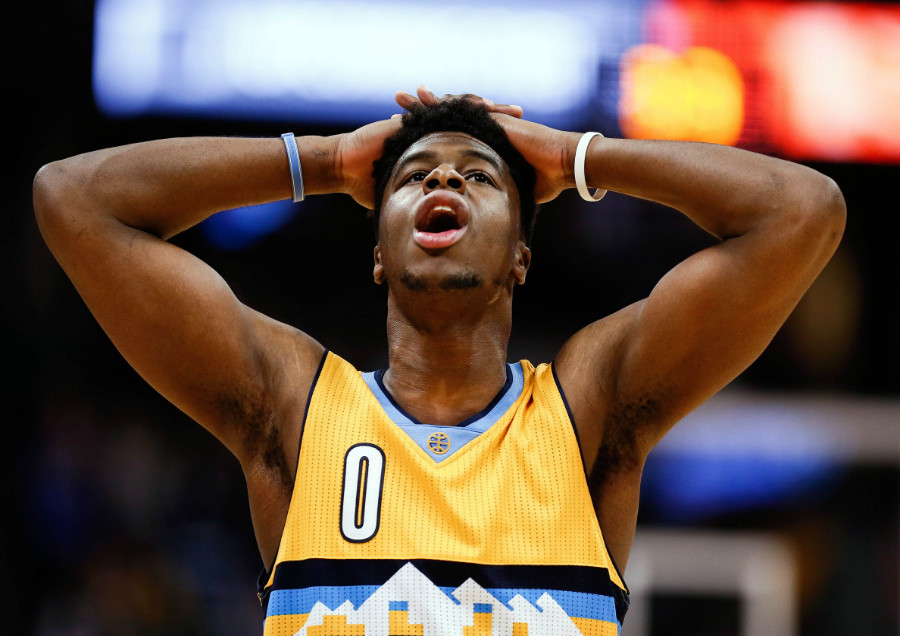 The Denver Nuggets notched another win Tuesday night, and the team's impressive play has rookie guard Emmanuel Mudiay thinking about the playoffs.
"I'm not giving up on our team yet for the playoffs. Anything can happen, anything is possible." Mudiay said after the Nuggets' victory Tuesday.
While the team has been playing better as of late,they're currently 5.5 games back of the eighth seed, which would be quite the comeback.
The Nuggets currently sit at 26-38, which is good for the 10th seed in the Western Conference.
Although the playoffs seem unrealistic in his rookie season the Congo Kid is working hard to help get his team there.
"As a team we are trying to create momentum going into next season." Mudiay said. "As long as we stay the course, I believe next year we will be in a good spot."
Mudiay himself has really turned it on since returning from All-Star weekend, averaging 13.1 points, 5.7 assists, and 4 rebounds per game.
A renewed confidence and swagger has taken over Mudiay's game and the hard work is paying off. In his last four games Mudiay is averaging 19.5 points per game, nearly eight points higher than his season average.
With the injury to Danilo Gallinari, it seems as if Mudiay has taken it upon himself to carry some of the weight. In addition to his scoring ability, Mudiay has beome a more complete player thus far into March.
When the dog days of the NBA season arrive, a lot of youngsters begin to hit a wall; Mudiay seems to be an exception, as he's playing his best basketball of the season.
"I'm just tying to stay confident" Mudiay said. "My teammates, they got confidence in me so shout out to them."
Mudiay is developing into one of the more dynamic youngsters in the league, and has shown he has all of the intangibles to be great.
His high hopes, positive spirit and compassion for his teammates are exactly what this young Nuggets team needs in order to take the next step, and Mudiay has all three characteristics.