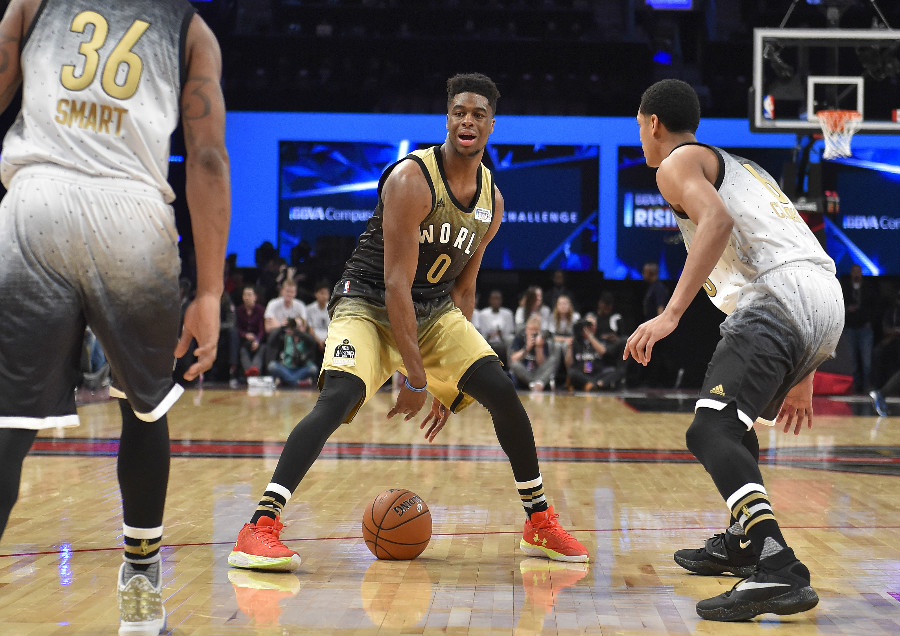 Nuggets rookie Emmanuel Mudiay took center stage and participated in the NBA Rising Stars Challenge in Toronto on Friday.
The Rising Stars Challenge is an opportunity for first- and second-year NBA players to showcase themselves as the future of the game and show the next wave of stardom in the NBA.
Mudiay, 19, played well, recording 30 points, 10 assists, three steals, three rebounds, and a block representing Team World.
The MVP of the game was Zach LaVine of the Minnesota Timberwolves. LaVanie recorded 30 points, seven rebounds, four assists, and one steal for team U.S.A.
The two shared very similar numbers, but Mudiay was not even considered for the honor.
Instead, names like LaVine, Kristaps Porzingis, Karl Anthony-Towns, and Andrew Wiggins were thrown around in the conversation, leaving Emmanuel Mudiay in the gutters despite playing as well if not better than the others.
In typical modern day fashion the player who puts on the best show gets the award, and LaVine did just that; however, Mudiay had his fair share of exciting plays.
Emmanuel Mudiay had 30 points and 10 assists last night in the #BBVARisingStars Game. https://t.co/w3XPYczPbJ

— Aaron Johnson (@AJohnsonNBA) February 13, 2016
Nevertheless, LaVine was the superhero while Mudiay was the sidekick.
While LaVine did have an incredible performance, Mudiay was deserving of recognition for his efforts. Mudiay displayed passion, dedication, and heart every time he stepped on the court and even did somethings he is not known for.
Mudiay is not regarded as a shooting point guard, but managed to put up 30 in the game despite only averaging 11.4 points per game in the regular season.
Yes, little to no defense was played during the game; however; Mudiay thrived and played outstanding basketball for the time he was on the hardwood.
While he did not win MVP, Mudiay was one of the best players on the court and deserved recognition for his efforts; Mudiay's play was deserving of MVP consideration.