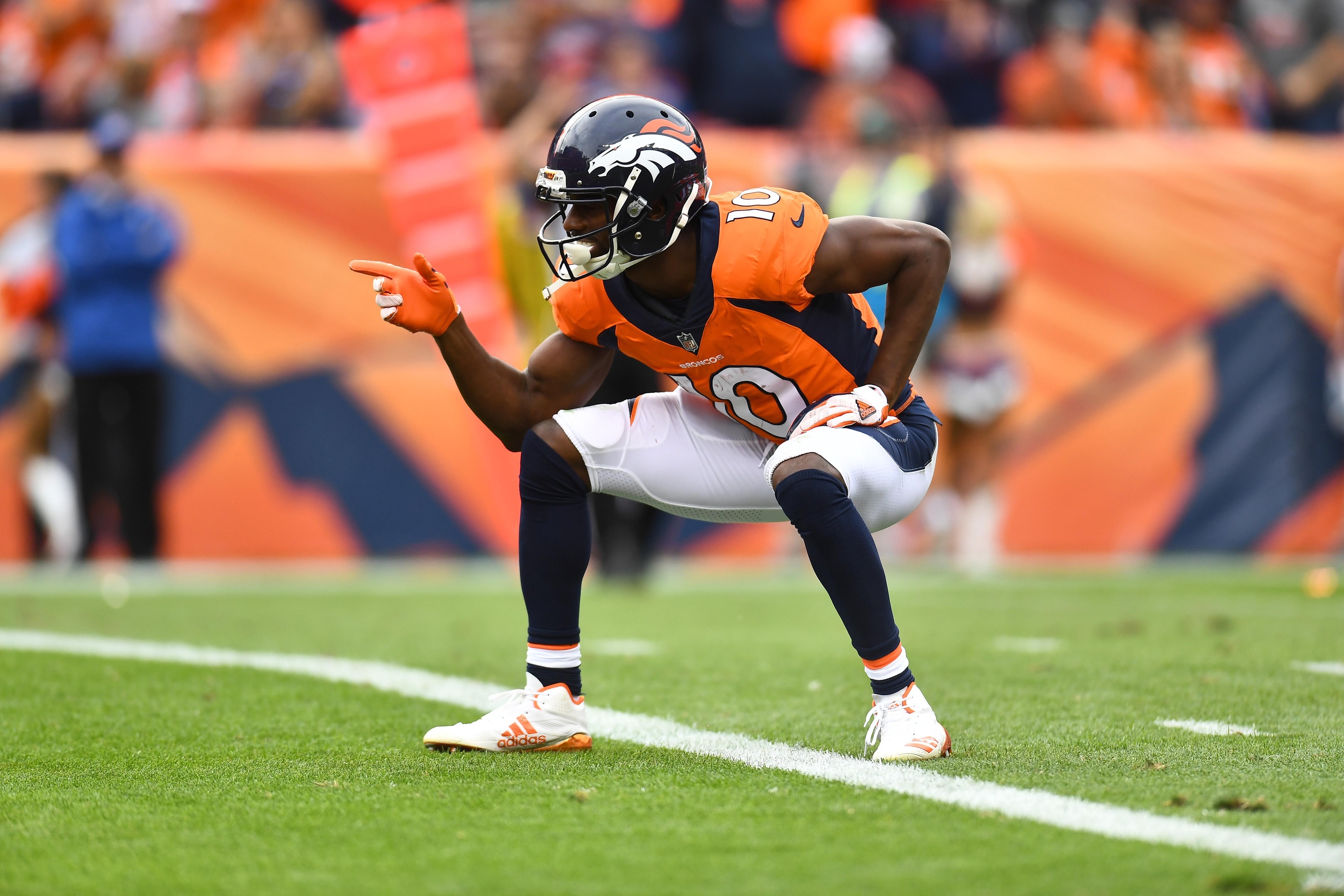 While the Denver Broncos' offense has struggled mightily this season, there have been few bright spots on the offense that often go noticed while the team has struggled to a 3-6 record following another humiliating loss, this time at the hands of the defending Super Bowl champion New England Patriots.
The Broncos' playoff hopes took another hit as they fell once again to a fellow AFC opponent in a 41-16 beat-down at the hands of the Patriots and quarterback Tom Brady.
One of the positive things from this game was that Emmanuel Sanders appears to have returned to his vintage self.
Sanders' 2017 season, as with most of the offense, has been one of adversity. Sanders missed the Broncos' week seven and eight matchups against their division rivals Los Angeles Chargers and Kansas City Chiefs after suffering an ankle injury during the Broncos shutout loss against the New York Giants. Until this week, Sanders' season-high receiving yards for the season had been 76, which occurred in the same game he suffered the ankle injury in.
Coupled with the struggles at quarterback, Sanders was putting together a very underwhelming season. All of that changed. when Sanders blew by his previous season total for an explosive game against the New England Patriots.
In front of another roaring crowd at Mile High Stadium, Sanders was absolutely dominant, racking up six catches for 137 yards. In just the first half alone, Sanders had already surpassed 100 yards, which included two 30+ yard catches that rocketed the Broncos deeper in Patriots territory. His first-half performance alone was the best performance of the year for Sanders in terms of receiving yards per game.
The Patriots entered the game with a defensive gamplan that would involve matching up cornerback Stephon Gilmore against Broncos' no. 1 receiver Demaryius Thomas, and cornerback Malcolm Butler against Sanders. While Thomas had a quiet game against Gilmore, Sanders abused Butler in coverage, consistently getting open or making difficult grabs with Butler draped over him.
Midway through the second quarter, Sanders eclipsed a special milestone among wide receivers by eclipsing 6,000 receiving yards in his career. Sanders becomes only the 21st active player to achieve 6,000 receiving yards.
While the switch from Trevor Siemian to Brock Osweiler may not have resulted in more wins for the Broncos, it seems to have helped with production at the receiver position. Sanders appears to be as healthy as he's been all seaso,n and appears to have chemistry with Osweiler that was never truly there with Siemian throwing him the football.
If the Broncos have any hopes of salvaging their season, it will need to be through the play of their veteran players such as Sanders. Next week, the Broncos host the Cincinnati Bengals, another team fighting to stay relevant in the AFC playoff picture.