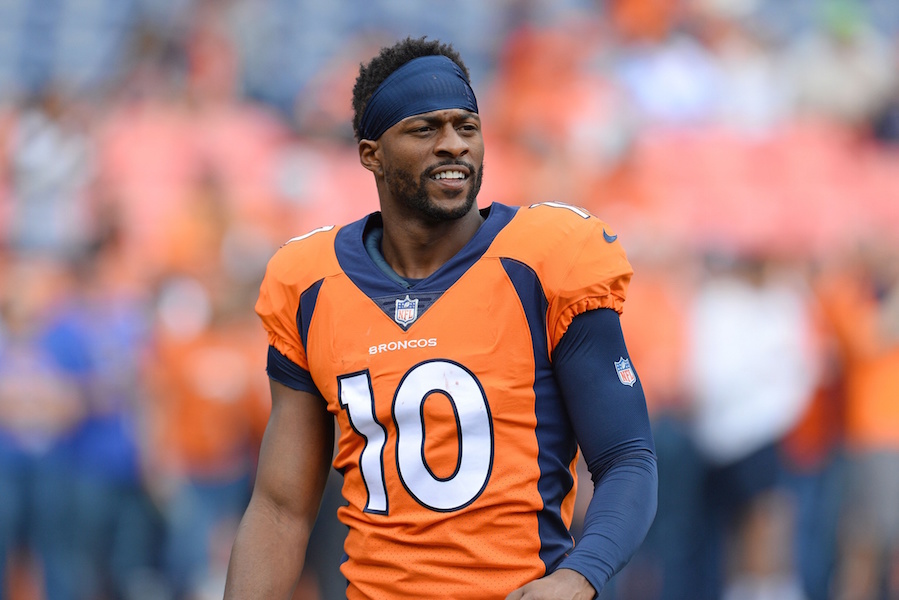 Emmanuel Sanders knows who the leader is on the offense, and at Dove Valley; it's Case Keenum.
Sanders, the sensational receiver, spoke about the Broncos incoming starting quarterback to the media on Wednesday, and what he's learned about Keenum so far.
"He's confident in himself," Sanders said. "He's one of those guys that when you step into the huddle, he's that leader. You don't have to second guess what his thought process is. I'm liking what i'm seeing from him so far."
Sanders appreciates that there won't be a quarterback debate and competition this year, which will be new after the last three years of multiple QBs playing.
"I remember that when I got out here, I went off to the team store and I saw Case Keenum jerseys, and I was like, 'Thank God we don't have to deal with that again,'" Sanders explained. "Case is our guy."
Sanders noted that these workouts have had a different feel from last year, with players taking their conditioning more seriously as well as the reps with coaches.
"I want to be the most conditioned team in the NFL next year," Sanders said. "I feel like if we're the most conditioned team, then in the fourth quarter it's gonna pay off to be able to take advantage of this altitude."
"When guys are messing up, guys are going back again and getting seconds," Sanders continued. "It has the 2014 feel where guys are flying all over the field and they wanna be good and we wanna be successful."
Players aren't taking the OTAs lightly, as he further emphasized here. "We've got a new season and it's all about creating a mentality and a mindset and that's what we're here working on at OTAs."
Of course, with the draft last weekend, and Denver bringing in two new wideouts, Sanders was also asked about Courtland Sutton and what he brings to the wide receiver room.
"Working out with him he has amazing feet," said Sanders of Sutton. "I'm looking forward to getting him in here and just working. Hopefully he can come up with some big plays this year."
Finally, Sanders also touched on his health and the ankle that bothered him all 2017.
"We're just testing it out every single day," Sanders said. "I was out there today, I felt great. I was running around and I'm just happy to be back and running full speed and being myself."
Click here to listen to the full press conference with Emmanuel Sanders, including his thoughts new quarterback Case Keenum.