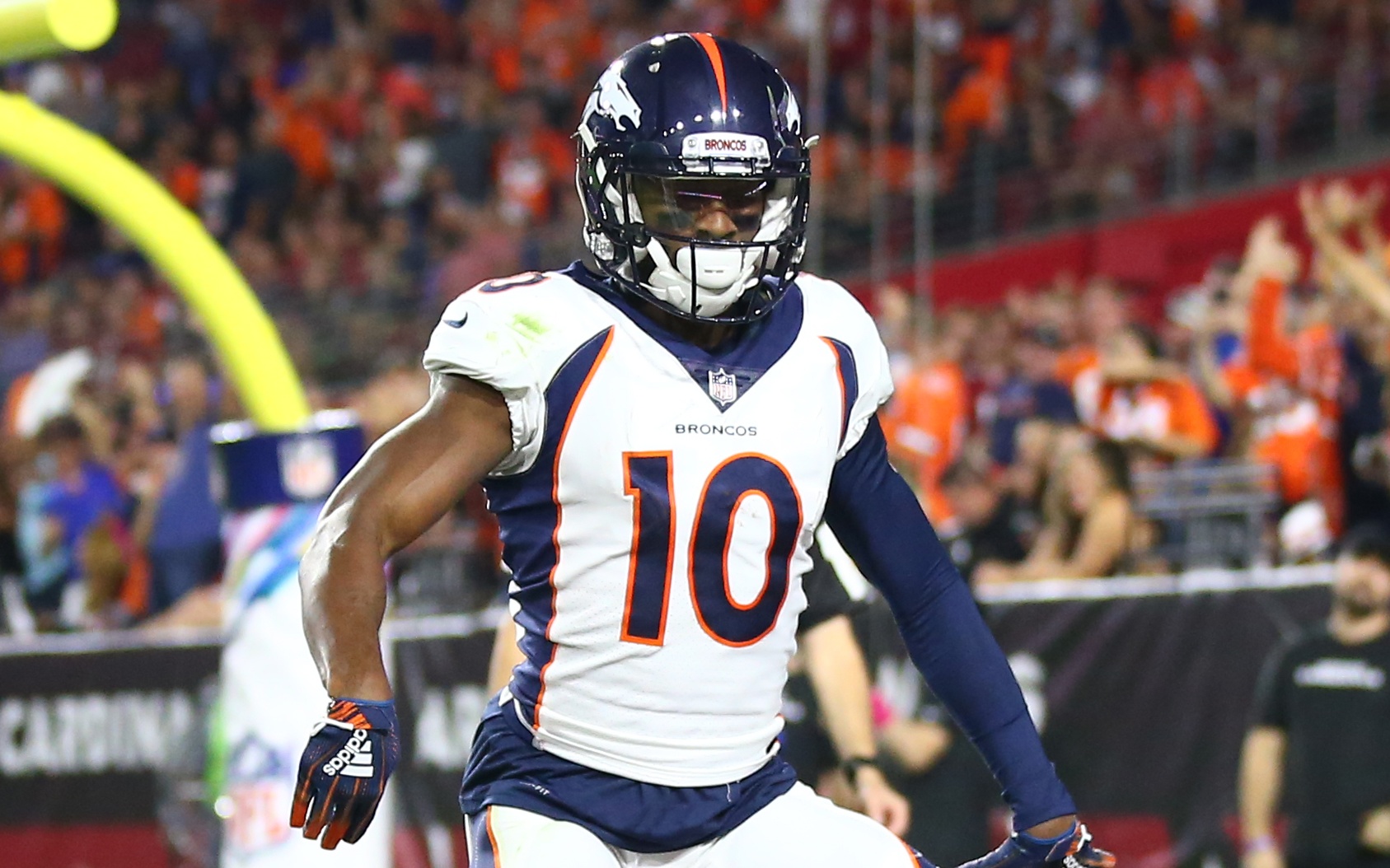 At 31 years old, a receiver who relies on his speed has to be worried with a lower leg injury.
Last year, Emmanuel Sanders tore his achilles tendon in the crucial Week 13 win over the Bengals in Cincinnati, bringing into question if he'd be fully recovered in time for the 2019 season's kickoff.
Well, rest assured Sanders will be back in action in 2019 as he tweeted out Sunday morning he's "way ahead of schedule."
Stronger more confident everyday. Wayyy ahead of schedule according to the trainers. https://t.co/zzvJzNgiKB

— Emmanuel Sanders (@ESanders_10) March 10, 2019
Sanders has always been an extremely hard worker, even in the offseason, buying a JUGS machine for his back yard and practicing catching balls like a madman. So, it should come as no surprise he's working diligently to get back to the field with the Denver Broncos as soon as possible.
Sanders has to be excited for the new quarterback in town, Joe Flacco. But, will Flacco and Sanders be connecting for massive gains and touchdowns this year?
That is still up in the air like a Hail Mary pass.
Last week at the NFL Scouting Combine, John Elway said the Broncos will be picking up Sanders' option this year, which will pay him $10.25 million for one season. But, nothing on that front has been finalized yet, with March 11 being the first day teams can re-sign their own free agents.
Free agency in earnest opens at 2 p.m. MT on Wednesday, March 13 so the Broncos have to hope they can get a deal done before that deadline or Sanders may find greener grass in another NFL stadium in 2019.
Sanders tweeted earlier in the offseason he's not open to a restructure of his contract, and his cap hit will be nearly $13 million in total. After Von Miller and Flacco, Sanders is scheduled to make the most money on the Broncos, which would be nearly 7 percent of their total cap for this year.
If Denver does, indeed, want to restructure him to bring that number down a bit, it could mean losing Sanders. However, there are a group of talented free agent receivers the Broncos could bring in to replace him, including Golden Tate and John Brown. Tate wouldn't be much of a savings compared to Sanders, as he's expected to make nearly $10 million this year.
But, Brown — a young and upcoming star who played with Flacco last year — could possibly be signed for around $6 million, spotrac guesses.
The Broncos loaded up in the draft last year at receiver, bringing in Courtland Sutton and DaeSean Hamilton. Sutton excelled as a rookie, hauling in 42 receptions for 704 yards and four touchdowns, though his seven drops were tenth-most in the NFL. Hamilton enjoyed a slower start to his career, with 30 receptions for 243 yards and two scores, but there's hope both of those young men make leaps as sophomores.
Will they be lining up alongside Sanders again next year, or will Denver have to find another star wideout in free agency?