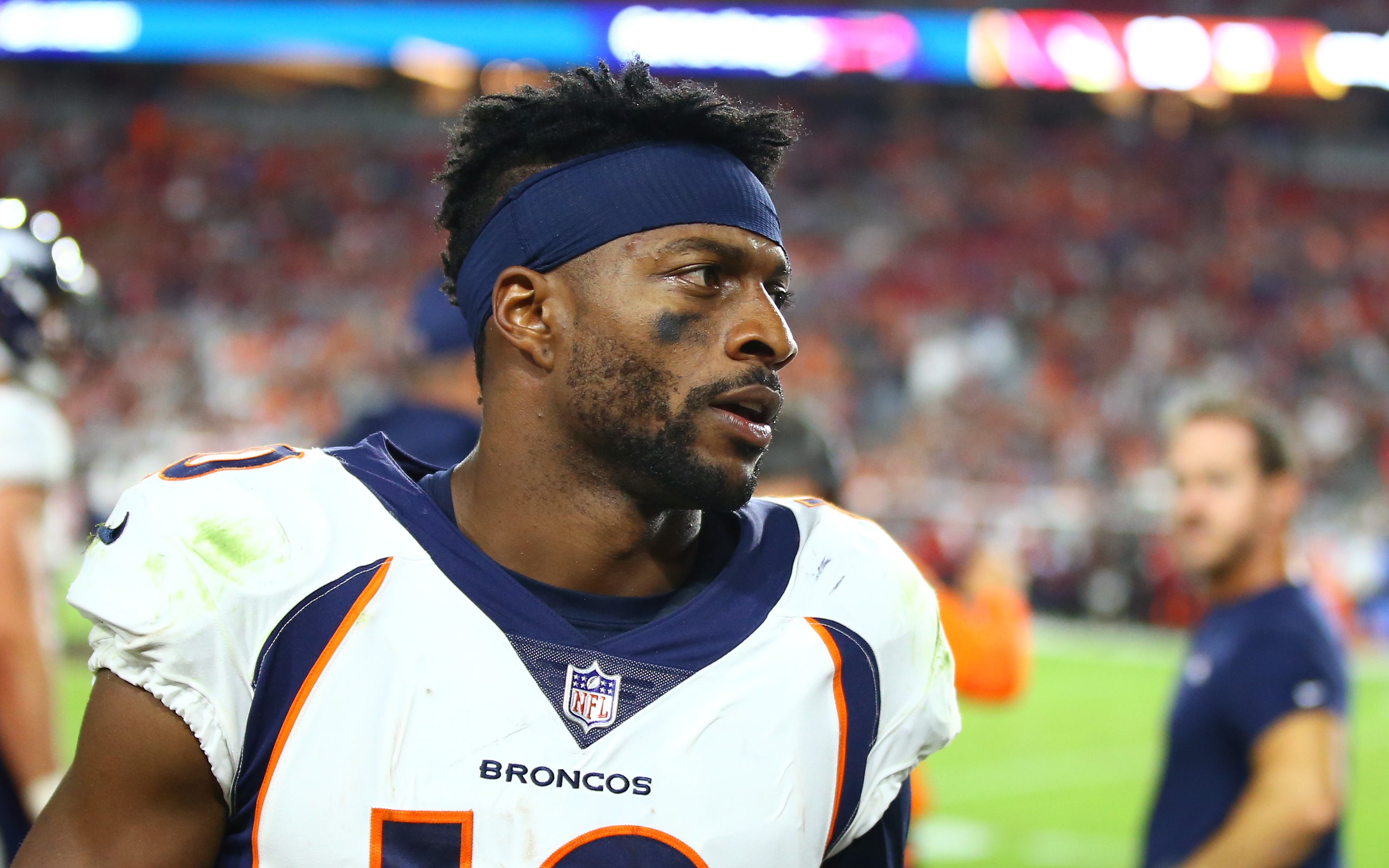 Can the Denver Broncos keep Emmanuel Sanders on the cheap?
According to his twitter account, that simple answer is "No way, Jose."
🧐 it ain't happening.. no way Jose.. ✌🏾 https://t.co/QmRhzR10sZ

— Emmanuel Sanders (@ESanders_10) February 19, 2019
Sanders, who just finished the his fifth year with the Broncos, has a team option going into 2019, but he's not willing to take a pay-cut to stay with the orange and blue. Back in 2016, Sanders signed a three-year deal for $33 million, including a $10.75 million signing bonus. The fourth-year option for this upcoming season would mean paying the star wideout $10.25 million and his cap hit would be $12.94 million.
Those are massive numbers for a ninth-year wide receiver coming off a torn achilles tendon.
However, Sanders has been the best wide receiver on the Broncos since his arrival on the team in 2014, putting up 374 receptions for 4,994 yards and 26 touchdowns. That's good for a 13.4 yard per reception average, and he's regularly been seen diving and laying out for deep passes down the sideline, too.
Simply, Sanders is both a big-play threat as well as a go-to guy for a quarterback; he'll certainly benefit Joe Flacco in 2019 if Sanders is retained.
But, do the Broncos want to give him 6.57 percent of the total cap for this year? Even Sanders may not be worth that pretty penny considering he's on the back end of his prime coupled with the emergence of Courtland Sutton as Denver's legitimate No. 1 receiver.
Sutton, as only a rookie, caught 42 passes for 704 yards and four scores. His 16.8 yards per reception made him the seventh-biggest play threat in the entire NFL last year. Denver traded away Demaryius Thomas last year, handing the reins over to Sutton as No. 1, and they also drafted DaeSean Hamilton to be a fellow outside receiver.
Hamilton's rookie season (30 receptions, 243 yards, 2 TDs) was less impressive than Sutton's, but still solid for a first crack at the NFL.
So, the Broncos find themselves at a crossroads with Sanders. Do they pick up his option for nearly $13 million and keep him as a key component to their offense? Or, does Denver cut Sanders for a $2.67 million cap hit and go out and sign/draft other young receivers?
One player some are high on is Golden Tate, but he's expected to make $10.2 million in 2019, meaning the Broncos would be better off sticking with Sanders for the continuity at the same price. There's no shortage of free agent wide receivers, so if Denver decides to part ways with Sanders, their next decision has to revolve around either leaning on those two youngsters they have in house and bring in a role-playing receiver, or going out and landing a bigger-priced free agent.
Either way, expect the Broncos to supplement their receiver room with a rookie or two this year, too.