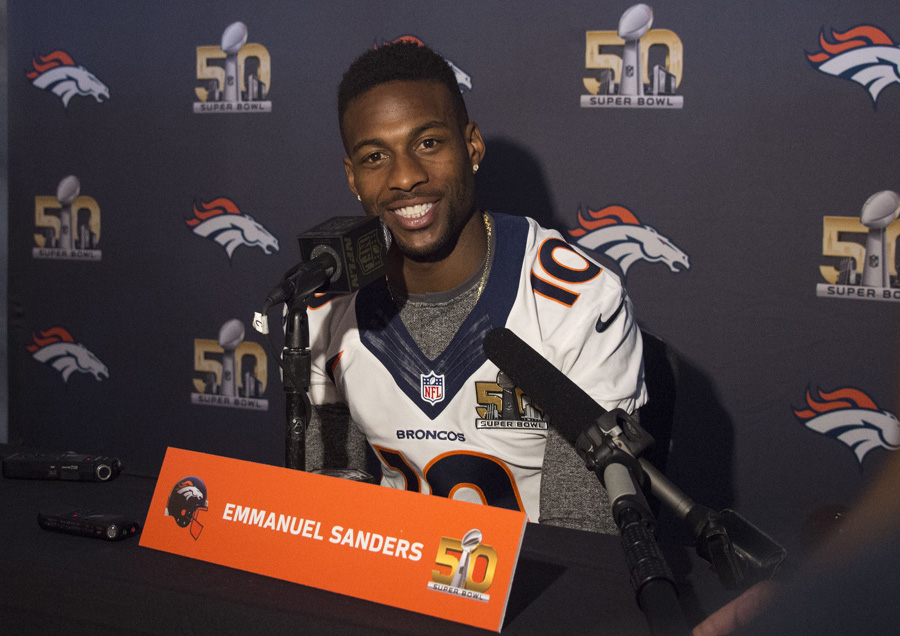 Since joining the Broncos in 2014, Emmanuel Sanders has become one of their top producing receivers. Sanders amassed over 2,500 yards and 15 touchdowns, while only missing one game in this time. He also picked up a Super Bowl ring. Now he's ready for another.
On Wednesday, Eric Goodman and Les Shapiro, from Afternoon Drive on Mile High Sports AM 1340 | FM 104.7 spoke with Emmanuel Sanders at minicamp about his hopes for next season.
"Just one Super Bowl ain't enough," Sanders said. "I believe that I've got another one under my belt somewhere, and I'm looking forward to the opportunity this season."
Sanders has more starts in the two years in Denver, than all four years he spent in Pittsburgh. Sanders' stats have also greatly increased since he arrived in Denver, as he was a 1,000+ yard receiver both years.

Of course, both of those seasons were with Peyton Manning. With Manning now gone, the Broncos still haven't committed to a starting quarterback for this upcoming season, but Sanders had some positive things to say about Mark Sanchez.
"I think it's going really well because now we have consistent action," said Sanders. "I think he is getting comfortable, he is spending late hours here and he wants to be the guy. We'll see how the quarterback situation goes."
Sanders doesn't seem too worried about the offense, as last year's passing attack wasn't considered to be the driving force of the team by any means.
"Last year we won the Super Bowl," Sanders said. "People said what they wanted to say about the offense, but we got the job done. That's our goal again this year. Our goal is to win games and let the media critique and criticize however they feel."
Listen to the full discussion, plus what he thinks about the Aqib Talib situation, in the podcast below.
Catch Afternoon Drive every weekday from 4-6p on Mile High Sports AM 1340 | FM 104.7 or stream live any time for the best coverage of Colorado sports from Denver's biggest sports talk lineup