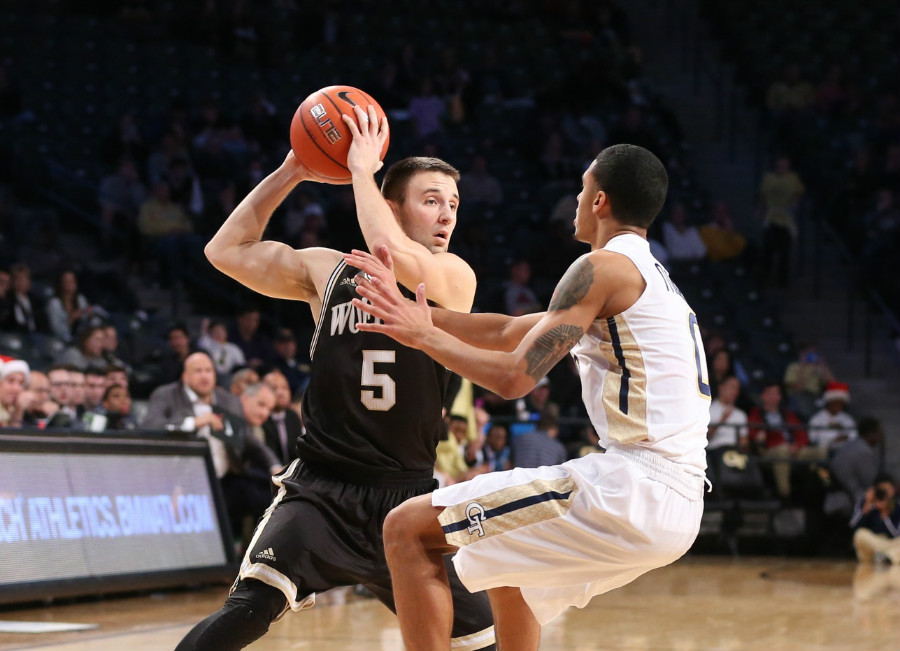 The Denver Nuggets hosted their second round of pre-draft workouts Tuesday morning, which included a wide variety of players with a number of different sizes, skill sets, and outlooks. Participants included University of Colorado products Xavier Johnson and Wesley Gordon as well as Kentucky center Isaac Humphries. Gonzaga's Johnathan Williams and Campbell's Chris Clemmons rounded out the group of nationally known players at the workout. Meanwhile, Eric Garcia, probably the least-known of five players that worked out for the Nuggets, fulfilled a lifelong dream of his to suit up for his hometown team.
Garcia, a 5-foot-11 guard from Aroura, Colo. worked out for his first professional team following his graduation from Wofford College on Sunday. The workout was a dream come true for the Grandview High School graduate who has been a Nuggets fans since the day he was born.
From taking shots on his Little Tikes basketball hoop in his living during Nuggets games as a kid, to booing Utah Jazz legend Karl Malone at the first game he ever attended, Garcia has been representing the Nuggets since day one. The opportunity to suit up in baby blue and gold threads made a dream come true for the 23-year-old.
"It's kind of come full circle," Garcia said after the workout. "Watching guys like Nick Van Exel, Antonio McDyess growing up, it's just awesome to be here, and I'm just thankful for the Denver Nuggets for bringing me here."
Garcia averaged 14.0 points, 2.8 rebounds, and 6.9 assists during the 2016-17 season at Wofford en route to his All-SoCon First Team and NABC All-District First Team selections. He was one of the best and most electric players in the Southern Conference during the past season, ranking top-three in assists per game, free throw percentage and minutes played.
As he gained recognition at the college level, Colorado icons began to reach out to Garcia, most notably Colorado basketball great and the King of Park Hill, Chauncey Billups.
Billups has mentored Garcia for some time, working out with him and giving him some words of advice as his career has progressed. Billups has been one of the biggest influences on Gacia and is a huge reason for his distinguished success on the court.
"Everything," Garcia said of what he's learned from Billups. "He's so smart. He knows the game inside and out. He can shoot. He's seen everything you can as a basketball player, so I try to soak everything in, and just very thankful to have him in my life."
While Garcia's future in basketball is uncertain, the opportunity to work out for a professional franchise, let alone his hometown team was a dream come true for the Coloradan. What happens next is unknown, but for the time being, Garcia's love for the game has made a revolution throughout his lifetime.