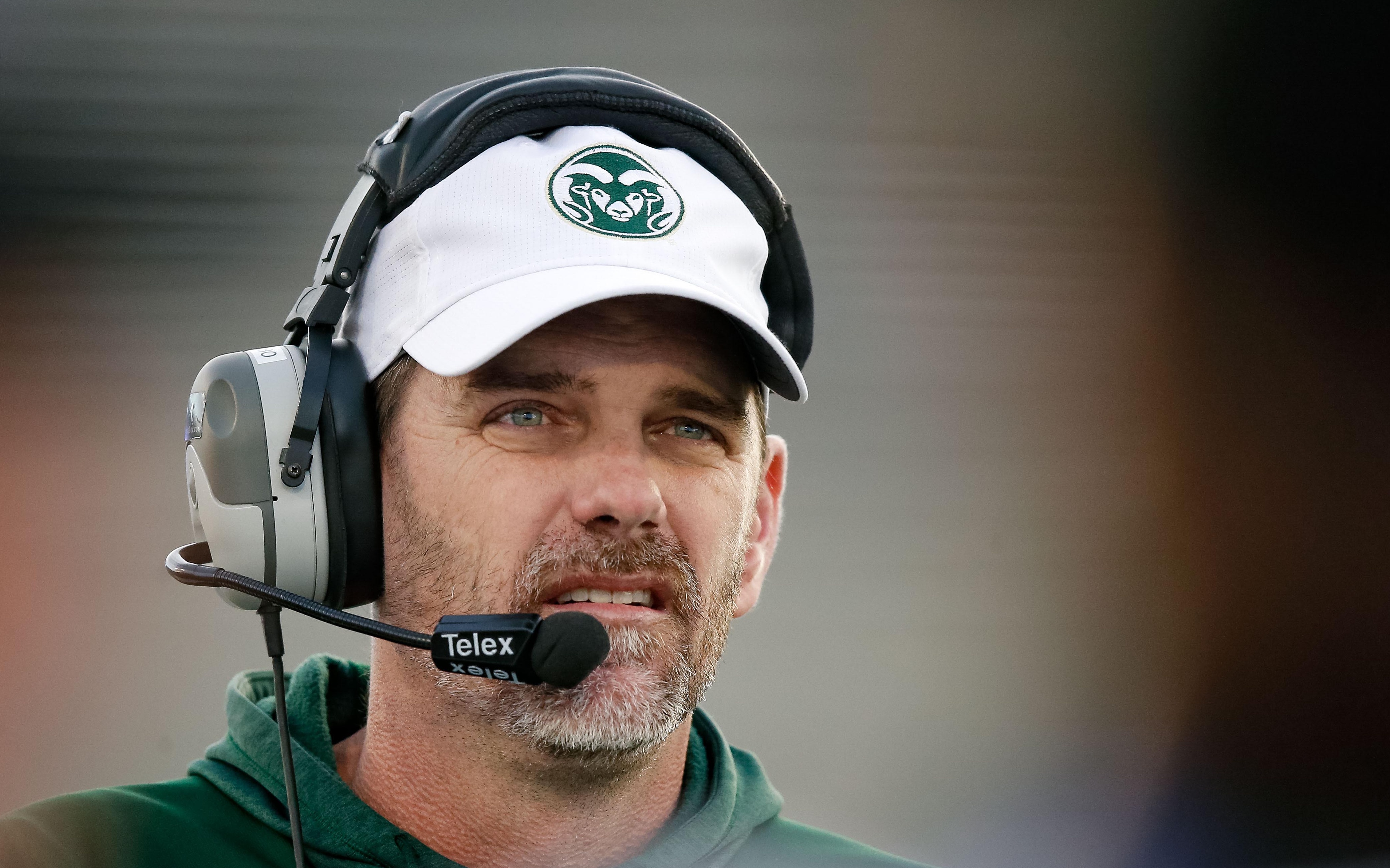 Colorado State Rams football fans were due for some good news following a dreadful 2018 season.
With his job in jeopardy more than it ever has been during his CSU tenure, head coach Mike Bobo aided the future of CSU football by inking 15 players for the 2019 season.
While offensive player development has always been a significant part of Bobo's philosophy, the four-year head coach also emphasizes the importance of recruiting. Given that there is still a decent amount of time remaining to recruit for the 2019 season, the results of Wednesday's early signing period show that Bobo has not lost his touch.
Out of CSU's 15 signed athletes for next season, 12 are listed as three-star recruits on 247Sports. And as of now, the Rams' 2019 class ranks third in the Mountain West.
In an attempt to retain his job and respond from that disappointing season, Bobo has executed exceptionally so far regarding recruiting, which is why there is reason for Rams fans to be optimistic about the future. Still, one never knows how prospective players are going to perform once they begin competing at the collegiate level.
Whether a one-star or a five-star recruit, essentially every individual has the potential to excel or play at an inferior level.
With that being said, let's take a look at who we should keep an eye on in the 2019 class, as well as where Bobo and Co. can keep improving before the recruiting period concludes.
Most significant signings:
Of course, a common way to interpret CSU's best incoming recruits would be going down the list and seeing who is ranked the highest.
Though that isn't an incorrect analysis, I believe it is essential to consider the areas that contributed to CSU's failures most last season, and what was accomplished recruiting-wise in response.
Perhaps no unit struggled more than the Rams' offensive line last season. In 2018, the young, sloppy line inhibited a lot of what Bobo was trying to accomplish offensively.
The Rams went from scoring 33.4 points per game in 2017 to a lowly 22.8 in 2018. A versatile, high-powered offense transitioned into one full of inconsistency. For regression to not become a trend, the offensive line needs some patching.
I see the Desmond Noel signing as extremely significant. Noel is a three-star guard who played JUCO ball for two years following a brief stint with the University of Ohio. Noel took the JUCO route because he was kicked off the Bobcats' team following an arrest his freshman year. Hopefully, the 310-pound guard can stay out of trouble.
The guard can be a focal point of offensive line improvement. The transition back to D1 football should go a little smoother than it usually would for an O-lineman, considering his ties with the coaching staff. Consider this, CSU offensive coordinator Dave Johnson was the offensive line coach at Ohio when Noel played for the Bobcats.
Incoming cornerback Keevan Bailey's bloodline makes mentioning him useful even if he didn't bring the most impressive skill set to the table.
However, the son of future Hall of Famer Champ Bailey is exceptionally following in his father's footsteps. Keevan brings talent and versatility to a defensive backfield that desperately needs it. The three-star recruit may be called on to contribute immediately by defensive coordinator John Jancek, and it won't hurt publicity having Champ in the stands at Canvas Stadium either.
Like with Noel, wide receiver Nate Craig-Myers is a player coming to Fort Collins from a different collegiate program.
Craig-Myers was a massive get by Bobo, and he has No. 1 receiver written all over him. After all, the wideout's path is remarkably similar to the one Preston Williams took to end up at CSU.
Like Williams, Craig-Myers transferred out of the SEC, specifically from Auburn. In his second of three seasons with the Tigers, Craig-Myers accumulated 16 receptions for 285 yards and three touchdowns.
Other than that, the 6'2″ wideout was an afterthought in Auburn, playing in only three games for the Tigers last season.
Craig-Myers was highly touted out of high school and listed as the 37th best incoming receiver in 2016. He didn't get his chance to shine in Auburn, but he most certainly will have the opportunity to do so with the Rams.
Unlike Williams, Craig-Myers can play immediately because of amendments to NCAA transfer rules. Thanks to this signing, CSU will most likely maintain a lethal receiving corp.
Where the Rams get the most help:
CSU signed four cornerbacks and four wide receivers on Wednesday.
An argument can be made for both position groups here concerning which seemingly improved more.
However, the Rams' defensive backfield needed more help than its receiving unit did. Sure, CSU lost Preston Williams, but even without going and getting Craig-Myers, the receiving core would have been in better shape than the cornerbacks if the Rams didn't make some major defensive additions.
Rashad Ajayi's production as a freshman was the lone positive aspect of the cornerback group in Fort Collins last season.
Anthony Hawkins returning next season is a good thing, but the Rams lose graduate transfer cornerback V.J. Banks. Even if they were getting Banks back, this unit would still need some help. Success in coverage was lacking last season for the Rams.
Well, CSU did precisely what it needed to and signed some guys who can help the backfield right away. Besides Bailey, three-star cornerback Brandon Crossley was a superb signing for CSU. Crossley is the Rams' highest-rated player in the whole 2019 class. Crossley is known for his speed, something CSU desperately needed defensively.
Out of the incoming cornerbacks, Bailey and Crossley have the best chance of contributing as freshmen. Regardless, it doesn't hurt that the Rams also grabbed another pair of three-star cornerbacks in Andre Neal and Xavier Goldsmith.
Neal and Goldsmith solidify depth at the cornerback position for Colorado State. Neal has the potential to produce when called upon, also possessing great speed. Neal comes to Fort Collins with JUCO experience under his belt as well.
Goldsmith is a versatile player who played wide receiver and cornerback at Harrison High School in Michigan. The cornerback earned all-state honors as a senior after recording 24 tackles, 22 pass breakups, and forcing four turnovers. Goldsmith received double-digit D1 offers, including one from Michigan State and a scholarship offer from Colorado.
Overall grade: B.
Look, I know the Rams didn't go out and get a handful of four or five-star players. That is never really expected from a mid-major program, though.
It's hard to complain about three-star recruits when Bobo was able to lock down so many guys this early in the recruiting process. The coach is a great recruiter, and he made the most of his resources this time around.
The Rams have had trouble keeping players committed after initially doing so in the past. Avoiding that issue this season and signing 15 young men on Wednesday is an excellent sign for the program.
It is worth mentioning that specific goals can still be achieved before the Feb. 6 National Signing Day.
CSU signed three offensive linemen. In addition to Noel, JUCO transfer T.J. Storment appears to be a tackle who can help turn the line around. His size gives him the potential to do so.
Regardless, with how poorly the offensive line performed in 2018, the more incoming players, the merrier. Bobo needs to do everything in his power to assure the line will at least be average in 2019.
So, the goal from now until early February should be to persuade more players to become part of the Rams' offensive front.  
Three-star offensive tackle William Rodgers is someone to monitor. The Hampton, GA native is reportedly most interested in Georgia State, Illinois, and CSU in no particular order. Signing Rogers would give the Rams a solid trio of incoming tackles.