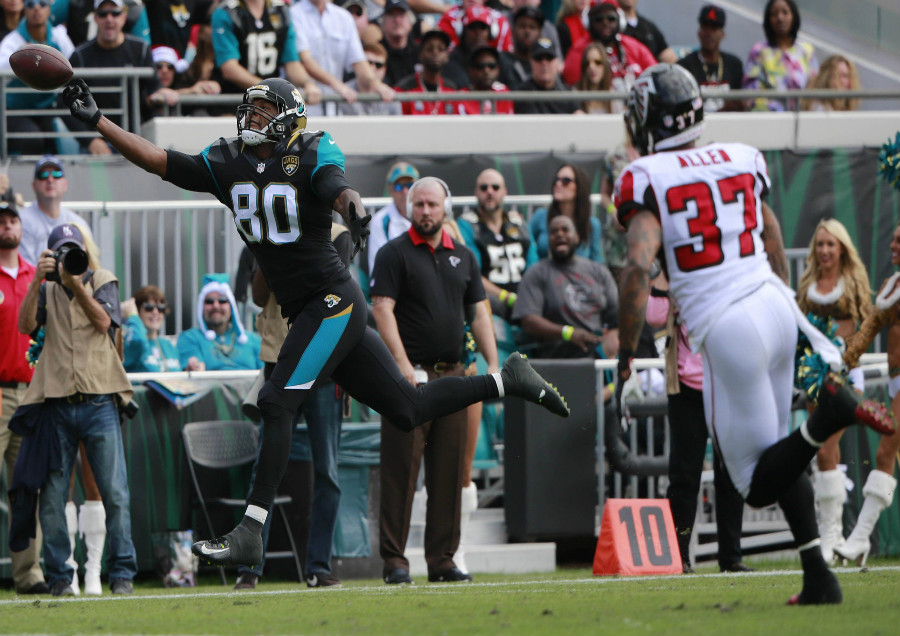 Year Left: 2015   New Team: Jacksonville Jaguars   Age At Signing: 26
Contract With The Jacksonville Jaguars: 5 years / $46 million ($24 million guaranteed); $9.2 million a year
First Year With Jacksonville Jaguars: 12 games played with 11 starts; 46 receptions on 80 targets; 455 receiving yards; 5 receiving touchdowns
Broncos Replacement: Owen Daniels
Owen Daniels Contract: 3 years / $12.25 million ($3 million guaranteed); $4.08 million a year
Owen Daniels Production: 16 games played with 16 starts; 46 receptions on 77 targets; 517 receiving yards; 3 receiving touchdowns
In the first five games of the 2014 season, Julius Thomas looked unstoppable, bringing in nine touchdowns. He looked like a player that couldn't be guarded and that the Broncos couldn't let go. From then on, though, his production dropped off considerably — adding only three more touchdowns in the final nine games of the regular season.
The Broncos let him hit free agency without offering him a contract. His talent was nearly unmatched, but his heart and ability to play through pain were major questions.
The Broncos replaced him by committee, with Owen Daniels leading the way. There was a considerable drop off in talent, and Daniels certainly had his highs and lows during the season. Daniels' two-touchdown performance in the AFC Championship game against the Patriots was a highlight in an otherwise average year.