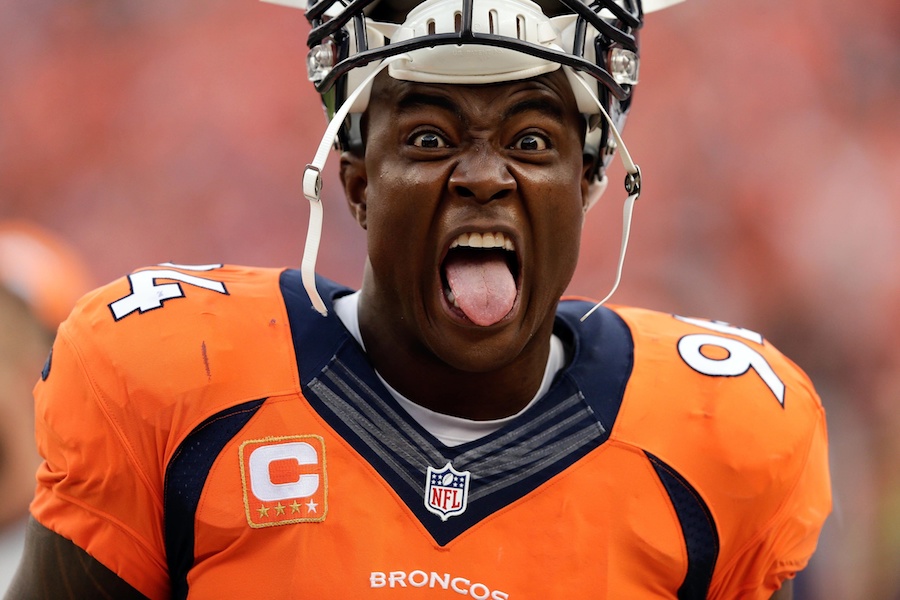 The Denver Broncos have an important offseason ahead. Following a campaign that saw the team miss the playoffs, they will need to upgrade this team in order to get back into championship contention. One of the first steps in that challenge will be deciding which free agents should be re-signed to new contracts.
Unlike last season, the Broncos do not have an extensive list of players that are due to get new deals. However, there are still a few players that could prove to be tough decisions. Which players should get new deals, and remain with the team next season?
Three seasons ago, the Dallas Cowboys allowed Ware to leave via free agency, feeling that his best days were behind him. The nine-year veteran came to Denver, and posted 10 sacks in his first season. In his three years as a Broncos, Ware has been solid on the field, making 80 tackles, 21.5 sacks, and forcing three fumbles.
He has been just as important off the field, serving as a mentor and example of how to be a first-class professional, to the younger members of the Denver defense. Yet, Ware has also missed 15 games, as he has battled back and arm injuries. He underwent back surgery in December, and says that he feels as good as he has in recent memory.
The Broncos will need to be wise with Ware. As great as he has been, spending top dollar for a 34-year-old pass rusher that is coming off of back surgery doesn't seem very prudent. Will he give Denver a hometown discount? If not, he could be gone.
The Broncos were hoping for big things from Walker heading into the 2016. That ended when he went down with a torn ACL in August and missed the entire season.
After making 33 tackles and logging two sacks in 2015, Denver was hoping that Walker could help absorb the blow of losing Malik Jackson to Jacksonville. Without both Jackson and Walker, the Denver defensive front got significantly softer and the run defense struggled.
Denver likes the versatility of Walker to play both the tackle and the end position. They should be able to keep him in a Bronco uniform, and see if he can be the player that they envisioned last year.
The Broncos might still try to re-sign Williams, but they clearly are hoping to land more production. He got put in a tough position this season after the loss of both Malik Jackson to free agency and Vance Walker to injury, and failed to do much with his opportunity. Despite starting all 16 games, he managed just 29 tackles and only a single sack.
The Denver run defense went from being the best to being one of the worst, and a good portion of that change was due to the soft center. Look for the Broncos to spend some money and try to make a significant upgrade at nose tackle this offseason.
Had Gary Kubiak stuck around, Forsett would likely be offered another deal. He enjoyed his most productive seasons while playing within Kubiak's offense, and had earned a starting spot with the Broncos this year.
That will probably go by the wayside with the new regime. Forsett is expected to announce whether or not he will retire in the next few weeks, and it is hard to imagine the Broncos offering much of anything to change his mind, with CJ Anderson returning from a season-ending knee injury.
It is easy to be down on Norwood with his gaffes on special teams. The journeyman wide receiver fumbled four times in a four-week span, and had fans wondering why the coaching staff kept put him out there to return kicks.
The Broncos do have some other wide receivers in Cody Latimer and Bennie Fowler, that they are hoping will step up this season. Norwood may end up staying in Denver, but it will be for minimum money, and he will have to prove to the new coaching staff that he can put those mistakes behind him.
He has struggled to get much playing time with the Denver defensive unit, but Webster has proven that he is definitely worth a contract offer. The fourth-year cornerback has developed into an ace special teamer, and has a knack for pinning teams deep on kick coverage.
The Broncos are no doubt hoping that Webster can begin contributing more to their "No Fly Zone" defensive backfield, but we will have to hope that he doesn't demand more money than the Broncos are willing to pay.
The Broncos have to feel very good about their kicking situation right now. Over the past two seasons, Brandon McManus has gone 59 for 69 on his field goal attempts, and 67 for 69 on extra points. He consistently booms his kickoffs out of the end zone, and has connected with multiple field goals of 50+ yards.
As a restricted free agent, the Broncos will be able to match any offer that he might receive. Expect Denver to make sure that Brandon McManus will be a Bronco for years to come.
As a unit, the Broncos inside linebackers didn't have the strongest showing in 2016. Brandon Marshall, Todd Davis, Corey Nelson and Zaire Anderson battled injuries all season, and struggled to keep up with opposing running backs and tight ends.
Davis may have been the most consistent performer of the bunch, logging 97 total tackles. That consistency should earn him another contract, but the Broncos need to see some major improvements from Davis going forward.