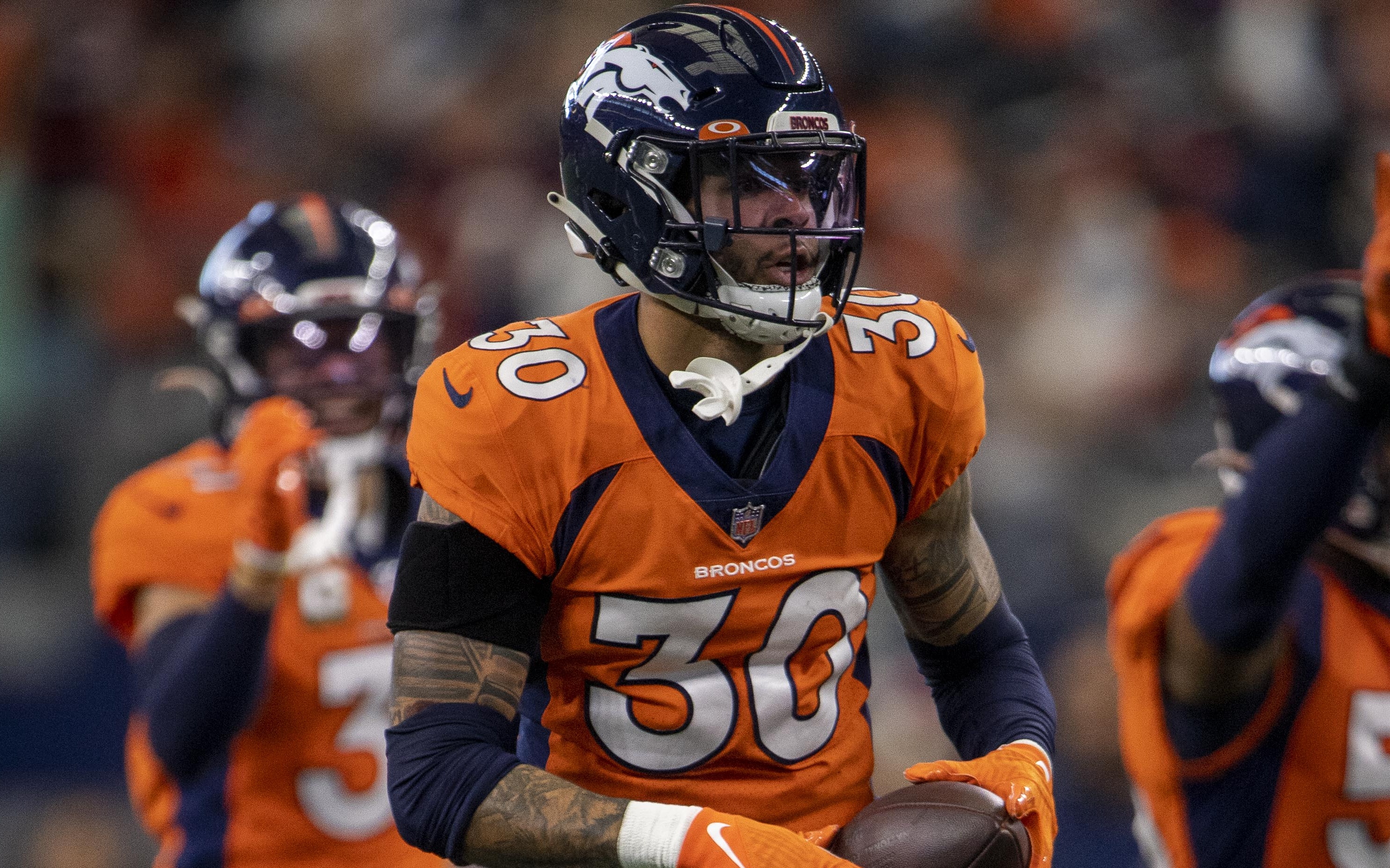 The Denver Broncos enter training camp with a veteran-led safety room, but how might the depth behind Justin Simmons and Kareem Jackson shape out with various players competing for a roster spot behind them?
For the last four seasons, the Broncos have benefitted from the experience and durability that Simmons and Jackson have provided for the team on defense.
While they return this season to their prominent roles, the Broncos have a group of depth players who possess an exciting potential for the defense and on special teams.
Denver Broncos Safety room
As the Broncos prepare for training camp, they'll take the field with seven players at the safety position. Outside of Simmons and Jackson, other players returning in 2022 feature 2021 fifth-round picks Caden Sterns and Jamar Johnson, and third-year safety P.J. Locke.
New additions to the Broncos safety room this season are 2022 fifth-round pick Delarrin Turner-Yell, and free-agent acquisition J.R. Reed. 
Some of the storylines accompanying this position group revolve around how new Broncos defensive coordinator Ejiro Evero plans to utilize both Simmons and Jackson this season.
Both players are expected to resume their regular responsibilities on the back end, but it's also possible that Jackson plays a hybrid role this season between safety and inside the dime as the other slot opposite of K'Waun Williams.
Flexibility is important for Evero as he navigates his first season as the team's new defensive play-caller.
Relying on one of the NFL's best safety duos gives him flexibility when it comes to teaching some of the younger players.
"Like I said—smart guys," Evero said of Simmons and Jackson during the Broncos mandatory minicamp. "You put more on their shoulders because you know they can handle it, not only in terms of getting it done themselves, but communicating it to everybody else."
Who could be the Broncos third safety?
The Broncos will have quality competition for who will be the third safety behind the strong veteran duo. One name to keep an eye on is Caden Sterns.
Last season, Sterns became a training camp rising star who consistently made plays in practice intercepting the offense. He quickly rose up the ladder and saw plenty of playing time in the preseason.
During the regular season, Sterns didn't see a lot of volume on the field defensively, but when he appeared on the field, his impact was felt. In 2021, he appeared in 15 games for the Broncos and started two of them.
In 311 total defensive snaps, he registered 28 tackles, 2 interceptions, and 5 passes defensed. With his small, impressive sample size he'll be a player to watch for in training camp.
Another player who will compete for the Broncos' third safety spot is P.J. Locke. He continues to evolve as he gains more experience in the NFL, but he offers immediate value to the team on special teams. 
For two straight years, Locke has been one of the Broncos' more critical core special teams players. In 2020, he played 84% of all special teams snaps and 83% in 2021. He projects to be one of the key players for new Broncos special teams coordinator Dwayne Stukes.
If he can put together an impressive preseason at safety, he could find himself as the team's third safety option. 
How can younger Broncos safeties get in the mix?
Where do Delarrin Turner-Yell, J.R. Reed, and Jamar Johnson factor in? For two consecutive seasons, Broncos general manager George Paton has drafted a safety in the fifth round of the NFL Draft.
Last year both Sterns and Johnson were selected, and this season Turner-Yell was taken off the board. With Sterns and Locke being early favorites for the third spot at safety, the other safeties could make things interesting if they have a strong showing during camp.
Reed enters the mix with more experience than Johnson and Turner-Yell, but these three players each project to compete for prominent time on special teams more than they do on defense.
The Denver Broncos' depth at safety is a good problem to have. Paton and the Broncos new coaching staff will have to make some tough decisions when roster cuts occur during the preseason.