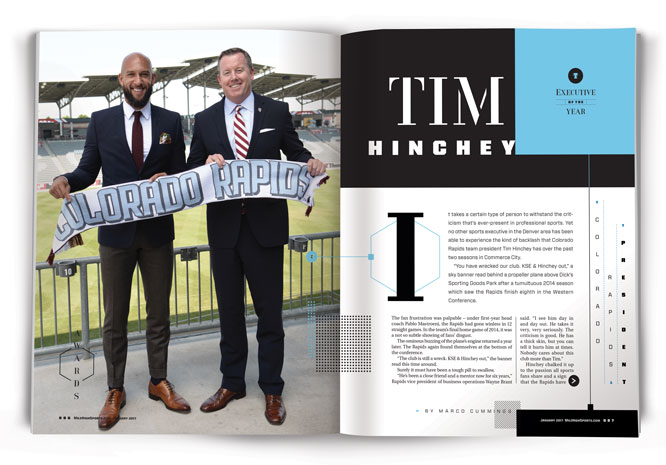 This story originally appeared in Mile High Sports Magazine. Read the full digital edition.
It takes a certain type of person to withstand the criticism that's ever-present in professional sports. Yet no other sports executive in the Denver area has been able to experience the kind of backlash that Colorado Rapids team President Tim Hinchey has over the past two seasons in Commerce City.
"You have wrecked our club. KSE & Hinchey out," a sky banner read behind a propeller plane above Dick's Sporting Goods Park after a tumultuous 2014 season which saw the Rapids finish eighth in the Western Conference table.
The fan frustration was palpable – under first-year head coach Pablo Mastroeni, the Rapids had gone winless in 12 straight games. In the team's final home game of 2014, it was a not so subtle showing of fans' disgust.
The ominous buzzing of the plane's engine returned a year later. The Rapids again found themselves at the bottom of the conference.
"The club is still a wreck. KSE & Hinchey out," the banner read this time around.
Surely it must have been a tough pill to swallow.
"He's been a close friend and a mentor now for six years," Rapids vice president of business operations Wayne Brant said. "I see him day in and day out. He takes it very, very seriously. The criticism is good. He has a thick skin but you can tell it hurts him at times. Nobody cares about this club more than Tim."
Hinchey chalked it up to the passion which all sports fans share, and a sign that the Rapids have become credible in a saturated Denver sports market.
"If people are that passionate about it, it's a great sign for the club, for the sport and for the league," he said. "I'm a sports fan and when your team doesn't do well, you point to the top and that's where you should point."
Hinchey was also sick of the poor results. Driven by urgency, he and the Rapids' brass spent the following offseason working on a plan to return the club to glory.
Fast forward to October 2016. Once again, it's the Rapids final home game of the regular season. This time around, the Rapids have already locked up a playoff spot and a knockout round bye, and are still in contention for the club's first ever Supporter's Shield trophy, awarded to the MLS team with the best regular season record.
The roster changed, but the front office remained intact. Doubted by all, Colorado's pro soccer team completed a near worst-to-first turnaround. Along the way, the Rapids also broke club records on the pitch (highest regular season point total), in season ticket sales and sellouts (10), and in national media interest.
For those accomplishments, Hinchey has earned the honor as Mile High Sports Executive of the Year.
"I'm very honored and humbled by such an acknowledgement," Hinchey said. "Having said that, although my name is attached to the award, it's really an achievement for the whole club. The reality is I don't do this alone, nor does anybody in leadership positions. Hopefully it's something everyone can take acknowledgment of."
The Rapids' display of on-field ineptitude in 2014 and 2015 – a Western Conference worst mark of 17 wins over 68 regular season games – is the kind that sparks many franchises to make wholesale changes.
Hinchey rejected that idea, sticking to his guns and keeping the front office team together, along with the faith that the Rapids could achieve a turnaround.
"In sports, a lot of times people rush to judgement, because of the passion that surrounds sports. You really need patience," he explained.
Hinchey also held faith in the team's "One Club" mantra; the idea that all are accountable from ticket counter to team president.
"That 'One Club' mentality is something you hear us talk about all the time, but even more so internally," Brant said. "He's got everyone pulling in the same direction. It may not have been reflected on the field the two years prior to this in the results, but he's always had a plan."
It started with publically reassuring his faith in Mastroeni, in spite of the losing record and coaching inexperience.
The move, seen as a gamble by sections of the fan base and outsiders, paid off. In 2016, Mastroeni went on to be recognized as Coach of the Year by Goal.com, Soccer by Ives and NBC Sports. In Major League Soccer's Coach of the Year balloting, Mastroeni finished second to MLS Coach of the Year Oscar Pareja – another head coach who was given an opportunity as a Hinchey hire back in 2012.
"That faith and patience that [ownership] gave us allowed us to give that to Pablo and his staff and stick with the plan," Hinchey said of the decision. "We were all on the same page: Us communicating openly about what we needed to do to get better."
Ensuring the Rapids' stability at head coach wasn't the only move that Hinchey made. He also asked for investment in the club, not just from Kroenke Sports Entertainment (yes that same KSE), but also working hard to extend a deal with the club's shirt sponsor, Transamerica. With additional funds secured, the Rapids could now implement a plan to make vast improvement to the club's roster.
Colorado signed more star players, starting with FC Basel goal scorer Shkëlzen Gashi, a player with experience playing on European soccer's grandest stages. It also added two U.S. National Team stars in midfielder Jermaine Jones and goalkeeper Tim Howard, household names from the 2014 World Cup.
It wasn't just the stars, either. A reward for smart drafting and scouting, Colorado was able to get career years out of journeyman Micheal Azira as well as young developing players like Jared Watts, Eric Miller and Axel Sjöberg, a Defender of the Year finalist.
Hinchey built the team that made the soccer decisions and he gave them a voice.
"He not only possesses the vision to create and execute a strategy but more importantly he has a wonderful ability to give everyone a voice in our strategic planning," Rapids sporting director Padraig Smith said. "In doing so, he ensures that every individual within the club feels a sense of ownership in what we are doing and what we are looking to achieve."
The Rapids continued their Cinderella success in the postseason, dispatching league powerhouse LA Galaxy in the Western Conference semifinal, but were ultimately eliminated with a 3-1 series aggregate loss to Seattle in the Western Conference Championship.
The 2016 season may be finished, but Hinchey isn't. He knows that he must continue to work tirelessly until the Colorado Rapids are once again crowned MLS Cup Champions… and then some.
"It's a great story, but we want this to be the standard, not the exception," Hinchey said. "We want to execute a plan that allows us to be consistent. When people look around the league, they see Colorado and every year they're in the playoff picture.
"We've raised the bar. Our objective now is to maintain that level."