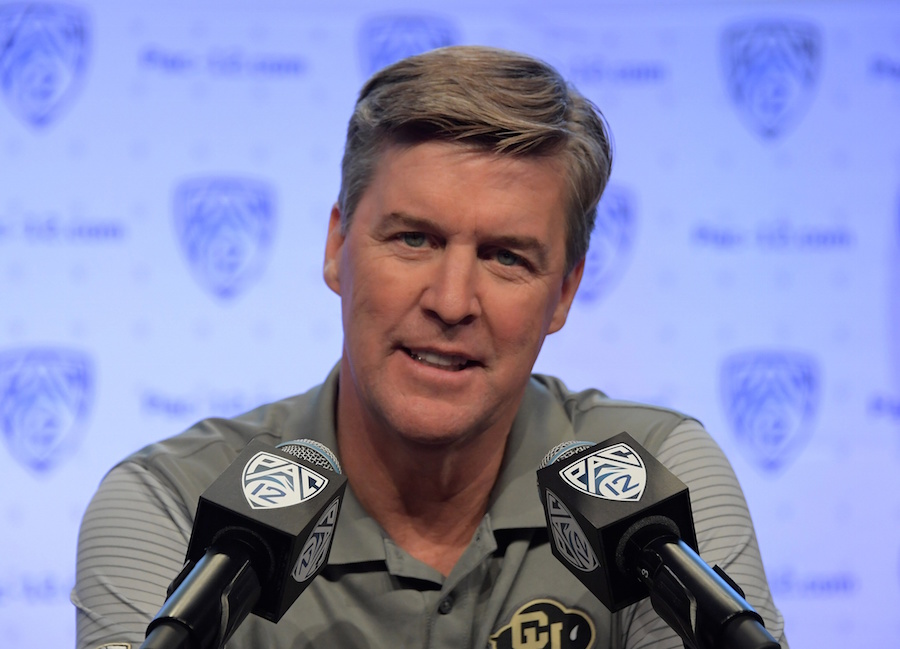 The path hasn't been easy, but Mike MacIntyre and the Colorado Buffaloes appear to have turned a corner in recruiting. After spending the past four years ranked outside the top 50 in the Rivals.com annual recruiting rankings, MacIntyre's Buffs come in at No. 29 for the 2017 class. The leap, MacIntyre believes, is because the school committed increased resources to the process.
"About 22 months ago, I was able to finally put in the recruiting office I wanted to put in when I first got here," MacIntyre told Eric Goodman and Les Shapiro on Mile High Sports AM 1340 | FM 104.7.
"When I first got here, we had a spot for one recruiting coordinator. Now I have seven full-time people in the recruiting office."
His time spent as a grad assistant and assistant coach at Georgia and Ole Miss in the '90s and early 2000s, showed firsthand the benefit of having a robust recruiting staff.
"I learned that from being in the SEC," he said. "Down there, they have a whole recruiting area and now we do. It's really helped us and helped our coaches get better relationships with the young men we're recruiting, with their parents and it's really helped me be able to get some great, great relationships early on.
"We're able to get on young men earlier, quicker. Able to stay in touch with them more. More and more young men are getting to campus earlier."
Getting student-athletes to Boulder has always been a strong recruiting tool – athletic director Rick George was famous during his days as a recruiter in using the majesty of the Flatirons to convince a student-athlete to sign in Boulder – and now with the major athletics facilities upgrade, getting student-athletes to campus early in the recruiting process has been an even more important element for the Buffs. Having the larger staff means MacIntyre not only reaches more students, but reaches them more frequently and earlier in the process – vital now in the social media age when student-athletes are announcing their commitments (official or unofficial) on the internet months, even years, earlier than they did in the past.
"The old 'official visit' was kind of the way you always did it, but as you can tell, you can't even take official visits until December and January," MacIntyre notes. "Now, kids commit on unofficial visits. The process is sped up so much more that we needed to get a recruiting office in place."
It didn't take long for the expanded office to yield success. At No. 29, the Buffs currently rank above Pac-12 foes Washington (35), Washington State (37), Oregon (40), Stanford (52), Oregon State (56), UCLA (64), Cal (66) and in-state rival Colorado State (80) for their 2017 classes.
MacIntyre exercised patience while the administration implemented the changes he knew were necessary to take the program to the next level.
"We didn't have the budget," MacIntyre said about his first few years on campus. "Didn't really understand it. Then [athletic director] Rick George and I sat down and he completely understood it and was behind it 100 percent. Then he went out and raised the money."
It may take a few years for the improved recruiting to pay dividends on the playing field, but MacIntyre, with his new resources, has the Buffs headed in the right direction.
Listen to the full interview with coach Mike MacIntyre, including his expectations for the 2016 season, in the podcast below.
Catch Afternoon Drive with Eric Goodman and Les Shapiro every weekday from 4p-6p on Mile High Sports AM 1340 | FM 104.7 or stream live any time for the best local coverage of Colorado sports from Denver's biggest sports talk lineup.