Denver Nuggets governor Josh Kroenke shared on Friday with local media that the Nuggets are officially in "championship or bust" mode entering the 2022-23 season.
After two seasons riddled with injuries to Jamal Murray and Michael Porter Jr., the Nuggets are hoping that next year is their year. Franchise player Nikola Jokić has developed into a two-time MVP, and those within the Nuggets believe that Murray and Porter are both all-star caliber talents. After acquiring Aaron Gordon at the 2021 NBA trade deadline, the Nuggets appeared to have the talent necessary to compete for titles. Injuries screwed that up, and the Nuggets are back to the chalkboard as a result.
Between then and now, the Nuggets have suddenly become far more expensive. Extensions to Porter and Gordon before the 2021-22 season ensured the Nuggets would be flirting with the luxury tax for the foreseeable future. Add in the max contract for Murray and the impending super max contract for Jokić, and the Nuggets are all but assured to be paying extra to keep the team together.
It's been awhile since the Nuggets have paid the luxury tax, over a decade in fact. Nuggets fans have voiced their concerns about whether ownership would be willing to spend heavily to compete for a chance at a championship. Opportunities with players like Jokić at the peak of his powers don't come around very often for the Nuggets franchise.
Kroenke assuaged some of those concerns on Friday as well.
"We're ready to pay that tax," Kroenke declared. "We have three max players, one that will be getting a super max…and I don't think that this organization is going to be hesitant when it comes to the tax or trying to acquire talent."
It's good to hear Kroenke dispelling those concerns, but it doesn't change the fact that the Nuggets are still limited in what they can do. Teams that are over the salary cap have limited flexibility in how they can improve their team. Teams like the Nuggets that are over the luxury tax apron have even less flexibility.
Below is an image of Denver's projected salary cap sheet for the 2022-23 season and beyond.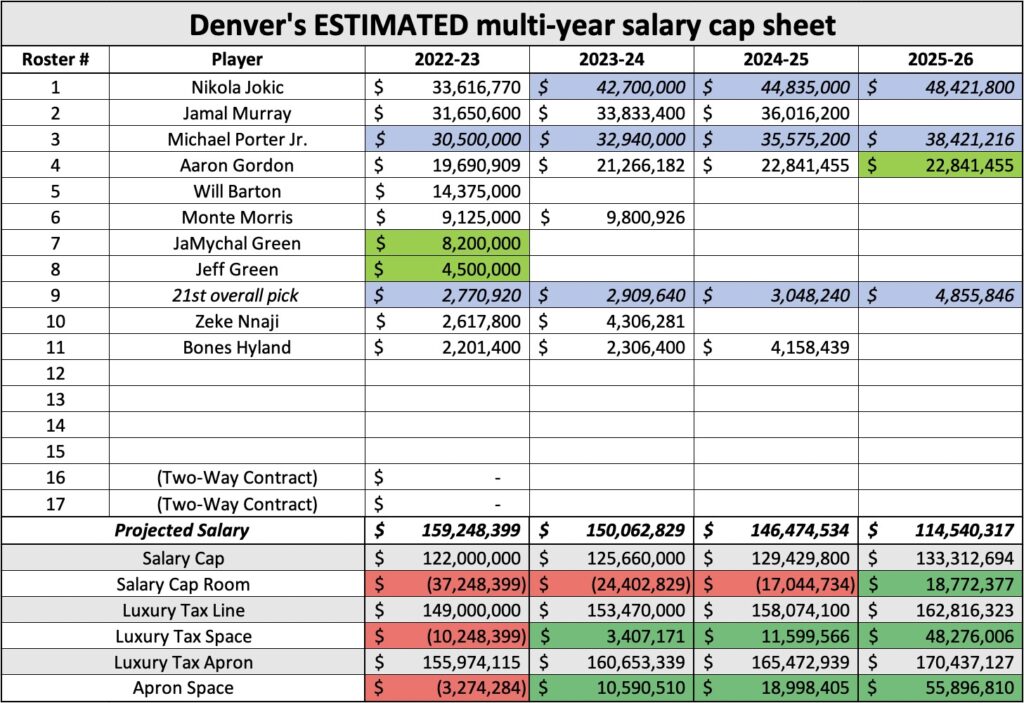 Right off the bat, fans should know that JaMychal Green and Jeff Green each have player options that they will decide to accept or decline prior to free agency. Both Greens will combine to make roughly $12.7 million if they pick up their options, an assumption that is made in the calculations above. The salary cap number for the 21st pick in the 2022 NBA Draft is also included in the calculations, albeit an estimate due to rookie scale rules.
All in all, the Nuggets are projected to have 11 players on the roster making approximately $159.25 million, which is $10.25 million over the luxury tax threshold. That means that the only way the Nuggets can sign free agents is with minimum contracts and the taxpayer mid-level exception, valued at roughly a three-year, $20 million contract. That's not a lot, and it means that certain free agents simply won't be available to the Nuggets. Max contract level stars like Zach LaVine and Deandre Ayton are certainly off the table, but even role players like Gary Payton II and Brown Brown might be too pricy for what the Nuggets can realistically offer.
Because of these restrictions, the Nuggets should strongly consider their own free agents when building their roster. Key contributors like Austin Rivers and DeMarcus Cousins are set to depart even though both were instrumental in keeping the Nuggets afloat this past season. The Nuggets can sign Rivers for as much money in the first year of his contract as the full mid-level exception due to salary cap rules (roughly $10.3 million). The Nuggets are only allowed to give Cousins a 20% raise valued at roughly $3.17 million though since he signed a minimum contract during the season.
Other free agents include point guard Facundo Campazzo, shooting guard Bryn Forbes, power forward Vlatko Čančar, and two-way players Davon Reed and Markus Howard. Expect the Nuggets to give moderate consideration to retaining at least one or two of those options.
That leaves the taxpayer mid-level exception as the only realistic way the Nuggets can add a new contributor on the free agent market. Though it's not a large contract amount, it should certainly be enough to interest a quality rotation player. Some fans have shown interest in a reunion with Gary Harris, a quality point-of-attack defender with familiarity in Denver's game plans. The Nuggets could certainly stand to upgrade their defense if they want to compete for championships, and Harris could assist there.
Other players that could be of interest to Denver in that price range: Miami Heat guards Victor Oladipo and Caleb Martin, Charlotte Hornets wing Cody Martin (Caleb's brother), Atlanta Hawks guard Delon Wright, and Los Angeles Clippers wing Amir Coffey. All would represent defensive upgrades and bolster Denver's playoff options, something they lacked this season due to injuries and roster construction. Investing in perimeter defenders appears prudent, given the success of the Golden State Warriors, Boston Celtics, Dallas Mavericks, and Miami Heat in the 2022 NBA playoffs.
Free agency isn't the only method for improving the team, but it appears to be the best way the Nuggets can add the most talent they can. Adding one of the perimeter defenders above while retaining Rivers and Cousins is probably the most expensive way the Nuggets can improve. It also likely represents the best way.
Let's say the Nuggets sign Cody Martin for three years, $20 million, Rivers for two years, $10 million, and Cousins for one year, $3 million. Add in a veteran minimum contract and Denver's salary cap sheet suddenly appears a lot more expensive.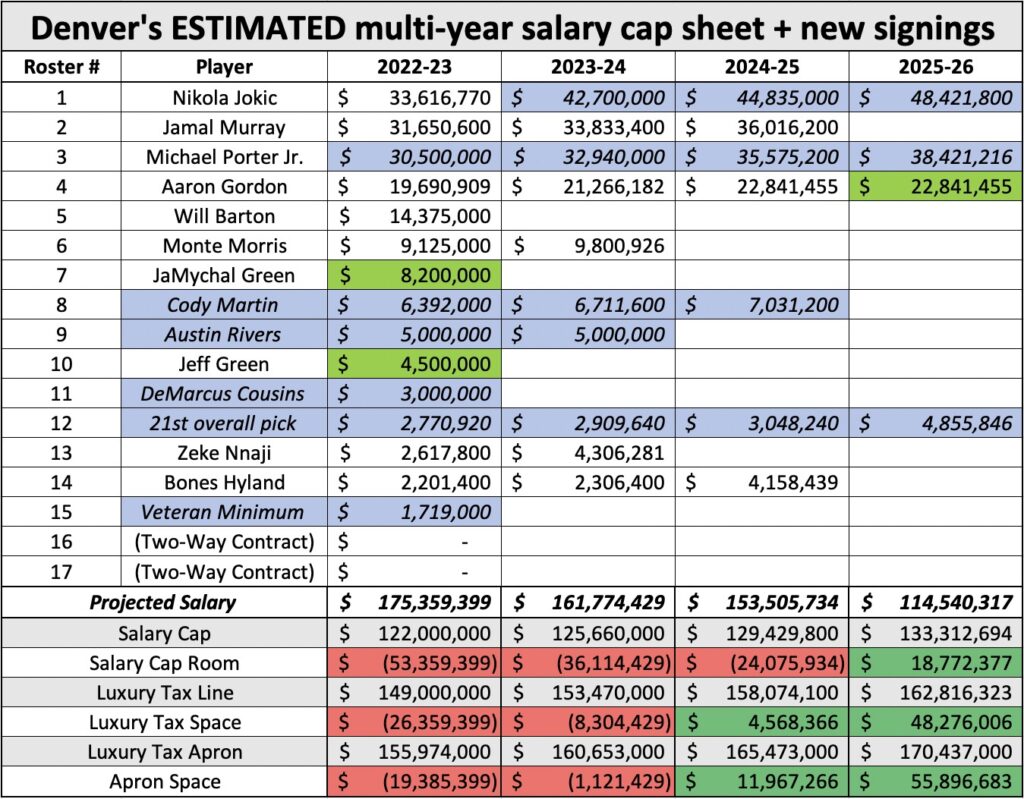 Martin, Rivers, Cousins, and a minimum contract cost just over $16 million on the books; however, that $16 million would be heavily taxed at the luxury tax rates.
Before, the Nuggets would be spending the $159.25 million in projected salary plus roughly $16.875 million in luxury tax payments. All in all: $176.1 million for 11 players.
After the hypothetical additions of the above players, the Nuggets would be spending $175.4 million in projected salary plus roughly $69.5 million in luxury tax payments. All in all: $244.9 million for 15 players.
Every single dollar over the tax is magnified. Adding roughly $16 million in salary to the projected roster would actually cost Stan Kroenke $68.8 million. So is life for an NBA owner willing to do what it takes to win an NBA championship. The Golden State Warriors ownership group made a whopping $170 million in purely luxury tax payments LAST year, the season when they finished the year as an eighth seed. This year, their tax bill exceeded $50 million in tax payments, and the Warriors in the NBA Finals because of their patience and willingness to pay.
Not every team that pays the luxury tax wins a title, but paying more is a competitive advantage if an owner is willing to spend. Is Stan Kroenke willing to spend $240 million this year to try and bring a championship to Denver? The Nuggets have never won a title before, and they will never have a better shot than they do right now in Jokić's prime years. Spending big is their best shot.
If the Nuggets prove unwilling to pay such a tax bill, then the Nuggets may be forced to part with draft assets to move contracts they don't need. Would a future second round pick be enough to entice a team to take JaMychal Green off the salary books? Replacing his $8.2 million with a $1.7 million veteran minimum would save the Nuggets a whopping $31 million in salary and luxury tax payments. It's that kind of move that Nuggets fans should probably expect, and it probably makes the Nuggets competitively worse.
Calvin Booth and Co. will probably have to balance financial limitations with building the best team possible. Yes, Josh Kroenke did just say the Nuggets would be willing to pay whatever it takes, but that was on Friday, June 3rd. It's fair to wonder just how far the Nuggets are willing to go financially in their pursuit of their championship goals given a reluctance to pay the tax in the past.
Will Stan Kroenke prove everyone wrong and pay whatever it takes? Will the Nuggets look to cut corners instead? It will be very interesting to find out when July rolls around.