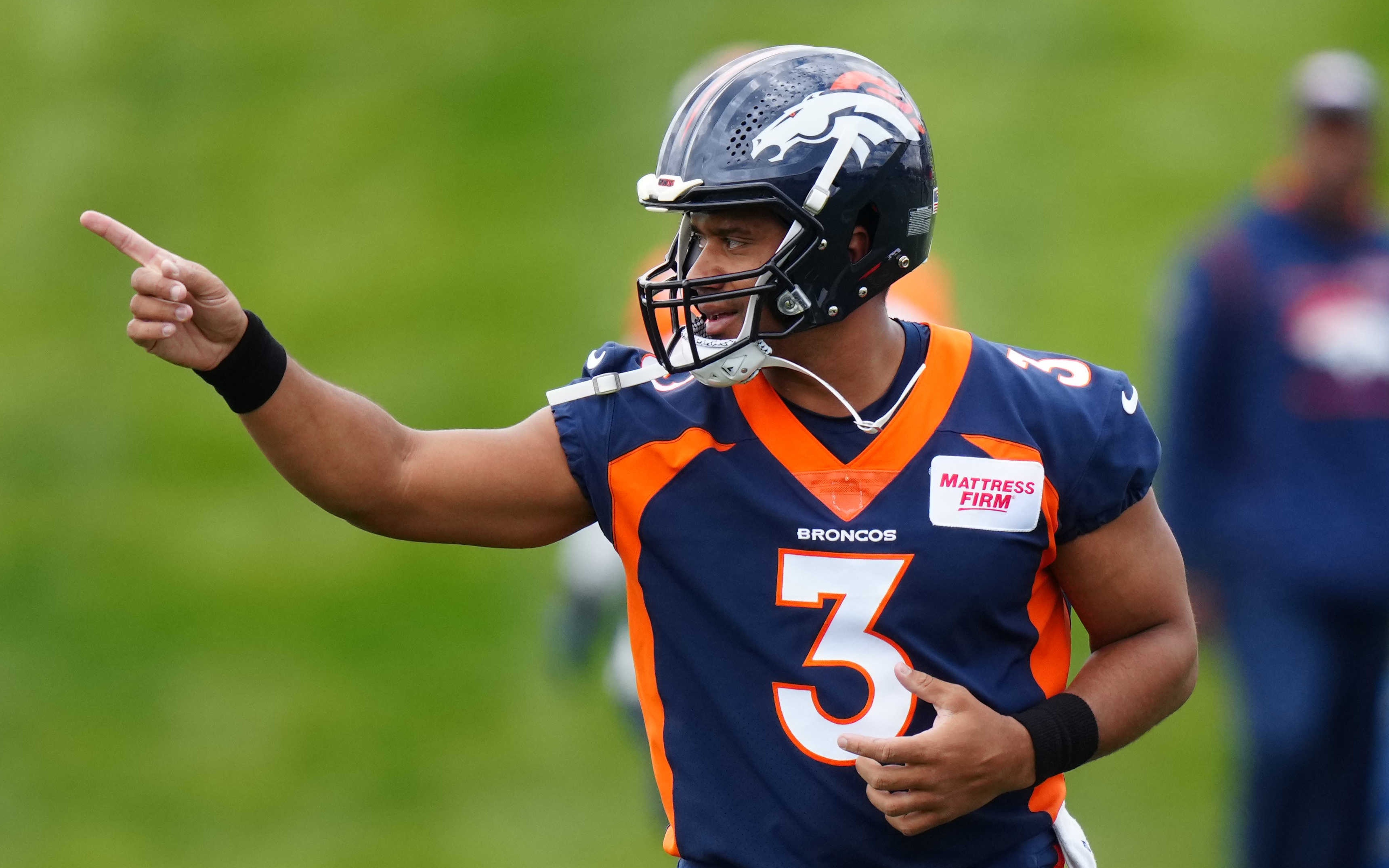 The Denver Broncos finally landed their superstar quarterback. But, when his contract comes up, are they going to re-sign him to a new, massive deal?
According to Mike Klis of 9News, Wilson's going to want that big-time QB money at the end of his current deal, a total of $250 million over the course of five years. Klis then reported he misspoke that no contract talks are happening at this time, and that it's a presumed number.
Wilson's currently in the middle of a steal of a deal, at least for quarterbacks. According to Spotrac, he will make a base salary of $19 million with a $5 million roster bonus, for a cap hit of $24 million this year. Then, 2023 is the final year of his deal, worth slightly more, at a $27 million cap hit.
That means, in 2024-2029, Wilson wants to be making an average of double what he's making now, or $50 million per year. But, at 35 years old at the time of that next deal, is Wilson worth the money?
According to Spotrac — who does a "market value" for the biggest players in the league, comparing their salaries to contemporaries — Wilson is worth $42.7 million per year. That figure would make him the fifth-highest paid quarterback in the league behind Aaron Rodgers, Deshaun Watson, Josh Allen and Dak Prescott. And, all but one of those names are definite superstars.
So, maybe Wilson is asking for a good bit more — about 15 percent more — than what he should get, per Spotrac.
But, let's go a little further.
Russell Wilson statistics
Looking at his numbers, Wilson has historically been among the top-10 players at his position.
Let's rewind to 2019 and look at that season, 2020 and then 2021, when he was injured and missed the first games of his entire NFL career before bouncing back quickly. For each statistical number, Wilson's ranking for that season is in parentheses next to it.
2019: 4,110 yards (6), 31 touchdowns (3), 5 INTs (T3), 66.1 completion percentage (9), 106.3 passer rating (5), 71.5 QBR (5). PFF grade: 91.1. EPA/Play: 0.153 (12)
2020: 4,212 yards (9), 40 TDs (T2), 13 INTs (T30), 68.8% (6), 105.1 passer rating (7), 67.1 QBR (8). PFF grade: 90.3. EPA/Play: 0.139 (10)
2021 (14 games): 3,113 yards (22), 25 TDs (11), 6 INTs (2), 64.8% (20), 103.1 passer rating (T4), 54.7 QBR (9). PFF grade: 73.9. EPA/Play: 0.085 (18)
So, by glancing at those numbers what can we take away?
In 2019, Wilson was arguably a Top-3 quarterback in the league that season. In 2020, the COVID season, he was still a Top-10 quarterback, although his interception numbers were way too high. Then, last year, he tumbled down the list and was likely closer to Top-15 QB.
Without context, one would assume he's simply getting to the latter stages in his career, now 10 years in. He's on the decline. "Washed," some may say.
But, not so fast.
Russell Wilson 2021 injury
First and foremost, Wilson was injured in 2021. He fractured the middle finger on his throwing hand last year, as he followed through on a deep pass and hit Aaron Donald's forearm.
Russell Wilson's fingers 😳

(via @NFLBrasil)pic.twitter.com/emdFM6Bkt6

— Bleacher Report (@BleacherReport) October 8, 2021
Seattle originally said it was a finger sprain, but it was revealed it was indeed a fracture. At the time of his surgery, Wilson was expected to miss 6-8 weeks but he pushed, battled back and missed only three games.
On one hand, Wilson made sure not to miss too many games and to be out there for his team. On the other, he pushed too hard in the minds of some, and that's why there was a such a drop-off in production in the weeks after his surgery. Notably, his completion percentage dropped 10 points (72-61.5) and he was overall a worse quarterback post-surgery.
But, do people expect that to last into this season?
Seahawks offense was run-heavy
Continuing, the Seahawks offense wasn't necessarily one of the most innovative in the NFL. They were historically more run-heavy than others. In 2019, they were 27th in passing percentage of plays (54.34%), then 14th in 2020 (59.6%) and 20th last year (56.71%).
And Seattle's offense was 12th in EPA/play (0.018) in 2019, 7th in EPA/play (0.105) in 2020, and 14th in EPA/play (0.042) in 2021.
In Denver, the Broncos are currently constructing a "1-of-1" offense per Tim Patrick. They're blending the strengths of Wilson with what new head coach Nathaniel Hackett wants out of his attack. There's an almost certainty that what Hackett draws up this year will benefit the playing style of Wilson more than the run-heavy offense in Seattle did.
Seattle's sub-par offensive line
And beyond the play-calling, Wilson's offensive line was subpar in Seattle. In 2019, he was sacked an NFL-high 48 times, and then 47 times in 2020. The good news is, since 2020, Wilson's thrown a second-most 23 touchdowns under pressure.
Also, it seems unlikely the Broncos offensive line will be among the worst in the league, as Seattle was last year.
So, as we take in all that information and circle back to the important question: Is Russell Wilson worth a 5-year, $50 million extension after 2023?
According to his stats, historically, yes. He's a lock as a Top-10 QB, and he's likely Top-5. If you're worried about his decline last year after the injury, this year's play — as he's now healthy — will indicate if he fell off or if he was just pushing through an injured throwing hand. And even if he plays so-so this season, the Broncos will have into 2023 to continue to evaluate his play and either offer him that massive extension or move on.
Now, we don't know for sure what George Paton will do when that deal comes up. But, we do know he traded away two first-round picks and much more for Wilson. That, and the fact that landing a legitimate superstar quarterback is really difficult to do; the Broncos should almost certainly extend Wilson when the time comes. Even for $250 million.