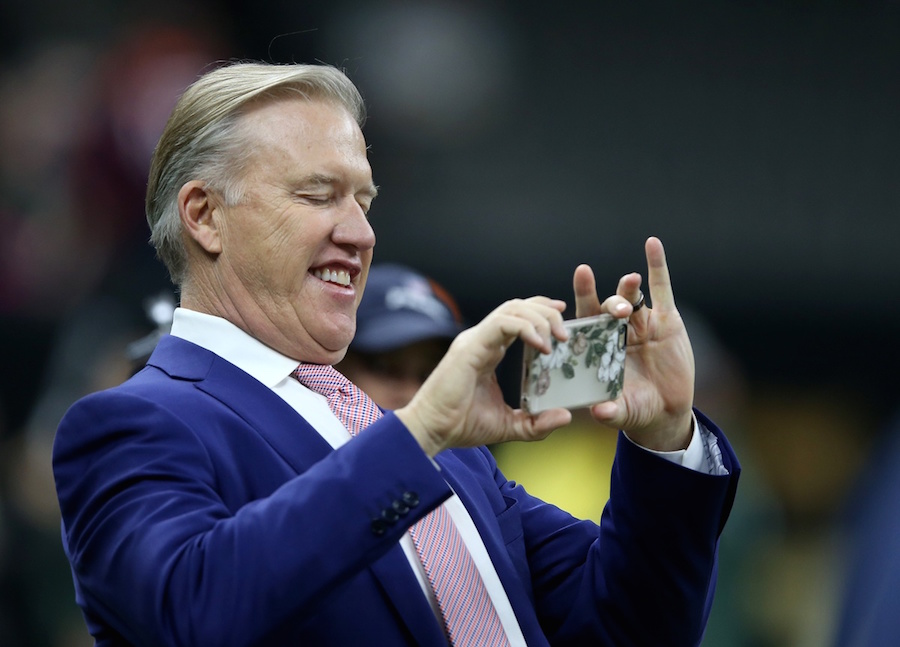 ***EDITOR'S NOTE***
Well, Will Petersen's read on John Elway's tweet from Tuesday proved to be utterly and completely wrong. Such is the life of a sports columnist. 
When asked for comment, Petersen replied: "I'm an idiot."
We encourage you to read the column anyway.
***
If you weren't feverishly refreshing Twitter Tuesday afternoon, you were doing it wrong.
After Broncos GM John Elway wrapped up interviews with Kansas City's Dave Toub and Atlanta's Kyle Shanahan, he tweeted to let Broncos Country know the proceedings had finished.
On Tuesday we waited and waited, and then it was finally sent.
At 4:03 p.m., Elway announced something very important.
We enjoyed visiting with Vance Joseph at our facility today. He has great leadership qualities and a strong vision of what it takes to win.

— John Elway (@johnelway) January 10, 2017
There it is.
All signs now point toward Miami defensive coordinator Vance Joseph not being Denver's next head coach.
If Elway was blown away by Joseph – convinced he was the man to lead the franchise moving forward – he wouldn't let him get away.
Instead, Joseph will now head west, interviewing with San Diego and San Francisco for their open head coaching gigs in the coming days.
Hopefully the free dinner was worth it.
Reports emerged late Tuesday Joseph would stay in town for the night, which was "the plan" all along, and that meant dinner at a local steakhouse with Elway and the Broncos' brass. But if the former CU quarterback was No. 7's pick, that dinner would have been celebratory with a toast 'to the next chapter;' instead it was probably just a boys' night out.
Joseph is eligible to be hired right now; Toub and Shanahan are not.
With the Dolphins and Joseph's defense getting embarrassed on Sunday in Pittsburgh, he's officially available to be scooped up.
Meanwhile, Atlanta and Kansas City play on. Their offensive and special teams coordinators, respectively, aren't allowed to go anywhere.
For now.
Shanahan is now undoubtedly the favorite to land the job. Toub remains a long shot, but sleeping on him would be foolish. No one really knows what Elway is going to do, even if folks like to pretend on Twitter their sources are keeping them in the loop. This is truly one man's decision, and one man's only.
But simply using your brain can eliminate one of the Broncos' final three candidates.
Elway has no guarantee Joseph doesn't get offered the Chargers' job on Wednesday or the 49ers' job on Thursday, and if that does happen no one would blame him for taking either of those openings. Both organizations are rebuilding, but there are only 32 gigs like this in the world. If you haven't heard yet, they're pretty sought after.
Letting Joseph get out of town wouldn't be Elway's style if he really wanted him. So, we're down to two.
I think…
A mystery candidate could be lurking.
I wrote last week both Jon Gruden and Jim Harbaugh were worth phone calls. Maybe Elway made them, maybe he didn't. But if the GM can't fall asleep tonight, not sold on any of his three options, would anyone really put it past him to pick up the phone and start dialing 'big name' guys on the market?
There have been far too many assumptions in the past few days that the Broncos need to move quickly on this hire. Why that is beats me.
First, many folks like to say Elway needs to take advantage of a rare extended offseason. News flash: He didn't get a chance to do that after Super Bowl XLVIII, considering Denver and Seattle played the longest possible seasons of anyone; that worked out alright.
Elway signed Aqib Talib, DeMarcus Ware and T.J. Ward, adding three key pieces to a team that would win the Super Bowl 23 months later. Considering free agency doesn't start until March 9, I'm not sure why putting a head coach in place in early January instead of early February is really that big of a deal. And by the way, if you think Elway is letting his new head coach have any sort of significant personnel decision making, you're crazy.
The second argument is that a new head coach must be hired immediately to get his staff in place. Those all-important staff options will dry up if moves aren't made soon, they say.
Listen, we all know there's only one person it's absolutely paramount the Broncos bring back next year. It's The Son of Bum, Wade Phillips, as Doug Ottewill brilliantly detailed Monday. After Phillips, that argument is hogwash.
So here we are.
Joseph, by connecting some very obvious dots, appears to be out of the running.
It's down to Shanahan (the favorite), Toub (the dark-horse) and a possible mystery candidate (Gruden?).
Keep refreshing John Elway's Twitter feed. The Duke may very well break the story there.
Vance Joseph's name won't be in those 140 characters.
I think.