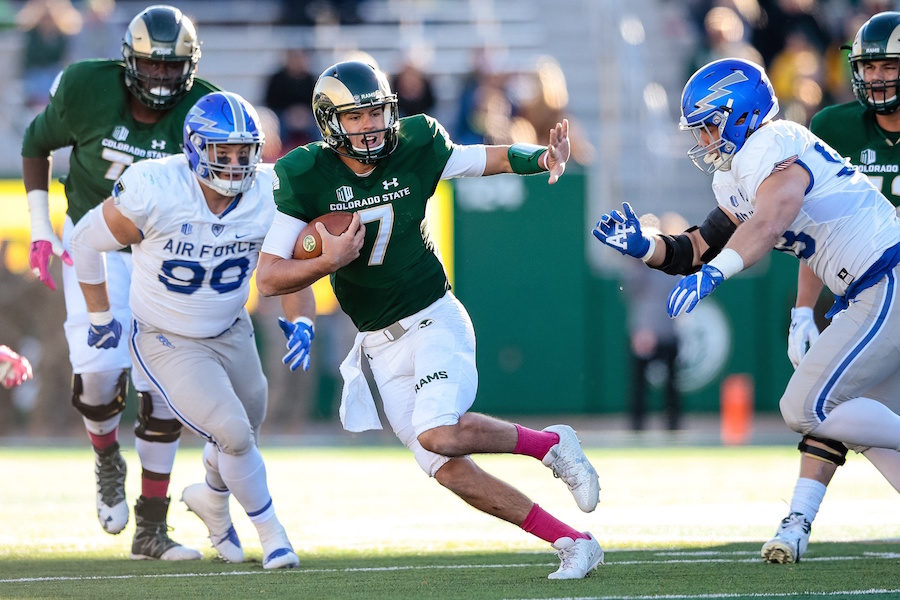 Read this story at CSURams.com
The Colorado State Rams (6-3, 4-1 Mountain West) suffered their first loss in Mountain West play this season, falling 45-28 to the Air Force Falcons (4-4, 3-2 Mountain West) Saturday in Fort Collins. The loss snapped the Rams' four-game winning streak and was CSU's first loss in the new on-campus stadium.
The Rams' defense was unable to stop Air Force's triple-option-style offense, as the Falcons rushed for 413 yards and did not punt until their final possession of the game. Air Force attempted just four passes, completing two of those for 64 yards and a touchdown with one interception.
CSU senior quarterback Nick Stevens completed 17-of-31 passes for 269 yards and two touchdowns with three interceptions. Those marked the first interceptions that Stevens has thrown in conference play and snapped a streak of 18 consecutive quarters and 145 pass attempts without a turnover committed by the quarterback. Stevens' two touchdowns brought his season total to a career-high 22 and his career total to 63, one behind all-time CSU leader Garrett Grayson.
Wide receiver Michael Gallup entered the game as the nation's leading receiver and added to that mark with seven catches for 161 yards and a touchdown. True freshman Warren Jackson recorded a career-high 50 receiving yards on three catches and sophomore fullback Adam Prentice caught his first career touchdown.
Eclipsing the 100-yard mark for the fourth time in the last five games, senior running back Dalyn Dawkins paced the Rams on the ground with 141 yards and a touchdown on 13 carries. His 76-yard touchdown run in the first quarter was the longest run of his career and the longest by a Ram since Dee Hart's 76-yard run against New Mexico on Nov. 22, 2014.
Junior linebacker Josh Watson recorded a career-high 17 tackles and a quarterback hurry. Sophomore cornerback Anthony Hawkins logged his second interception of the season.
The Rams will look to bounce back next week as they take on the Wyoming Cowboys in Laramie, Wyo., on Saturday at 5 p.m. MT. Continue to check CSURams.com and follow @CSUFootball on Twitter for exclusive content from the Rams' 2017 season.