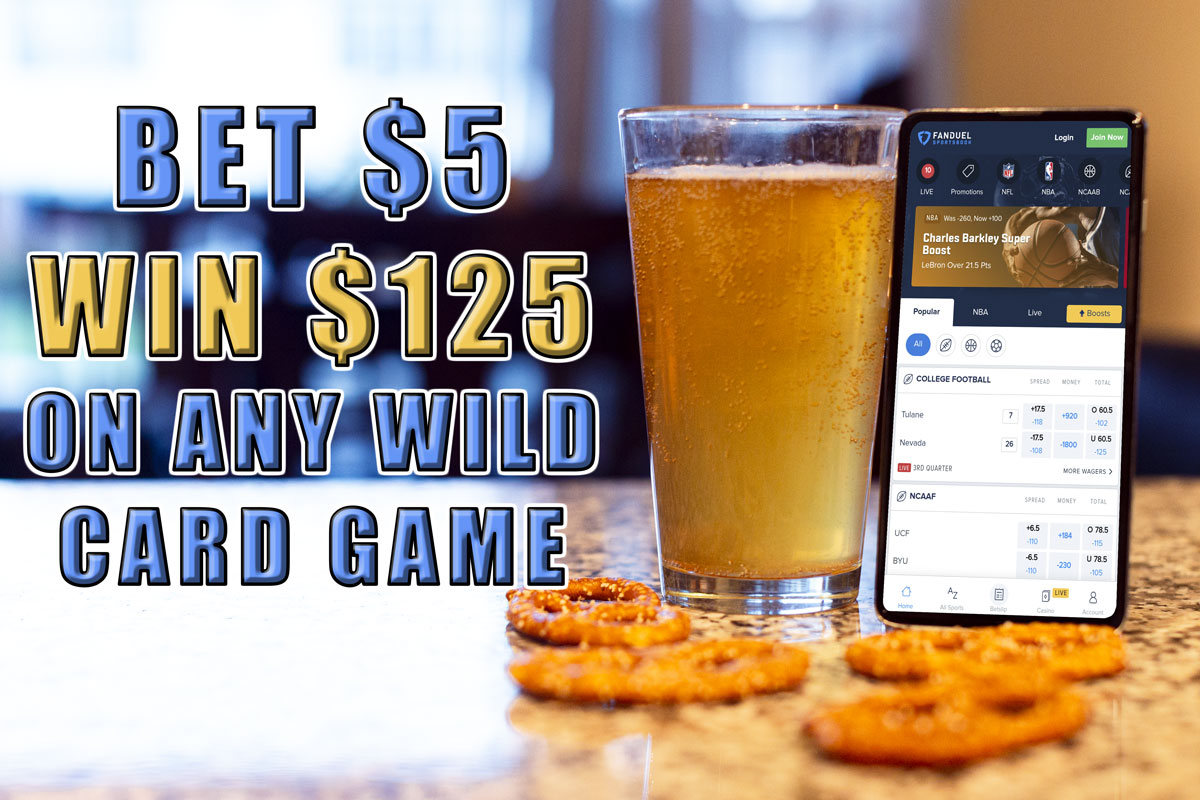 Wild Card Weekend is upon us and FanDuel Colorado Sportsbook is coming in hot with incredible odds for the occasion. New users who sign up can grab 25-1 odds on any team to win this weekend. Bet $5 and win $125 with FanDuel Colorado Sportsbook on the first weekend of the NFL Playoffs.
With 12 teams in action this weekend, there is no shortage of options to choose from. The Tampa Bay Buccaneers and New Orleans Saints are the heaviest favorites on Saturday and Sunday, but this odds boost represents ridiculous value no matter what team you choose. This is one of the best deals of the weekend for Colorado sports bettors.
Sign up with FanDuel Colorado Sportsbook right here and grab 25-1 odds on any NFL team during Wild Card Weekend.
FanDuel Colorado Sportsbook's 25-1 Odds Boost
This is a low-risk, high-reward promo from FanDuel Colorado Sportsbook. The maximum bet is $5 on this offer, but that would net new users a profit of $125. That's a nice little bankroll to start off with if you can manage to pick the right game.
Signing up with FanDuel Colorado Sportsbook is the first step towards taking advantage of this high-value promo. You can start that process by clicking here.
Once you register an account, you will need to deposit funds so you can start playing. Bank transfers, credit/debit cards, and PayPal are just a few of the ways that FanDuel Colorado Sportsbook allows bettors to deposit funds. We recommend putting at least $5 in so you can bet the maximum on this 25-1 odds boost. Most new users put more than that into their accounts, but it's up to the individual player.
After registration and deposit, go to the FanDuel Colorado Sportsbook app to grab these insane odds. Players can sign up and deposit funds on a computer, but this promo is only available via the app. Users can download the app to any iOS or Android device.
Wild Card Weekend Odds On FanDuel Colorado Sportsbook
Here are the moneyline odds on FanDuel Colorado Sportsbook for all the NFL Wild Card Weekend Games:
Saturday Games
Indianapolis Colts +240
Buffalo Bills -300
Los Angeles Rams +150
Seattle Seahawks -178
Tampa Bay Buccaneers -400
Washington Football Team +315
Sunday Games
Baltimore Ravens -184
Tennessee Titans +154
Chicago Bears +385
New Orleans Saints -500
Cleveland Browns +215
Pittsburgh Steelers -260
This is the first time the NFL will have six games going during Wild Card Weekend. They expanded the playoffs by two teams, thus adding two more games to the schedule. That's great news for bettors as it provides two more opportunities to win big.
Remember, this 25-1 odds boost equates to +2500. The safest play for bettors would be to go with the heavily favored Saints, but there are a few great options on the board. Even the biggest underdog of the weekend, the Chicago Bears (+385), would see a massive boost with this promo.
Pick a winner, sit back, and wait to win money. It's as simple as that on FanDuel Colorado Sportsbook this weekend.
Sign up with FanDuel Colorado Sportsbook right here and grab 25-1 odds on any NFL team during Wild Card Weekend.