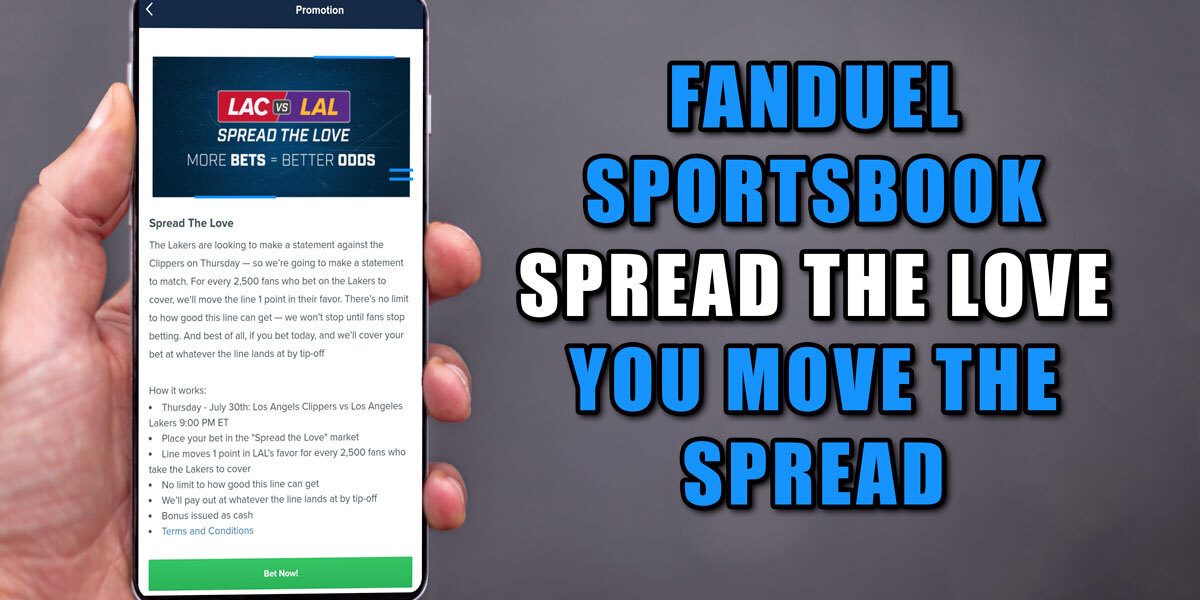 FanDuel Sportsbook  is unleashing its signature promo on the Colorado online sports betting market as well as in other states for the return of the NBA on Thursday night. Excitement should be high as basketball is back, so FanDuel Sportsbook is helping to spread the good vibes and spread the love.
Click here  to get FanDuel Sportsbook in Colorado to get a $500 risk-free first bet and this awesome NBA odds promo.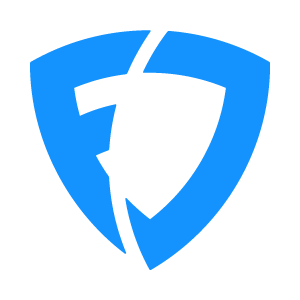 FanDuel Sportsbook
States: CO, PA, NJ, IA, IN, IL, TN, VA, MI and WV
GET THE APP
If you're not in Colorado or Indiana, sign up for FanDuel Sportsbook here.
When the Lakers and Clippers tip-off inside the NBA's bubble this Thursday night, both new and current players at FanDuel Sportsbook will have an opportunity to cash in on what promises to be some absolutely wild odds thanks to its "Spread the Love" promo.
FanDuel Sportsbook Is Rolling Out Its "Spread the Love" Campaign
As far as online sportsbook promos go, FanDuel Sportsbook's "Spread the Love" offer may top the list. Previously, bettors were able to utilize this offer to grab absolutely crazy odds and easily cash no-brainer bets.
And when I say no-brainer, I mean it.
Earlier this year, FanDuel Sportsbook bettors got the Sixers at +59.5 points against the Bucks, while during the 2019 NFL season, they also grabbed the Colts at +51.5 points against the Saints. In college basketball, bettors pushed the spread an astounding 100 points and scored the Indiana Hoosiers as well over a 100-point underdog.
How did bettors get such crazy odds?
With FanDuel Sportsbook's "Spread the Love" campaign, bettors in Colorado (and elsewhere) team up to back one side of a featured game. In doing so, for every number of specified bets, FanDuel alters the line one-point in favor of the bettors.
FanDuel Sportsbook's Best Promo Offer Is Here
The community aspect of the "Spread the Love" promo is what makes it so much fun as bettors frequently update the app to see just how far they can move the odds. While this promo has already been run in other states, this marks the first time bettors in Colorado can grab this deal.
In this case, for every 2,500 bettors that back the Lakers (who open as a four-point favorite) against the Clippers, FanDuel Sportsbook will move the line in favor of the Lakers. For instance, the first 2,500 bettors who back the Lakers will move the spread to +3. The next 2,500 bettors move the spread to +2, and so on.
There are two other points to consider in assessing just how good this offer truly is.
First, there is no limit on the odds. Given this promo is available to players in Colorado, Pennsylvania, New Jersey, and Indiana, FanDuel Sportsbook users from east to west can come together and drive the odds up to absolutely insane levels.
No Ordinary Game
Based on the past response to this promo at FanDuel Sportsbook, it's entirely possible that the Lakers could be a 35-point or even 45-point underdog by the time the game tips off.
Also keep in mind that this Lakers-Clippers showdown isn't simply some ordinary game.
This contest ushers in the return of NBA basketball after a more than four-month shutdown. To say this game, which will be nationally broadcast on TNT, is highly anticipated would be an understatement.
This offer is open to both new and current users at FanDuel Sportsbook across the multiple states in which it currently operates. The maximum bet is capped at $50, but be sure to check out the wide variety of other offers and odds boosts available.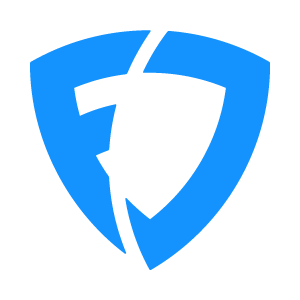 FanDuel Sportsbook
States: CO, PA, NJ, IA, IN, IL, TN, VA, MI and WV
GET THE APP
If you're not in Colorado or Indiana, sign up for FanDuel Sportsbook here.