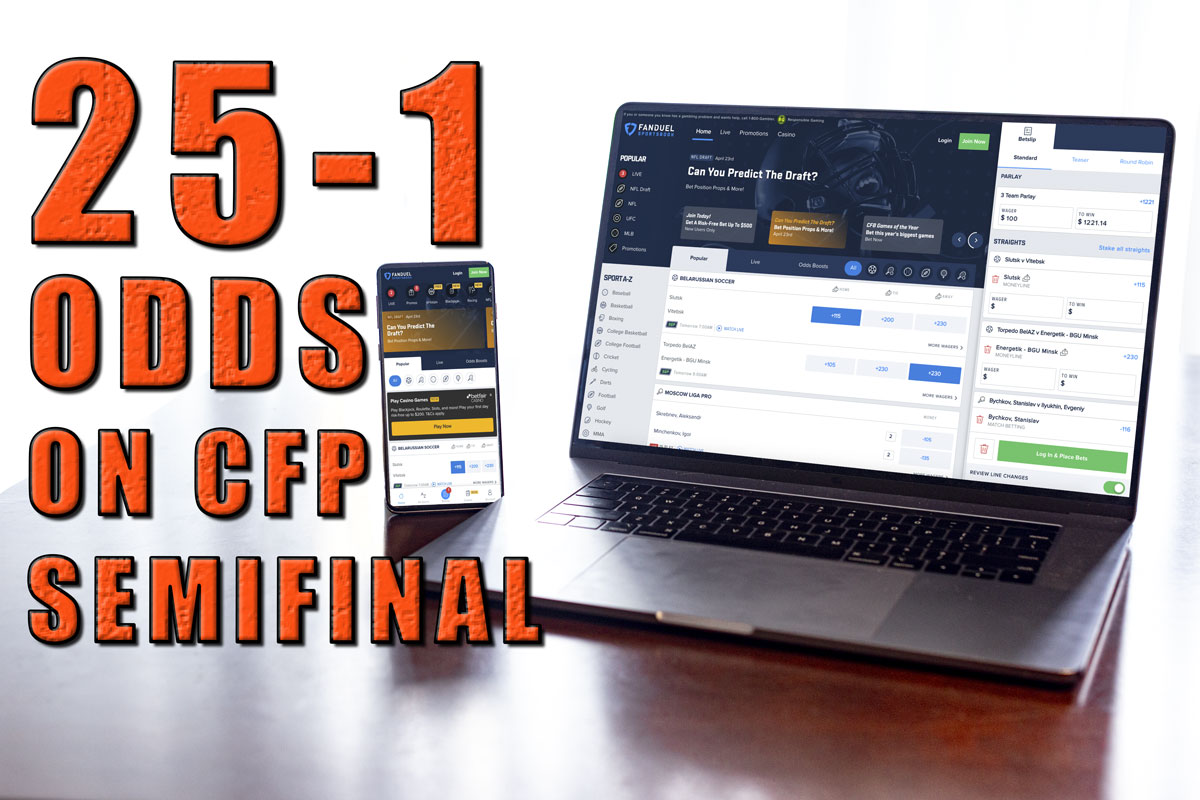 FanDuel Sportsbook is upping the ante on the College Football Playoff this year. They are offering ridiculous enhanced odds of 25/1 on any team in the Rose Bowl or Sugar Bowl. New users can boost a massive favorite like Alabama or put their faith into either Clemson or Ohio State in the Sugar Bowl.
A $5 bet will return a profit of $125. This is an incredible value for new users and it is the perfect way to open up a FanDuel Sportsbook account with a little bit of money in the bank. Colorado bettors have the opportunity to jump on this offer up until kick-off of the Rose Bowl.
Grab 25/1 odds on any College Football Playoff team with FanDuel Sportsbook by clicking here.
FanDuel Sportsbook's Insane College Football Playoff Odds
You won't find odds like this anywhere else this weekend. FanDuel Sportsbook is providing a massive boost on any College Football Playoff team of your choice. The maximum bet on this offer is $5 which would win bettors $125 if they pick a winner.
This offer is only available to new users in Colorado, New Jersey, Pennsylvania, West Virginia, Indiana, Illinois, and Tennessee. Players must be 21 years or older to play and there is a limit of one bet per user.
Let's take a look at the current odds on the Rose Bowl and Sugar Bowl on FanDuel Sportsbook:
Rose Bowl
Notre Dame +820
Alabama -1600
Sugar Bowl
Ohio State +245
Clemson -320
Let's illustrate how insane these enhanced odds are for bettors. A $5 bet on Alabama with the odds boost would win $125. Existing users would need to bet $2,000 to have that same kind of return.
Alabama is the odds-on favorite to win the National Championship and they are coming into the Rose Bowl as the heavy favorite. Notre Dame's only loss of the season came against Clemson in the ACC Championship Game, but oddsmakers are not showing them any love.
The other matchup is a bit tighter, but Clemson is a slight favorite over Ohio State right now. These two met in the College Football Playoff last year and Clemson came away with the victory before losing to LSU in the National Championship.
Signing Up With FanDuel Sportsbook
Signing up with FanDuel Sportsbook is as easy as 1-2-3. Remember, you will need to download the FanDuel Sportsbook app to grab these enhanced odds, but signing up can be done from the website or app. Here is exactly what you need to do:
Sign up with FanDuel Sportsbook by clicking here.

Make sure you download the app as well.

Deposit at least $5 into your account to take full advantage of this offer.

PayPal, bank transfers, and credit/debit cards are just a few of the secure and convenient methods for depositing funds.

Place your first bet on any College Football Playoff team to win their semifinal matchup.

Look for the enhanced odds at the top of the app. If the offer does not immediately appear, refresh the page and it should be there.
Grab 25/1 odds on any College Football Playoff team with FanDuel Sportsbook by clicking here.