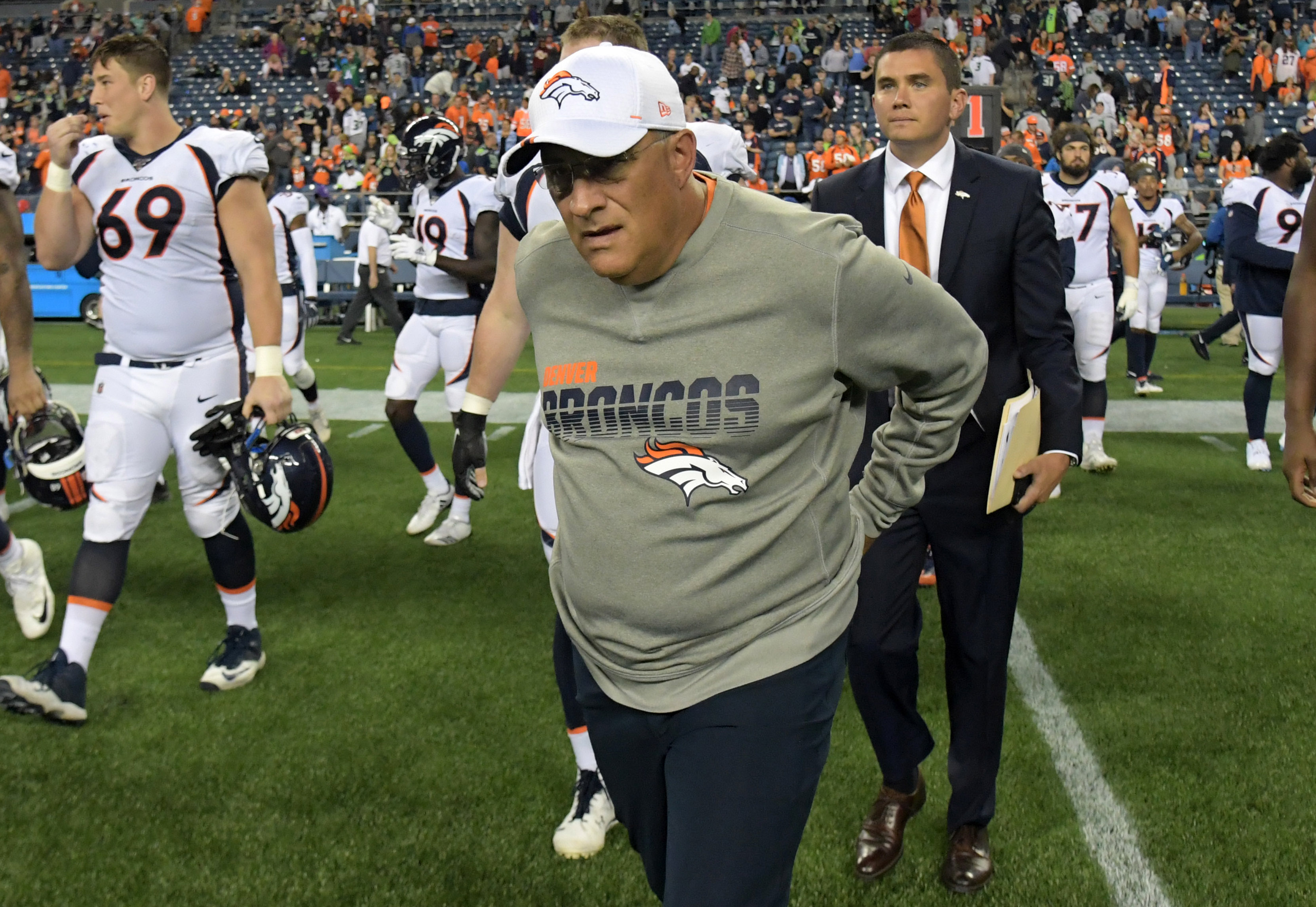 After the Denver Broncos 22-14 loss in preseason game No. 2 head coach Vic Fangio didn't mince words regarding the penalties called on his ballclub.
"When you commit that many penalties, I don't think many of them were pre-snap penalties," Fangio said postgame. "The penalties were during the course of play because you have poor technique or you're not good enough."
Straight to the point from coach Fangio on the laundry that was flying fast on Thursday night.
"With either one, you have to cheat, you have to grab guys, you have to hold them. We have to make these guys aware of the proper technique and hopefully, they're good enough to play honest downs without fouling."
The Broncos were flagged on 11 penalties for 94 yards in the flag-happy game that also caught the Seattle Seahawks committing a game-high 15 penalties for a game-high 131 yards.
"It was a highly penalized game, they (Seattle) had a bunch too," Dangio admitted. "We will take a look at each and every one of them when we go back."
Death-by-inches is the sticking motto early in Fangio's tenure in Denver. His old-school, no-nonsense style is a refreshing change from the previous regime, but it's not sticking right now through execution on the field.
Taking care of the fundamentals has been an issue early for the Broncos finding themselves not only highly-penalized in games (eight flags for 90 yards against Atlanta in the Hall of Fame Game), but issues with dropped passes early in training camp and preseason have plagued receivers and snaps from under center have been a bit inconsistent.
Certainly, it would be something to worry about if this was the regular season but Denver does have time to clean up the mistakes they're making and knock off the rust as a whole. The officials did seem to be flag happy on Thursday night, but the problems are clear and it's not just on one department, it's the entire team from offense to defense, to special teams.
Yikes. pic.twitter.com/U1jUWlh9z9

— Nicki Jhabvala (@NickiJhabvala) August 9, 2019
With plenty of time to correct their mistakes, Denver will get 10 days away from the gridiron before returning to action against the San Francisco 49ers on August 19th and Fangio says it'll be a time to recharge.
"Obviously, we have tomorrow off and Saturday we will not be on the field, just meet and lift. Then we have a good three days of practice amongst ourselves, then take a day off," Fangio said.
"Then the 49ers come in late in the week. This is a great week for us, we have been looking forward to it. This is a very important week for us. Then the following two games come on shorter weeks."