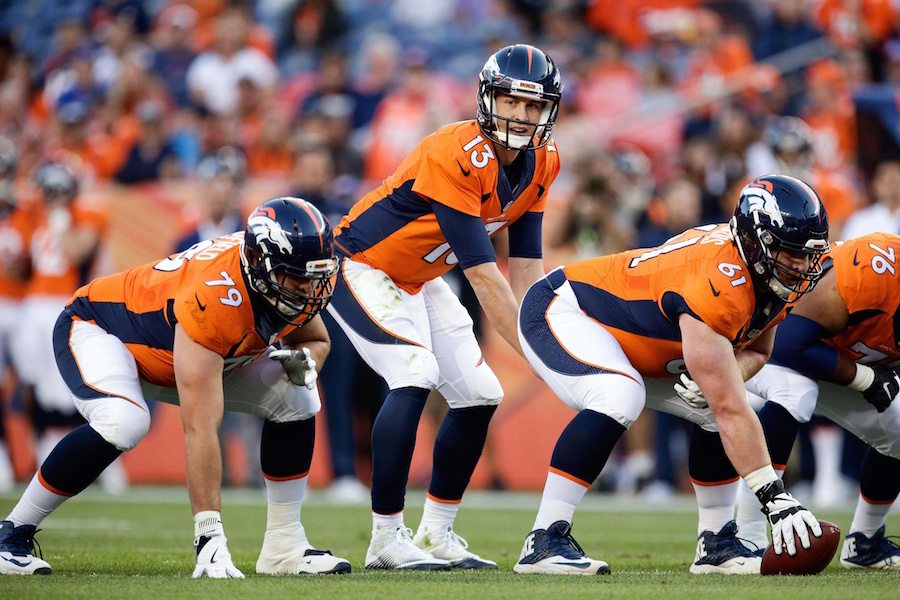 One week from now, the Denver Broncos with pick No. 20 need to be mundane. No splashes, no shockwaves, nothing sexy. The Broncos need to select the biggest and baddest offensive lineman available in the 2017 NFL Draft. No matter the position – guard or tackle – and no matter the projection. When the Broncos are on the clock, there is no need to wait when turning in that card. Find the guy who can get it done, and be done with it.
Many in the Mile High City, myself included, would like to have Christian McCaffrey in orange and blue. The Denver Broncos, however, need to forget the all-world RB/WR/KR/PR. The offspring of Eddie Mac will be gone by pick 20, and moving up to get him will cost too much. Best wishes to Christian, wherever he ends up!
The Broncos and their fans need also to forget about tight end OJ Howard from Alabama. The Broncos do need a TE, but this might just be the deepest tight end class in NFL Draft history. There is plenty of value later on, and the Broncos can get a starter at TE far outside of the first round.

Fans need to forget speedy, flashy wide receivers like Washington's John Ross, who ran a smoking 4.22-second 40-yard dash at the NFL Combine and has the hands to go with it. The Broncos have a couple of Pro Bowl caliber wideouts and there are simply bigger holes to fill. No need for WR in round one.
Forget about drafting stud linebackers like Alabama's Ruben Foster or JJ Watt's little brother, TJ.
Don't fret if the Broncos pass on Michigan's "Mr. Do Everything" Jabrill Peppers, or national champion quarterback Deshaun Watson.
The Broncos need only one thought, and that thought should be big and it should be offensive. The Denver Broncos need to go get a hog. The Broncos need an offensive lineman.
Drafting offensive lineman is not sexy. It is not sleek. Most of the time, it is not popular. At the draft, when teams select linemen they are usually met with boos from fans and whispers of "Who the hell is that?"
Whether it's Garett Bolles, Ryan Ramczyk, Forrest Lamp, Cam Robinson, Dan Feeney or whichever big nasty Denver has a the top of their draft board, that's who they need to take.
Football is not brain surgery, it's not rocket science, it's not even chess. Football is simple. You can have your "QB Gurus" and your "Geniuses of the Game" and your "Mad Science Strategists," but all of that brain power and strategy will fail nine out of ten times if you don't have the horses up front.
Football, at its simplest form, is big men pushing other big men for three-and-a-half yards at a time. A great lineman, and better yet a great o-line group, can make or break you. Give the worst of coaches five guys who are 6-foot-5 and 315 pounds of smoke-breathing rhinoceros and I will show you someone who wins more than they lose. With studs at o line you will never be terrible; that is a guarantee.
No matter what the camera might focus in on, football isn't about those sprout-eating, end-zone-dancing ballerinas on the outside who catch the occasional pass and take plays off when they can. Football is about the meat-eating, gravy-loving big boys who do the real work between the numbers. Every play, every down, linemen put their taped fingers in the dirt and do real work.
Hands that ache and are broken down from shoulder pad straps and facemask collisions must touch the grass and grab a chest plate every down. First-and-10, second-and-eight, third-and-long, fourth-and-one. Down and distance do not matter. The lineman must always perform, and the good ones always do.
Offensive linemen don't aim for more yards during contract years, or worry about face time on the camera. They work; because if they don't, the team fails and someone gets hurt.
Linemen also don't just work alone, but rather they work together as a unit. They must know their responsibility, and the man next to them must know his as well. They double-team, they fill, they shed. They must know when to stay, and they must know when it's okay to head for the next level. A wide receiver running a fade route doesn't care much about anything other than his QB throwing him the pass on time, and what his endzone dance will look like on SportsCenter. Linemen don't have time to choreograph end zone dances; they are too busy kicking ass.
When a group of linemen, a group of sweaty, overweight men, work in unison, it's the sexiest thing in sports and it cannot be stopped.
A controlling offensive line can keep the ball for what seems to be years, allowing the defense to get rest and stay off the field. A line can push you around and wear you down. A great line can make running backs look great, and turn rookie QBs into winners.
A great line can win championships. And a bad offensive line can make the best skill players miss the playoffs.
The Broncos have all the sexy, skill players they need. Next Thursday night, they need to get themselves a hog.