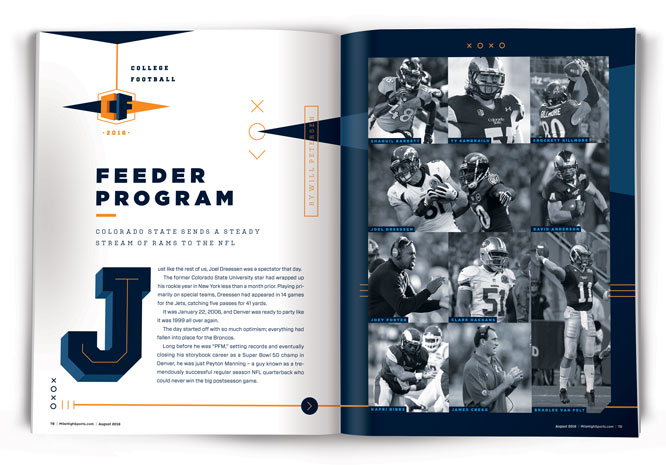 This story originally appeared in Mile High Sports Magazine. Read the full digital edition here.
Just like the rest of us, Joel Dreessen was a spectator that day.
The former Colorado State University star had wrapped up his rookie year in New York less than a month prior. Playing primarily on special teams, Dreessen had appeared in 14 games for the Jets, catching just five passes for 41 yards.
It was January 22, 2006, and Denver was ready to party like it was 1999 all over again.
The day started off with so much optimism; everything had fallen into place for the Broncos.
Long before he was "PFM," setting records and eventually closing his storybook career as a Super Bowl 50 champ in Denver, he was just Peyton Manning – a guy known as a tremendously successful regular season NFL quarterback who could never win the big postseason game.
The Pittsburgh Steelers entered the 2005 NFL playoffs (played in 2006) on a modest four-game winning streak, getting in as the No. 6 seed in the AFC. After dispatching the division rival Bengals in the first round (and shredding Carson Palmer's knee in the process), the Steelers headed to Indy for a showdown with Manning and the Colts.
Like he had done a handful of times in his career, Manning put up a pedestrian performance and the Colts went one and done again, scoring just 18 points. One of the biggest thorns in the side of Indy that day? None other than former Colorado State star Joey Porter, who sacked Manning 1.5 times.
Just like that, Pittsburgh was headed to Denver; the Broncos were feeling lucky to host the AFC Championship Game and skip having to travel to Indianapolis. Don't forget, this was one week after the famous Champ Bailey pick-six against Tom Brady in the AFC Divisional Round that launched the Broncos into the conference championship for the first time since their back-to-back Super Bowl run in the late 1990s.
Unfortunately for them, that meant Porter and fellow CSU Ram Clark Haggans came to town as well.
Denver head coach Mike Shanahan, the team's offensive line, and then-offensive coordinator Gary Kubiak couldn't handle the heat. Pittsburgh sacked Broncos QB Jake Plummer three times (one by Porter) and their pressure rattled Denver's signal caller enough that he threw two interceptions and fumbled the ball twice. Haggans was second on the Steelers that day in tackles, recording six total while having a nose for the football all afternoon.
The rookie tight end Dreessen watched the 34-17 beatdown and knew there would be no parade in Denver that year. Dreessen thinks it was in large part due to former CSU standouts Porter and Haggans; he's pretty sure Kubiak noticed as well.
"When [Kubiak] was an offensive coordinator with the Broncos he had a little taste of CSU guys from working with someone like Cecil Sapp. But I can't help and think back to that 2005 AFC Championship Game when Joey Porter and Clark Haggans just wrecked his offensive line on their way to the Super Bowl," Dreessen says.
Precisely when Colorado State players became firmly on the radar of the current Broncos head coach is an important layer to this story. The relationship between the team and the university is flourishing for many reasons, but Kubiak's willingness to take chances on Colorado State guys throughout his NFL coaching career during stops with Denver, Houston and Baltimore has helped a number of Rams succeed at the NFL level.
And while the dominant performances of Porter and Haggans denying the Broncos a trip to the big game had an effect on Kubiak in Dreessen's estimation, former CSU sports information director and current director for community outreach and engagement Gary Ozzello thinks the Rams were on Kubiak's mind a little before that.
"It really started back when Sonny Lubick was our head coach and he fostered a relationship [with the Kubiaks]. Sonny recruited Gary's son, Klint, who came to Colorado State and his brother Klay followed him to campus a couple of years later. That's really where it started," Ozzello says via phone from Fort Collins.
Ozzello worked in athletics at CSU from 1978-2013 before taking on his new role, so he was in the department during Lubick's entire legendary career as Rams head coach from 1993-2007. Klint Kubiak was a safety from 2005-09 and Klay Kubiak was a quarterback there from 2007-10. Both began their college careers under Lubick.
"I think that as parents both [Gary] and his wife [Rhonda] got the opportunity to see what CSU is all about and how a guy like Sonny Lubick – who is an icon in Fort Collins and at CSU – treated his sons and how that's the CSU way of treating people. I think that was very special for the Kubiaks," Ozzello says.
Whether it was the way Lubick looked out for his boys, or the way the two Steelers studs played against his offense in the AFC Championship Game, there's no doubt by January 2006 Colorado State stood out to Kubiak for a number of reasons.
So, when it was announced by Texans owner Bob McNair, about an hour after the Broncos lost to the Steelers, that Kubiak would become Houston's next head coach (yes, you read that right), no one realized the number of opportunities it would create for Rams players in the NFL over the next decade, ultimately culminating in three CSU players winning the Super Bowl with the 2015 Broncos under Kubiak's guidance.
Ty Sambrailo, Shaquil Barrett and Kapri Bibbs all earned rings, but there were plenty of Colorado State standouts in the league playing for Kubiak before them, including Dreessen who got his first real shot with 'Kubes.'
"It feels like in the later rounds of draft and (college) free agency Kubiak would always go with the CSU guy if the talent was equal. He knew what Sonny Lubick got out of us and really appreciated what CSU guys were made of," Dreessen says.
Dreessen is also quick to point out that donning the Green and Gold only meant a chance with Kubiak; there were no guarantees. It was just that, a chance.
"I think it might have helped and still helps guys get a foot in the door, but at the end of the day if you can't play ball it doesn't make a difference. He doesn't give a [crap] where you're from – whether it's LSU, Alabama, CSU or wherever. If you can't play you can't play, but [being from CSU] still may have helped at the beginning," Dreessen says.
During Kubiak's tenure in Houston a total of eight former CSU players including Dreessen had stints with the Texans, some being acquired via the draft, others via trade and the rest during college free agency. Some notable names include former standout quarterback Bradlee Van Pelt and wide receiver David Anderson. As Baltimore's offensive coordinator in 2014, many reports have Kubiak being a strong advocate for the team drafting former Rams tight end Crockett Gillmore in the third round.
That continued in 2015 in Denver when Kubiak was a big advocate for drafting Sambrailo in the second round and promoting Barrett to the active roster after spending 2014 on the practice squad. He also kept Bibbs around on the practice squad and will give him another shot at this year's training camp.
While there are plenty of great stories linking Kubiak and CSU, and therefore the Broncos and CSU, the relationship goes beyond that. The pipeline between the Broncos and the school recently reached a unique level.
It's only natural to assume there are plenty of college kids currently studying at Colorado State who long for a shot with the Broncos.
Fort Collins is just 65 short miles up I-25 from the heart of Denver, and jumping from the Mountain West to the NFL would be a dream come true for any wide-eyed college student wondering where their career in the real world will take them. And this doesn't just apply to football players.
If it's possible to beam through a phone conversation, Gary Ozzello did just that when talking about what the Broncos and Colorado State have developed.
"We're really proud of our relationship with the team and we partnered in a cool academic initiative last year named the Denver Broncos Institute of Sports Management at CSU," Ozzello says. "It's a unique educational offering we have where Broncos administrators visit our campus and talk with various classes. We also have lectures the Broncos produce on video that we show and our students have an opportunity to earn hands-on experience in the sports industry."
The partnership makes perfect sense.
Just before the Super Bowl against the Panthers, CSU dropped a nifty graphic depicting all the connections between the university and the Broncos organization. At the top of the list was, of course, Sambrailo, Barrett and Bibbs, but it also included offensive coordinator Rick Dennison who played for the Rams from 1976-79 and was inducted into the Colorado State Hall of Fame in 1996.
That's just the beginning.
James Cregg, an assistant Broncos offensive line coach played at the school from 1992-95. Ray Jackson, the Broncos director of player development suited up for the Rams those four years as well. Mark Lubick, Sonny's son, who coached for CSU in two different stints in the 2000s, is an assistant wide receivers coach for Denver.
The Broncos also had three more alums on staff last year, including VP for business development Darren O'Donnell and equipment staff members Kenny Chaves and Jason Schell. Add on five Broncos cheerleaders who spent their college days at Colorado State and there are enough people working for the team who have CSU ties to throw a well-attended cocktail party. It truly is an entire crew.
Armed with so many connections, CSU is the only university with which the Broncos have an official partnership.
"It's an exclusive arrangement and it's mutual," Ozzello says. "We had been [unofficially] partnered with the Broncos for many years, so some of our administrators and some of their administrators met and said let's think outside the box and we brainstormed and came up with an academic partnership that has been extremely well received."
What has also been well received is Gary Kubiak's return to the Broncos. Of course, he won the Super Bowl in his first year as head coach, but beyond that people rave about him as a genuinely good guy. Dreessen might want another go around working for him; after all, his peak NFL years were under Kubiak in Houston.
Dreessen didn't play the 2006 campaign after his rookie year with the Jets, but like so many other CSU products, Kubiak gave Dreessen a shot with the Texans starting in 2007, and he made the most of it.
In his five-year stint with the team, Dreessen recorded 105 catches totaling more than 1,300 yards and 13 touchdowns. To this day he knows he found success in the NFL due in large part to playing for Kubiak, something he'd love to have another crack at.
"I wish I could play tight end for Gary Kubiak again so damn bad. I loved that offense and I loved what he asked us to do. Look, there's no better head coach to play for than him," Dreessen says.
His career continued in Denver because of what he was able to prove playing for Kubiak. Dreessen spent the last two years of his tenure in the league catching passes from Peyton Manning for the Broncos, recording another six touchdowns during that time, while hauling in a career-high 41 passes in 2012.
Now that Kubiak is back, seemingly for good, Dreessen would love to catch on with the Broncos in a different capacity.
"At some point in my life I'd be interested in coaching or scouting and I would definitely be interested in doing that [for Kubiak] because he's a great man to work for. He treats everyone fairly and I can't rave enough about him. That'd be really cool," Dreessen says.
If he did catch on as a coach or scout, the former CSU tight end would work with two of Kubiak's sons. The aforementioned Klint was brought on as an offensive assistant / quarterbacks coach in February shortly after the Broncos won the Super Bowl, and Gary's third son, Klein Kubiak, is a player personnel assistant for the team.
It's a family affair for Kubiak and the Broncos these days, but it's also a CSU affair, too. Due to deadlines and vacations, Kubiak, who's never spoken in depth about his relationship with the school, wasn't available for comment on this story, but Gary Ozzello thinks the connections between the Broncos, the Kubiaks and Colorado State is as strong as ever.
"We like to think of it that way," Ozzello says when asked if the university is a "feeder" for the Broncos. "We prepare people that are going to be attractive in that industry. And there's no better place to have a CSU grad than with the Denver Broncos."