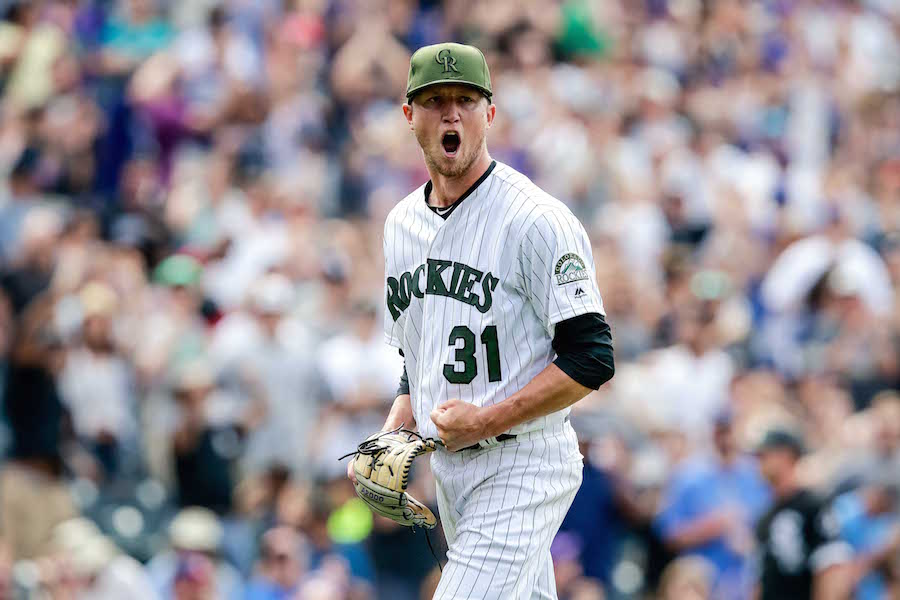 Rockies starting pitcher Kyle Freeland isn't afraid to show a little emption on the field. The picture above is clear evidence that he can get more than a little fiery on the mound. Yet Freeland heads into his second season feeling settled, and says things are running smoothly through the early part of Spring Training.
In an interview with Eric Goodman and Les Shapiro on Mile High Sports AM 1340 | FM 104.7, Freeland discussed how his mindset has changed after his rookie season.
"I think 'settled' is a good word for that. Having a year under my belt, with last year being my rookie year and everything, coming into Spring Training I've got some more confidence going. Things are running a little more smoothly, and not trying to ball everything up into one and go 110 percent every single time, kind of taking it a little slower pace and you know really easing into it," Freeland said.
Freeland made his first Major League start under intense pressure, taking the ball for the Rockies' home opener against the defending NL West Champion Los Angeles Dodgers. The Denver native pitched 6.0 innings of one-run baseball to earn the win.
In a game against the White Sox later in the summer, Freeland proved he has top-of-the-rotation stuff when he came just two outs from pitching the first no-hitter at Coors Field by a Rockies pitcher.
"I remember looking up in the third or fourth inning, and I see no hits. [I'm] like, 'alright we'll see how long that lasts,' and it just kept going and going. I was getting quick innings, I was having good control of the zone getting the ball on the ground, and next thing I know it's the seventh eighth and ninth inning, and there's still zero up there. It got pretty nerve-racking towards the end," Freeland said.
Those two outings stand out among a slew of strong starts in a rookie season that saw him tie for the team lead in wins with 11. Still, the 24-year-old knows he has to stay sharp mentally if he hopes to build upon his successful rookie campaign.
"I think having the right mindset going into Coors Field — whether you're playing for the Rockies, or you're a road team coming into Denver — you've got to have the right mindset of, 'you know what it doesn't matter what I'm pitching at, I've got to still keep that ball at the bottom of the zone, and keep the ball on the ground.' [With] that mentality you're going to have success," Freeland said.
From a statistical standpoint, Freeland knows there is one number he can fix more than any other to improve his overall performance.
"One thing that I learned last season was at the end of each season look at your stats and pick out a stat, not ERA or anything like that or strike outs, but pick a stat that kind of hides, and improve upon it for the next year. So my stat for this year that I'm going to improve upon is my walks throughout the year. They kind of got a little high last year, so and that's one thing I like to pride myself on is not walking a lot of people," Freeland said.
After a successful season last year, Freeland's nerves have calmed down and he is slowing down his game. Still, you can bet there will still be plenty of fire when the big moments arise.
Click here to listen to the full interview with Kyle Freeland, including his explanation of the difference between high school and pro baseball, or listen in the podcast below.
Catch Eric Goodman and Les Shapiro on Afternoon Drive every weekday afternoon from 4p-6p on Mile High Sports Am 1340 | FM 104.7 or stream live any time for the best local coverage of Colorado sports from Denver's biggest sports talk lineup. Download the all-new free Mile High Sports Radio mobile app for Apple or Android.