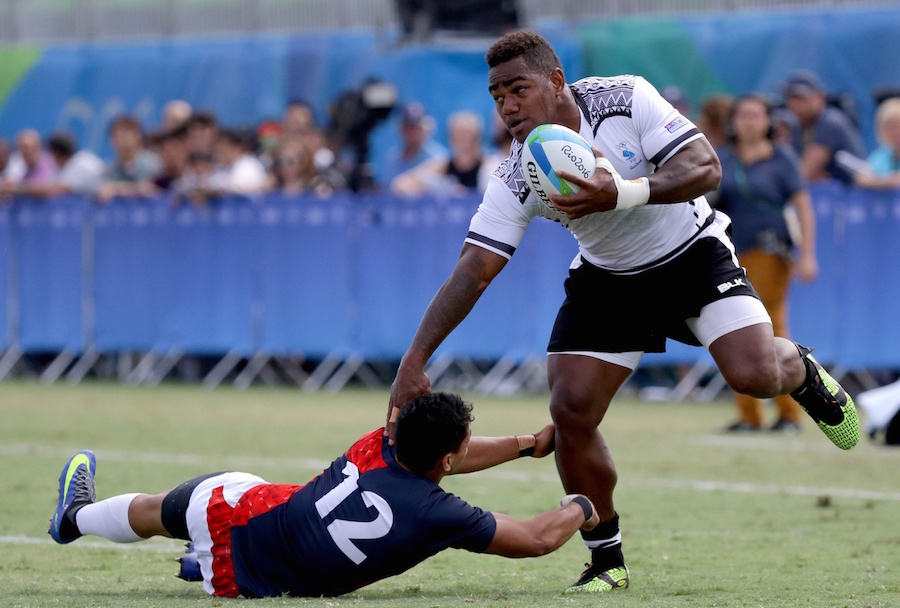 This story originally appeared in Mile High Sports Magazine. Read the full digital edition.
Traditional rugby, played with 15 players on the pitch for each side, was first introduced on the Olympic level in 1900. The sport lasted through the 1924 games before the IOC ultimately discontinued it for more than 90 years. Rugby has recently been reinstated as an Olympic sport for the 2016 games, but in a slightly faster style, as a 7-on-7 format.
As "7s" grows in popularity, Glendale, Colo. has become a pilgrimage destination of sorts for rugby aficionados, due primarily to the annual RugbyTown 7s tournament. This growth is evident through the presence of the Viti Barbarians of Fiji in this year's field. Much of the Barbarians' roster is taken from the Fijian national team that took gold in the 7-on-7 debut at the 2016 Rio de Janeiro Olympic games.
Rugby 7s legend Waisale Serevi – who is a partner to the tournament in Glendale – mentioned some of his goals for the future of RugbyTown 7s in an interview with Mile High Sports ahead of this year's tournament.
"My goal for the RugbyTown 7s for the next couple of years is for it to be the biggest 7s tournament in the world. That's is where we are heading to," Serevi explained. "The world will be looking this way when the Viti Barbarians are coming, and next year it is going to be bigger and I believe that Africa will send a team; I believe Australia and New Zealand might send a team this way."
This tournament's impact goes much deeper than the growth of rugby. Glendale mayor, Mike Dunafon, spoke with Mile High Sports about the impact rugby has had on the local community.
"We send kids who never thought they could get out of Arapahoe County on a tour to Wales," Dunafon remarked. "So, they're traveling around the world, [they're staying] with the family that has the kid playing against you. You become part of the rugby world and that is a community building aspect – that's really why we chose rugby."
Glendale is already an American rugby hub, earning the nickname "RugbyTown, USA." But with the growth of the game and deep impact on its players, that moniker could soon expand to a global level.
Marquee Teams Participating in 2017 RugbyTown 7s
U.S. Army, U.S. Navy, U.S. Coast Guard, U.S. Air Force. U.S. Marines
U.S. military teams made up of active and reserve branch service members
Glendale Raptors
Host team and back-to-back Pacific Rugby Premiership champions (2015 and '16)
Royal Air Force
Made up of officers and airmen from branches across the Royal Air Force
SoCal Griffins
Making second RugbyTown 7s appearance
Denver 7s Selects
2015 RugbyTown 7s champions returning for their third appearance
British Army
First return to RugbyTown, USA since 2012 International Defense 7s victory
Rugby Utah
Reigning champions of Denver 7s and Heartland 7s
Atavus All-Stars
All players are currently at Atavus academy or selected through USAR resident camp
Negro y Azul
USA Rugby affiliate based out of Austin, Texas
Upright Rugby Rogues
Premier Canadian club making their second appearance at RugbyTown 7s
Ramblin Jesters
Reigning champions of Rosslyn Park Elite Floodlit 7s and Rugby Rocks Summer tournament
Tiger Rugby
Local team that has competed internationally for the past 7 years
Canada Maple Leafs
Canadian national team that competes in tournaments around the world
Cayman Islands
New team, made their debut at Hong Kong 7s in 2016
USA Collegiate All Americans
USA Rugby Olympic development program made up of collegiate All-American performers
Viti Barbarians
Team made up of nine players from the 2016 Fiji Olympic 7s squad that took gold in Rio
See it Live
Individual day tickets available online at rugbytown7s.com or at the Infinity Park Box Office on tournament days
Prices are as follows…
Friday (Aug. 25)
Adult – $10
Military – $7 (at gate only)
Kids ages 4-12 – $5
Saturday (Aug. 26)
Adult – Beerfest and Rugby – $35
Adult – $15
Military – $12 (at gate only)
Kids ages 4-12 – $5
Sunday (Aug. 27)
Adult – $15
Military – $12 (at gate only)
Kids ages 4-12 – $5
Can't make it to Glendale? All matches will be live streamed online at http://infinityparkatglendale.com/live-stream/