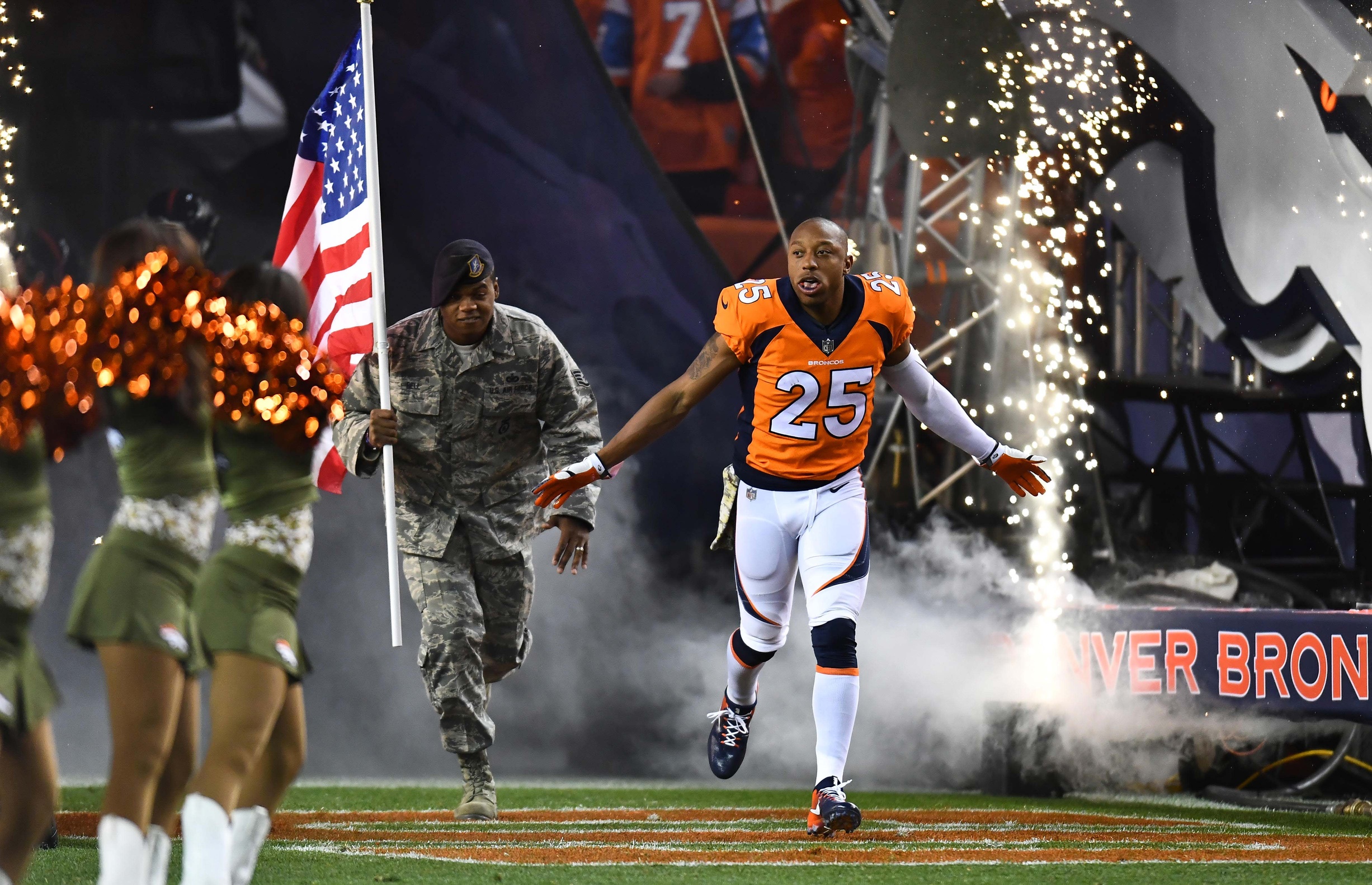 The Denver Broncos and Chris Harris Jr. are reaching a crossroads. Either the two sides can find a compromise – or the veteran cornerback may be traded elsewhere.
Harris, 29, has consistently been one of the best cornerbacks in the NFL for the last half decade. According to Pro Football Focus, Harris had the league's second-highest coverage grade in the slot last season (87.1). He also tied his career-high figure for interceptions in a single season (3) – despite missing four games with a broken leg.
Though, his impressive year shocked nobody as he has been the model of consistency throughout his career. The former Kansas Jayhawk is a four-time All-Pro and was the backbone of the No Fly Zone with Aqib Talib. But what his performance last season did prove is that even at this stage of his career, Harris is still an elite defensive back.
In the past, we've seen John Elway be a stirn negotiator. Really, in some ways, the Broncos general manager has been standoffish when dealing with the players that helped Denver win it all in 2015-16.
Considering the Broncos have missed the playoffs in three consecutive seasons, Elway is not totally out of line. This is a win-now league and smart teams don't get bogged down with excessive contracts for aging players.
The difference is Harris isn't an average player. And while the veteran cornerback may technically be under contract for the upcoming NFL season, rewarding him with an extension would be a sensible move by Elway.
The question is whether Elway is willing to swallow his pride and admit Harris is worth the cheddar.
At this point it seems unlikely that Denver would be willing to give Harris the $15 million per season that he is reportedly seeking. But if Harris and Elway can meet somewhere in the middle, this whole situation will be resolved.
Nobody is arguing that Harris doesn't deserve to be compensated as one of the best corners in the NFL – he's obviously earned it on the field. But Denver did just sign Bryce Callahan, who is already fluent in Fangio's system and poised for another big year. So, depth isn't a huge issue for the secondary.
The other factor working against Harris is time. He'll be 30 in June, which means sitting out a season like Le'Veon Bell in Pittsburgh isn't a very realistic option. It wouldn't be impossible for Harris to go this route, but forfeiting his season and salary would be an ironic way to try and secure his future.
In order for this to work, compromise is going to need to occur from both sides. It's clear that Harris' teammates want him part of the future. "You want to take care of guys like that," Von Miller said on Monday.
It's also apparent that the majority of Broncos Country would like Harris to remain with the team. Similarly to Rod Smith, Harris is a fan favorite because he's had to grind for everything in his professional career. Everyone loves a good underdog story – and as the two best UDFAs in Broncos history – it makes sense that Smith and Harris are beloved by the community.
Whether or not Harris will be a Broncos lifer like Smith or shipped out of town like Talib is still TBD. The longer this situations drags on, though, the more of a distraction it will become.
Considering the Broncos already have to deal with the stress of implementing new systems on both sides of the ball and developing two rookie quarterbacks, resolving this situation with Harris before Training Camp would be a prudent play by Elway.