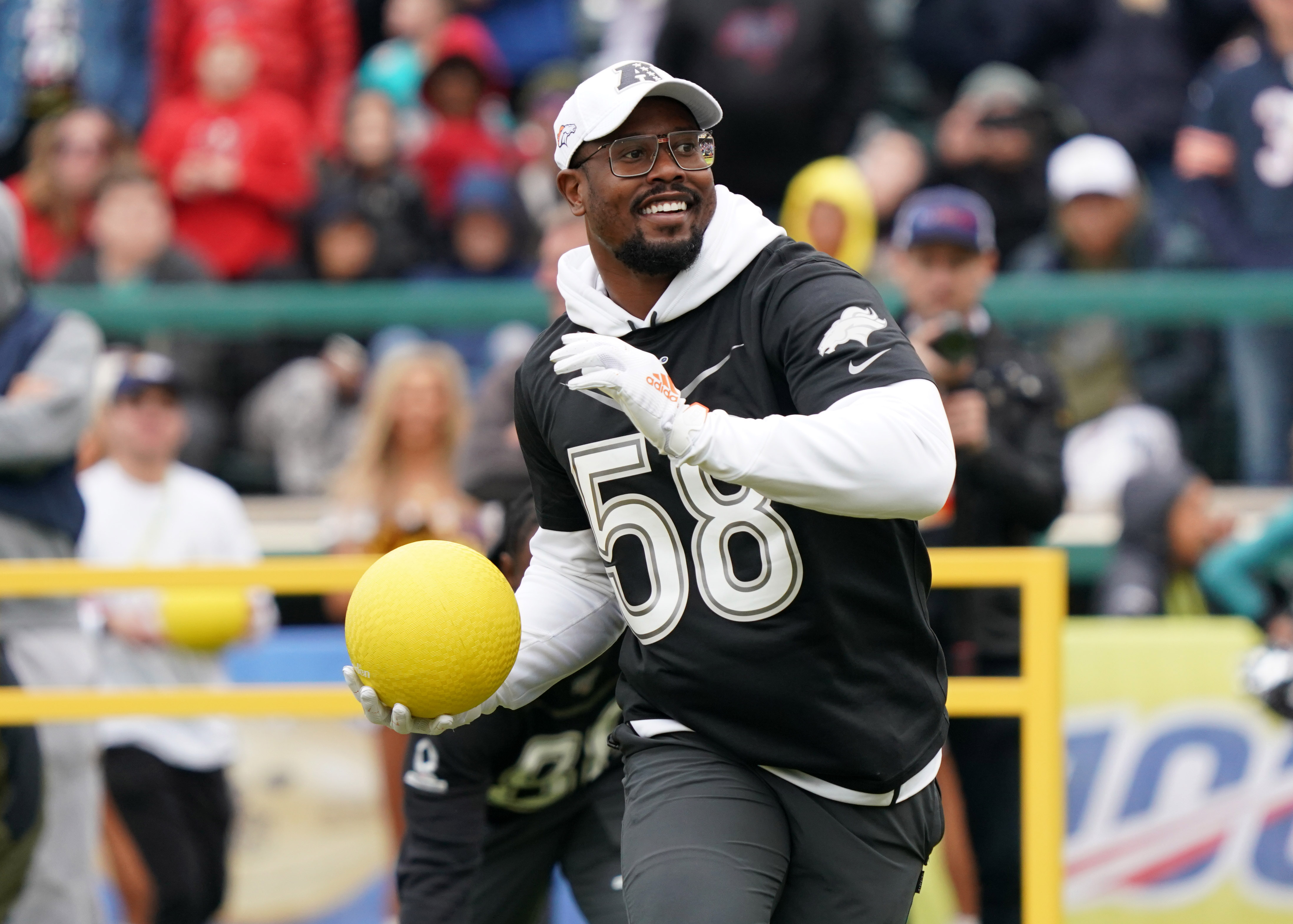 The Pro Bowl is the all-star game of the National Football League.  
Since the Peyton Manning era, the Denver Broncos Pro Bowl representation has been abysmal. Over the last two years, only four combined Denver players have been selected.  
Last year, Justin Simmons and Bradley Chubb were the chosen two from the Broncos. It was a special occasion as it was the first time either had been picked.
Here are five players that could be first-time selectees for the 2022 Pro Bowl this season.
1. Jerry Jeudy – WR
Jeudy ended his rookie season with 52 catches for 856 yards and three touchdowns. He also had the second-most drops in the NFL at 14.
With such high expectations placed on the University of Alabama alum, it was considered a disappointment. 
However, Jeudy showed flashes of greatness. His 94-yard touchdown against the Las Vegas Raiders was the longest offensive touchdown of any player in the 2020 season.  
In his sophomore NFL season, Jeudy is poised to make a giant leap. He put on quite a show in training camp and has proved he is on his way to becoming an elite receiver. He has shut down all worries about drops.
2. Noah Fant – TE
Fant is eyeing a breakout in his third season as a Bronco. He improved last year by increasing his reception total from 40 to 62, although he never had a single 100-yard game.  
Courtland Sutton's return will help Fant immensely. Having both Sutton and Jeudy on the field will help pull defenders off of him. This will make it easier for Fant to get open down the middle.  
There are a lot of question marks about Teddy Bridgewater's quarterback ability this season.  If he can reach his full potential, this will create many more opportunities and plays for Fant.
3. Dalton Risner – OL
Risner has proven to be one of the most durable players on the team. Since 2000, he is one of just seven Broncos draft picks to start all 32 regular-season games in his first two seasons in the NFL.
Risner is entering his third season in the NFL. History shows that offensive linemen typically make the jump in their 3rd season. His fellow offensive linemen Garret Bolles is an example of that.  
The Broncos have what many consider to be the best offensive line coordinator in the NFL in Michael Munchak. During his career, he has helped many players make a huge leap their in play.
In 2020, Risner was called for zero penalties and only allowed one sack. Risner's best skill is as a pass protector. To be considered elite, he will need to improve his run blocking. All signs point to that happening.
4. Garret Bolles – LT
Bolles not making the Pro Bowl in 2020 was a huge shock and disappointment for Broncos Country.
In his fourth season in Denver, Bolles shot up an elite tackle. He only gave up a half-sack in 15 games. His performance earned him a four-year, $68 million contract extension with the team.
At the end of the season, he was named as the Second Team All-Pro left tackle. Recently, Bolles was selected as the 82nd best player in the 2020 NFL season.  
There's no reason to think that he won't make the Pro Bowl next year. It seems that not only have the fans been won over, but he has started getting noticed by his teammates and his NFL peers and competitors.
5. Patrick Surtain – CB
Rookies rarely get selected to the Pro Bowl, but Surtain has shown that he might be the outlier.
In his first preseason game against the Minnesota Vikings, Surtain displayed his playmaking ability with a 30-yard pick-six. Pro Football Focus granted him with a 94.8 overall grade for his preseason debut.
CBS Sports currently has him ranked as number one in their Pre Week 1 Rookie Rankings.
He is currently listed as the CB2 behind Kyle Fuller. Although currently not a starting cornerback for the Broncos, that could easily change early in the season. If that's the case, fans can get excited for what he be able to achieve this season.